It can be a daunting task if you are planning to register your business or company, especially in Uganda where almost every name you think of has either been reserved, registered or even rejected multiple times by underlying authorities and parties. Coming up with a name is also another hurdle and registering it is now quite easy as you can do this online, first with a name reservation on the URSB portal.
Before you can go ahead to read this article, please be sure to know that this process may not be fully online as some aspects may/will require you to visit offices for payments, name assessments, etc. Nevertheless, let's go down this rabbit hole and see how you can get your unique name reserved online.
Advertisement - Continue reading below
Name Search
We already have an article covering how you can search for registered and reserved names online using the URSB Portal. Please refer to this article for this first step.
PRN Generation
The Payment Registration Number is the second step assuming that your name is unique and distinct. You can approach the official URA Agents outside DTB Offices where URSB is located in order to assess your name and generate this PRN using the URA Portal.
Do not mind any auto-generated location info regarding this PRN document since it is just for name reservations. You will get to register with the actual location later.
Bank Payment
After getting this document with PRN, you can proceed to reserve your name by paying the reservation fees of about 23,000 UGX including charges in an approved bank and for my case it was DTB. You will either scan or take a picture of this payment receipt from the bank for the next stage.
Name Reservation
This last process is fully online. Visit this URSB Reservation Portal to fill in the form as shown below in the screenshot.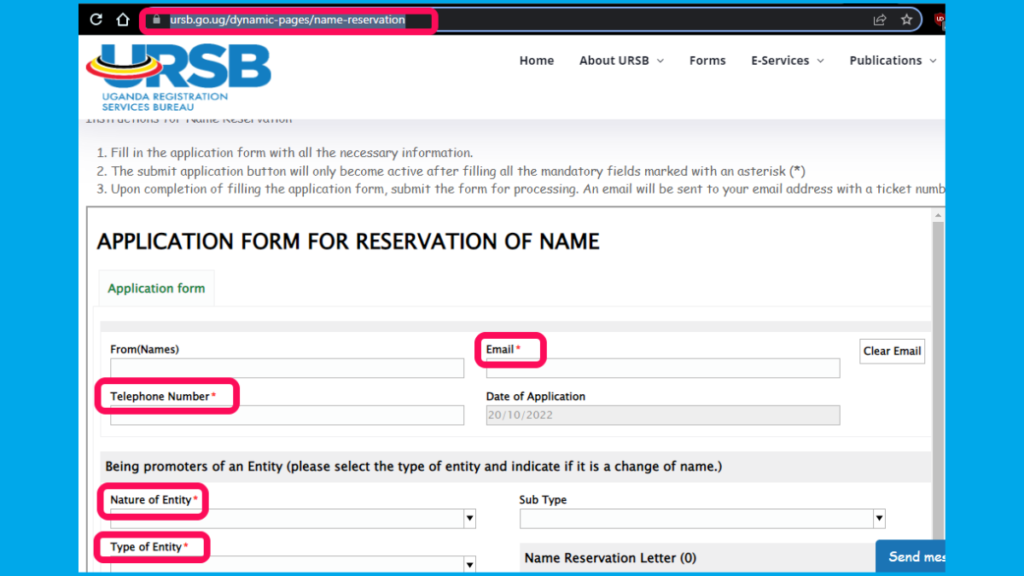 ---
Also Read: How To Generate a PRN For your Uganda Revenue Authority Payments Online
Advertisement - Continue reading below
---
Select your nature of business or company, and fill in this short form especially all the required fields with at least three optional names in order of preference. You can also use the same form to do a name of change circumstance. Be sure to attach the payment receipt. When everything is ready, you can submit the form.
You will receive a notification shortly on the email you used while filling out the form; this email will be coming from edms informing you of the submission and other details for follow-up as shown below;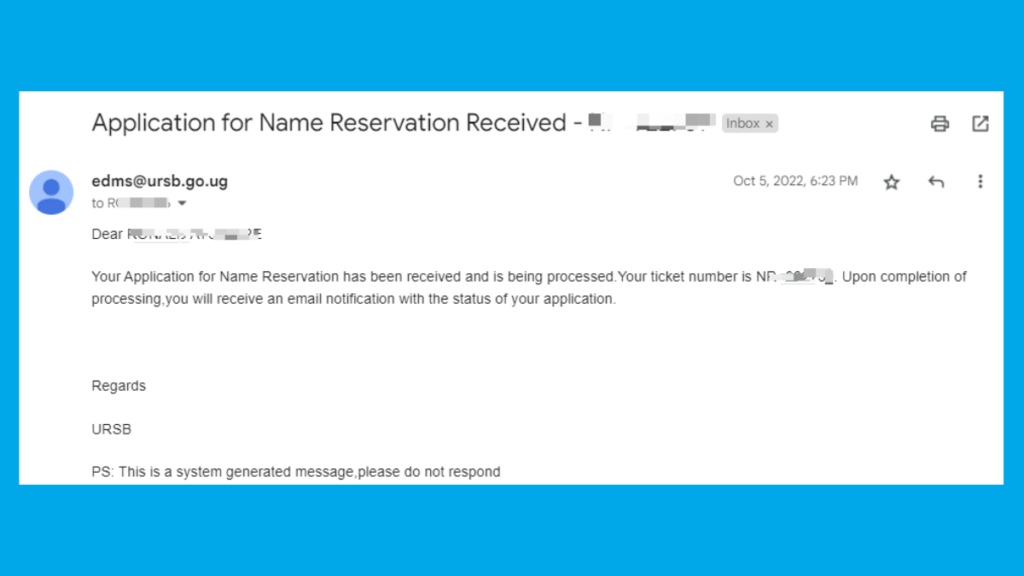 After receiving the above, it may take a few days to get back to you depending on the traffic I guess. Otherwise, your PRN is still valid until a reserved name is tied to it.
You can also try out https://namecheck.ug, a website that uses URSB API to enable you quickly search for a company of business name in Uganda.
---
Also Read; URSB has an online search engine for registered companies in Uganda
---
URSB Name Reservation Tips
These are my personal recommendations and tips for anyone who is trying to reserve a company name based on anecdotal experience.
You can reserve a name for anyone, business, or entity. You don't have to be a business/company director.
In case of name rejection, your PRN is still valid and you can repeat the last process above over and over until you receive a electronic document management system (edms) URSB notification of acceptance.
You may only have 30 days of the expiration of the name reserved. I got this info from one of the URSB Officers in the building and it may not be official communication since the form still has the field of extending the reservation.
I would advise you to now go straight to the registration phase after reserving your name at least within those 30 days.
Fill up all three name options that you can think of to avoid back-and-forth communications.
Conclusion
That's it! The process is quite easy if you do have the time and it's not fully online. You can also be able to generate your own PRN on the URA portal. I believe there will be a more self-service e-service from URSB for non-technicals, etc. Do let us know of your experience while trying to reserve your name in the comment section.
Advertisement - Continue reading below