Music streaming seems to be the norm today. It is the primary way through which many of us consume music, podcasts, and even discover new tracks today and the industry has no shortage of options.
There is something for everyone: Apple Music, Spotify, Deezer, YouTube Music, and Amazon Music. However, there has always been the issue of fragmentation as all the big dogs in the tech industry front their music streaming services while making the barrier of entry for other platform users a little steep.
Advertisement - Continue reading below
Luckily, there are ways around these and in this post, we shall show you how to link your Apple Music to Google Home. This will allows you to use Apple Music as your default streaming service on Android, along with allowing Google Assistant to look up tracks on Apple Music when invoked.
---
Related: How to Set up Apple Music on your Google Nest speakers
---
How to Link Apple Music to Google Home
Well first, you need to ensure that you're running a recent version of Android on your device. Then, get these prerequisites ready.
Now, open Google Home, and you should see a shortcut allowing you to link Apple Music to your Google Account. Should you not see it, simply follow these steps.
Click on your profile icon on the top right corner of the screen
Select Assistant Settings
Scroll down and click on Music
Here, you should see supported services, Select Apple Music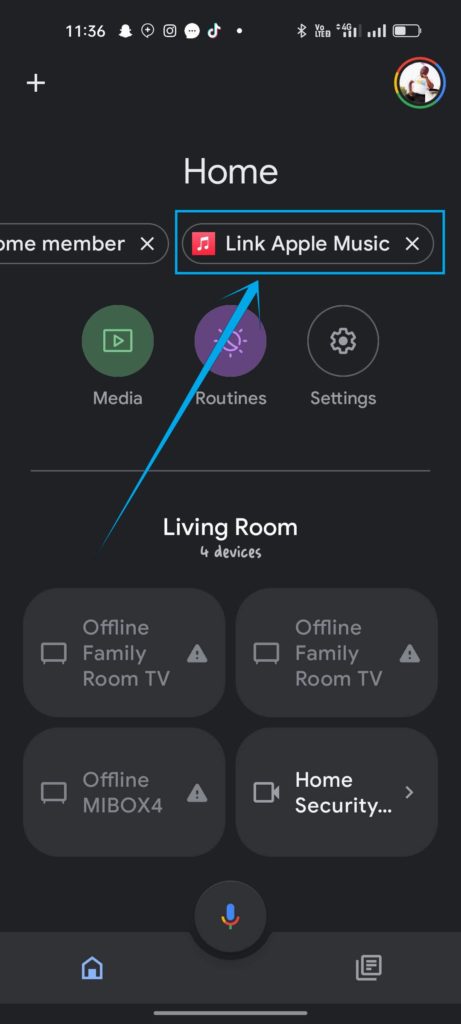 You should then be redirected to an Apple Music login page where you'll need to sign in to your Apple Music account using your Apple ID.
Once you're done, that's it! You can now ask Google Assistant to play music for you and it'll search and play that on Apple Music. You should also be able to play Apple Music on your Google devices like your Android or Google TV, Google speakers and more.
Advertisement - Continue reading below
I ran into issues completing my setup as the system kept saying that Apple Music for Google is not available in my region. This, is despite Apple Music fact being supported in my region. I'm still trying to sort that out via Google and Apple Music customer support but your luck might vary.