Social media content creators are a dime a dozen these days, with more queueing up for a piece of the pie. Starting out on a shoe-string demands making some strategic purchases and of those, the Fifine K669B USB Condenser Microphone is one of the most popular buys. It goes a modest $29.99 on Amazon US, £34.99 on Amazon UK and if you live in Uganda, it's currently on sale on Odukar for UGX 320,000. you can record your gaming sessions, create podcasts, livestream, have meetings and more and not have to worry about the quality of the audio.
We have tested the Fifine K669B for a while now and we are now ready to give our verdict. For its price, the mic more than delivers the goods and I have to say, that's 30 bucks well spent. It makes me want to sing: "Hey Mickey, You're so fine, you blow my mind" just for giggles. Jokes aside, let's take a deep dive, if you don't mind.
Advertisement - Continue reading below
In the Box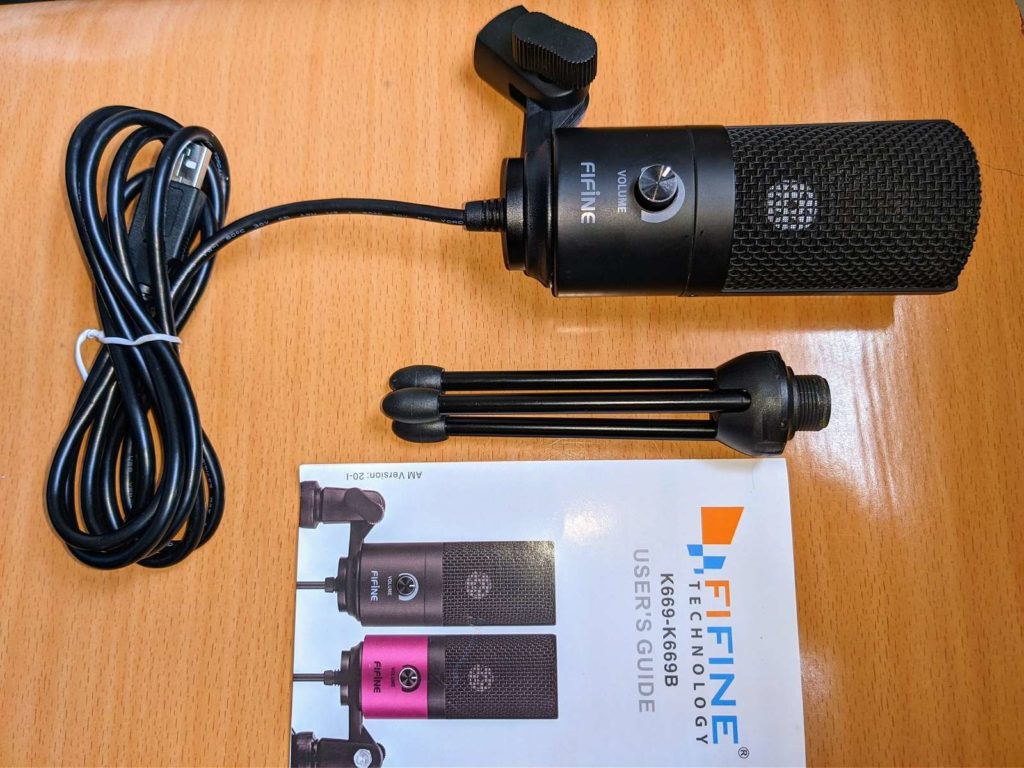 Microphone (with integrated USB cable)
Tripod stand
Manual
Fifine K669B USB Condenser Microphone Specs
Power Supply: 5V USB power
Polar Pattern: Cardioid
Frequency Response: 20Hz-20KHz
Sensitivity: -34d±30% (at 1kHz)
S/N ratio: 78dB
Output connection: USB 2.0
Design and Build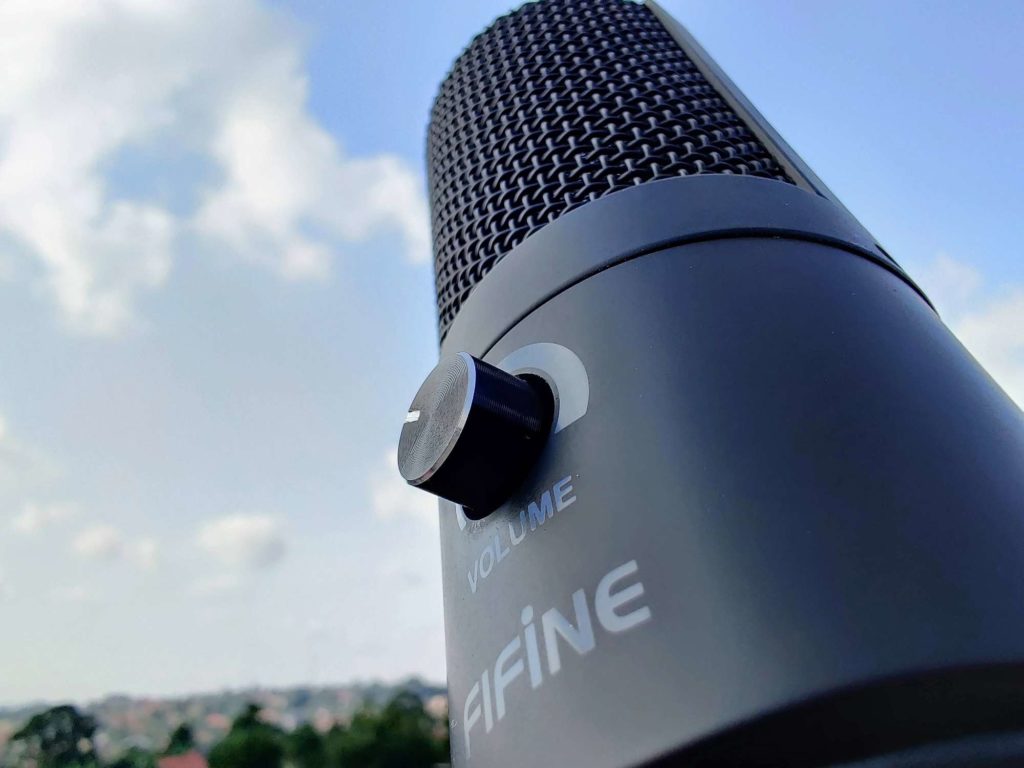 The Fifine K669B USB Condenser Microphone is surprisingly hefty for its going rate. The all-black (but also comes in purple) metal build of the microphone and the tripod feels premium to my pedestrian eye. The only plastic bits are the tripod head (the legs are metal) and the rubber tripod feet. The components are sturdy and cold to the touch and that's something I rather like. The end result is a mic that mimics the look and feel of more pricey ones but at a fraction of the cost.
The Mic has an integrated 5.9ft USB-A cable attached at the base. I don't know how exactly I feel about it. It might be a deal-breaker for some consumers who would prefer the USB-C route and those who would want a replaceable cord.
The only control is an analog knob for gain input on the mic itself which is labeled volume. Dialing up the knob will capture more background noise, echo, and reverb but also make you sound louder, so you would be best served with a bit of experimentation to get the perfect level for your environment.
When portability comes into play, the Fifine is ideal for recording on the go. It measures only 120 x 48 mm and 158 grams, which is small enough to fit in a side pocket of your backpack.
Performance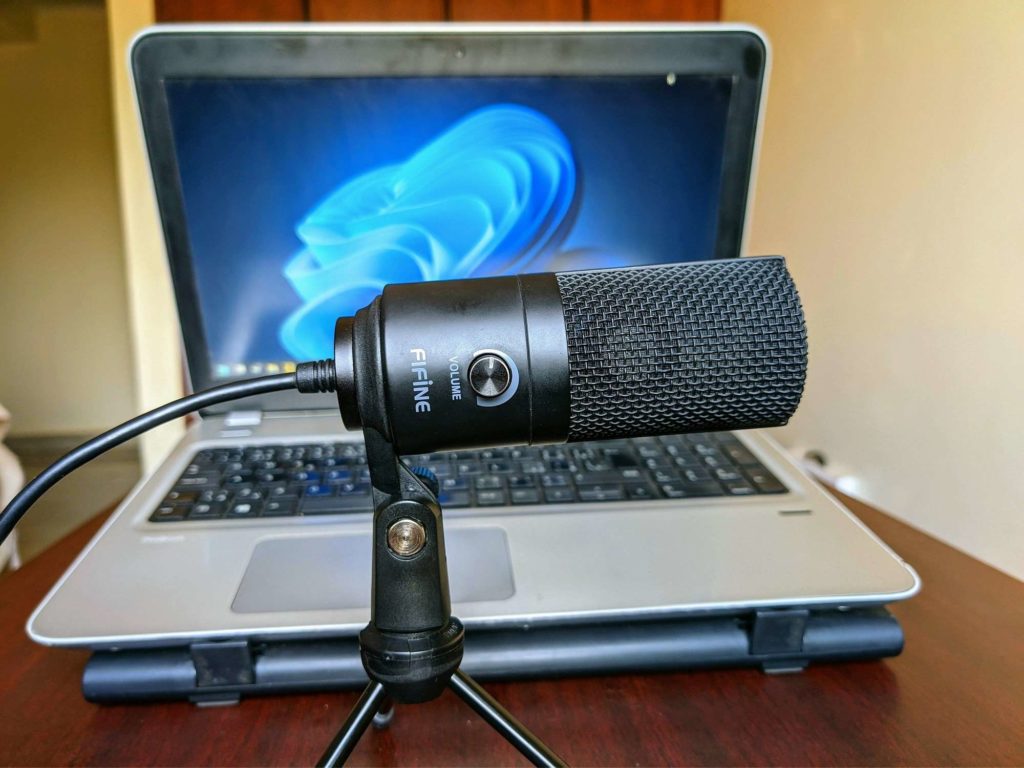 The mic is Plug and Play. All you need to do is to plug it into your computer. Your computer should immediately install the appropriate drivers. It's compatible with Windows and Mac (should work with Linux too), but not Xbox or cellphones.
Advertisement - Continue reading below
The cardioid polar pattern limits the range it can pick up sound to mostly what's in front of it, less so from the side and the back (but not so much). The mic is quite sensitive and it surprised me with its range.
By its very nature, a condenser mic like the Fifine K669B will capture a whole lot of sound. During my trial sessions, I got near and faraway sounds in the neighborhood; the nearby construction, the chickens clucking away, and my daughter making a racket a couple of doors away. Luckily, the volume knob can dial this background noise down to acceptable levels if you get the sweet spot and push the mic closer.
This mic is more than capable of clean and crisp recordings during game and video streaming, making podcasts, meetings, e.t.c. The sensitivity of the mic could be an issue unless you keep the gain control quite low to offset the background noises. I would also advise getting yourself a pop filter especially if you speak directly into it.
---
Related: Top Budget USB Microphones You Should Definitely Have in 2022
---
Pros
Good value for money
Premium look and feel; metal body and tripod.
Gain knob gives added control of audio output.
Comparable quality to more expensive mics.
Cons
Integrated USB cable makes it hard to repair/replace
Limited to personal computers and PS4 consoles
Lacks LED indicator to show when it's on and recording
Limited noise isolation.
Verdict
The Fifine K669B USB Condenser Microphone is one of the most popular budget microphones and with good reason. It more than delivers for its price, and with a few tweaks competes favorably with condenser mics twice its price or more. If you got a bit more to spend, the Razer Seiren Mini or the Blue Yeti roster are a place to start. Get it at $29.99 on Amazon.com.