File compression is really important for saving space and making it easier to send files. As we all collect more and more data, it becomes even more important. Compression software like WinRAR and WinZip can do more than just make files smaller – it can also encrypt them and protect them with passwords.
In this article, we'll compare two popular file compression programs for Windows: WinRAR Vs WinZip. We'll look at their features, how well they work, how easy they are to use, and how much they cost to help you decide which one is right for you.
Advertisement - Continue reading below
About WinRAR
WinRAR has been around since April 1995 and is still supported today. It's one of the most commonly used file compression programs for Windows. It can work with lots of different types of files like ZIP, RAR, 7Z, CAB, ARJ, and more. WinRAR has some advantages, like really good compression algorithms, the ability to split files into parts, and the option to encrypt and protect files with passwords.
But it's worth noting that WinRAR only works on Windows computers. You can try it for free for 40 days, but after that, you'll need to pay to keep using it. Some people like that it's flexible, but others don't like that you have to pay after the trial period.
About WinZip
WinZip is another popular file compression program for Windows. It's been around for a long time and is still widely used. Like WinRAR, it can handle lots of different file types like ZIP, RAR, 7Z, TAR, GZIP, and more. WinZip has features like encryption, password protection, and integration with cloud services to make managing files easier.
One difference between WinZip and WinRAR is that WinZip also works on Mac computers, while WinRAR is only for Windows. WinZip has different licensing options after the free trial period, but the limitations and restrictions depend on the version.
---
Related Articles:
---
WinRAR Vs WinZip Features
Both WinRAR and WinZip have similar features like compression algorithms, encryption options, and the ability to split files into parts. They can do pretty much the same things when it comes to compressing and extracting files. However, there are some differences worth noting.
Advertisement - Continue reading below
WinRAR is known for its compression algorithms, which can make files even smaller than WinZip does. On the other hand, WinZip works well with the Windows File Manager, so you can compress and extract files right from there. How well they perform in terms of compression ratio, speed, and resource usage can depend on the types and sizes of the files.
| Feature | WinRAR | WinZip |
| --- | --- | --- |
| Pricing | Trial, one-time payment, | Subscription-based |
| Models | single-user, business license | (monthly, annual) |
| License Types | Single-user, business license | N/A |
| Updates | Paid for major versions, free for minor versions | Free updates during subscription |
| Support | Free support during trial. Paid support available | Support included in subscription |
WinRAR Vs WinZip User Experience and Interface
WinRAR has a user-friendly interface that you can customize. You can change the toolbar, choose different themes, and adjust settings to make it work just how you want it to. It's easy to use and understand.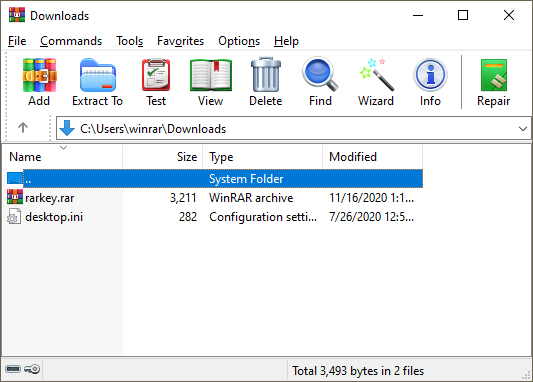 WinZip also has an easy-to-use interface with customization options. You can make it look the way you want and manage files easily. WinZip is designed to be user-friendly, especially if you're new to file compression programs.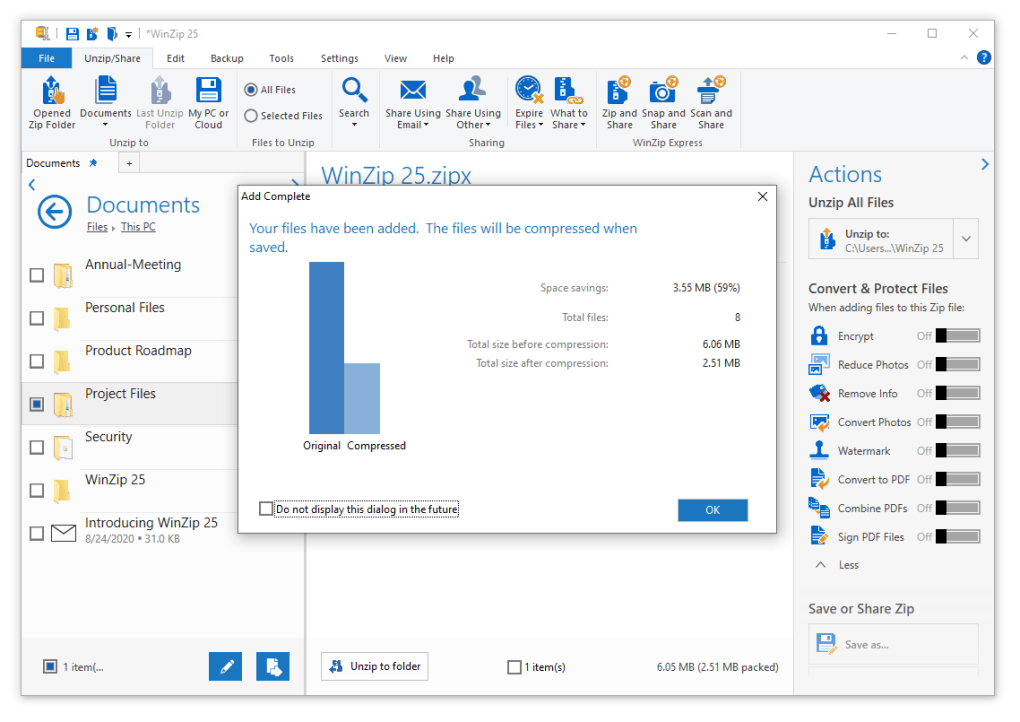 Which one you prefer comes down to personal taste. Some people might like that WinRAR is familiar and lets you customize more, while others might prefer WinZip's simplicity and ease of use.
Price and Licensing
When it comes to price and licensing, both WinRAR and WinZip have their advantages. WinRAR lets you buy a license once and use the software forever, while WinZip has a subscription-based model that gives you updates and support. Which one you choose depends on your budget and what you need. WinRAR costs $29 for one user while WinZip costs $8 per year.
It's important to know that both WinRAR and WinZip offer free trials so you can try them out and see which one you like better. This way, you can make an informed decision based on what you need and what you like.
Will Windows 11 Make WinRAR and WinZip Obsolete?
With Windows 11 introducing native support for RAR and 7-zip files, the future of popular file compression tools like WinRAR and WinZip is uncertain. Users have long relied on these third-party applications for compressing and extracting files, but the upcoming operating system update eliminates the need for additional software.
Windows 11's native support means users can unpack downloaded content without installing WinRAR or WinZip. The integration of RAR and 7-zip formats directly into the operating system provides a more convenient experience. Additionally, Windows 11 promises improved performance during compression using the open-source libarchive project.
Advertisement - Continue reading below
This new development spells doom for WinZip and WinRAR. However, the fact it will only be supported on Windows 11 means that users with older versions of the Windows OS such as Windows 10 will still need the services of WinZip and WinRAR.
Both WinRAR and WinZip are good choices for file compression and offer good value for your money. They've been top choices for a long time and continue to give users powerful tools. The best one for you will depend on what you need and what you like. Trying them both and seeing how they work for you will help you make the right choice.