Starlink, the satellite-based internet service provided by SpaceX, is expected to be launched later this year in Kenya, offering a new option for internet access in a country where many areas still lack reliable connectivity.
This expected availability of Starlink in Kenya is a significant development for many reasons. Aside from providing an alternative to existing fiber-to-the-home (FTTH) providers, who have faced challenges in expanding their networks to rural and remote areas, it will offer Kenyans a service that might not be subject to government censorship. Starlink's satellite-based technology is not limited by the need for physical infrastructure and can reach even the most remote areas.
Advertisement - Continue reading below
However, it's important to note that Starlink's service may be more expensive than existing Home internet and FTTH solutions, and therefore may not be accessible to a wide range of people.
---
Related:
---
It's also worth noting that Starlink's service is dependent on clear weather conditions to provide optimal speeds. So while it may be able to reach remote areas, the service may not always be as reliable as a traditional FTTH connection, at least not in the populated areas of the country that experience fluctuating weather patterns.
For users in the Nothern regions of the country, this should be an ideal solution. But then again, a slow internet connection is better than no internet connection at all.
---
Related:
---
So, what does this mean for existing ISPs and FTTH providers in Kenya? Well, they may have some stiff competition on their hands, at least in terms of coverage. But on the bright side, the entry of a new player in the market could also lead to more innovation and better prices for customers.
Advertisement - Continue reading below
How to Order Starlink in Kenya
As mentioned, Starlink is not yet available in Kenya. However, the company's official website notes that they plan to get the service available in the second quarter of 2022.
Order now to reserve your Starlink. Starlink is targeting service in your area starting in Q2 2023. Availability is subject to regulatory approval. Within each coverage area, orders are fulfilled on a first-come, first-served basis.
You will need to put in a deposit of $99 that Starlink says is fully refundable to secure your slot in line for when this service launches. They also add that this is subject to regulatory approval, but with a government that wants to be technology-foward, I don't think this should be much of an issue.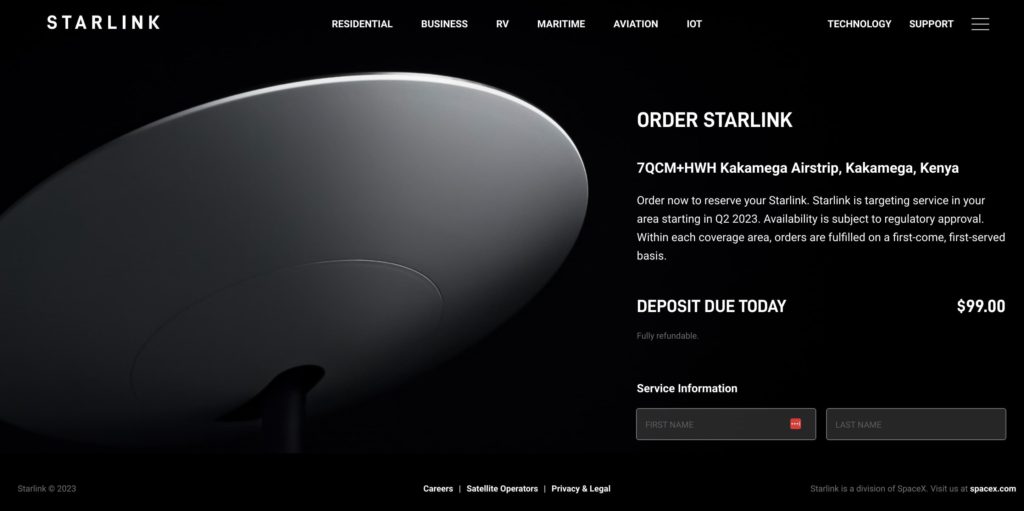 Overall, the expected availability of Starlink in Kenya is a promising development for those in need of reliable internet access, especially in remote areas. However, its high cost compared to existing solutions is something to keep in mind.
It remains to be seen how the existing ISTs and FTTH providers will respond to Starlink's entry into the market, and how the pricing will evolve over time. In any case, the expected availability of Starlink in Kenya is a step forward in improving internet access for all and it is exciting to see what other innovations will come in the future for internet access in the country.