It is no longer news that Starlink is coming to Nigeria. Elon Musk announced this himself via his Twitter handle back in May.
For the uninitiated, Starlink is an Internet Service Provider or ISP owned and operated by SpaceX. This company provides internet access through low earth orbital (LEO) satellites. The internet service provider is spreading rapidly around the world. Starlink is currently available in 32 countries worldwide and has launched around 2,000 satellites, with over 1,500 in operational orbit.
Advertisement - Continue reading below
The idea behind Starlink is to make it easier for rural areas and places that are off the grid to have internet access. With this in mind, it makes sense that Starlink is launching in Nigeria and Mozambique.
In this article, we will talk you through how to get Starlink in Nigeria and enjoy unlimited access to an internet connection. 
How to Get Starlink in Nigeria
First off, you will need to pre-ordered Starlink. You will need to pay $99 upfront. This initial deposit (fully refundable) will be made on Starlink's website to book the Starlink equipment. However, we would like to inform you that there is currently some form of restrictions on Nigerian debit cards and you might find it difficult to make payment.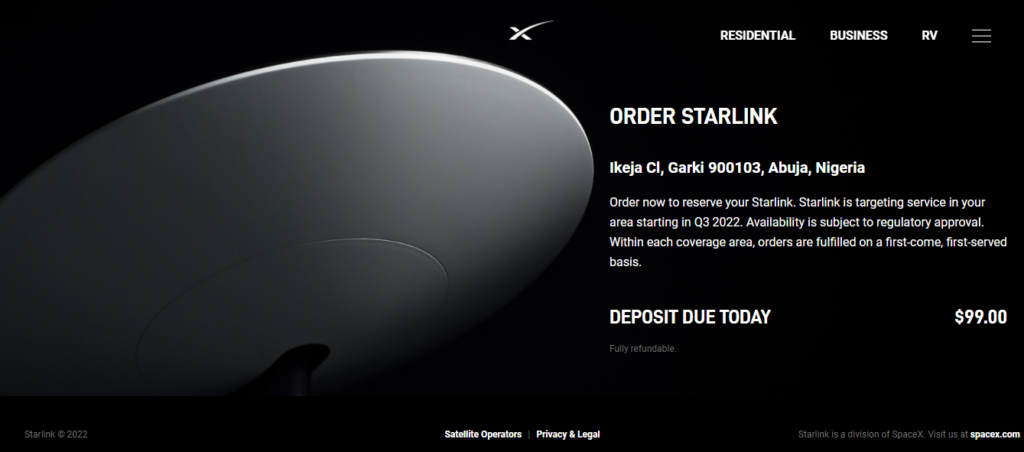 Here's a breakdown of everything you'll be paying for when your Starlink kit is shipped:
A one-time equipment fee of $599 (₦340,000)
$60 (N25,000) for shipping
A monthly subscription fee of $99 (N43,000)
The Starlink kit contains a Wi-Fi router, terminal, and mounting tripod. And according to the information on Starlink's website, these kits can be set up without professional help and will be ready for use in less than 30 minutes after setup.
Starlink is very different from the usual cellular internet we are used to. According to reports, Starlink comes with an average speed of 104Mbps. Additionally, utilizing LEO satellites should greatly minimize internet outages and the absence of internet connection in remote locations.
Advertisement - Continue reading below
Finally, you'll need to download the Starlink App to determine your best install location when your Starlink arrives. This, is once your Starlink kit arrives. Below are the download links.
Very little is known about Starlink in Nigeria and in Africa in general right now. With time, and as the company begins shipping out units into the country, we're bound to get more info so stay tuned.