M-PESA has pretty much shaped the way Kenyans go about their daily business. This pioneering product defines how mobile money is implemented in the world over. The associated products also have a massive impact on Kenyans and one good example of the same is M-Shwari.
M-Shwari is a simple and convenient way for people to access financial services in Kenya. It allows users to save money, access loans, and perform other financial transactions through their mobile phone, particularly for those who do not have access to traditional banking services. With M-Shwari, users can open a savings account, deposit and withdraw money, and access loans quickly and easily through their mobile phone.
Advertisement - Continue reading below
The service is accessible via the Safaricom mobile network and does not require users to have a bank account or visit a bank branch. Additionally, M-Shwari offers competitive interest rates for savings accounts and flexible loan terms for borrowers. Overall, M-Shwari has been credited with increasing financial inclusion in Kenya and providing previously unbanked individuals with access to basic financial services.
For a consequantial product like that, access is a pretty important aspect. You want users to have various ways of accessing such a versatile financial tool and in this post, we look at all the ways you can access and use this facility.
M-PESA App
The M-Pesa app is a smartphone application that allows users to access the M-Pesa service directly from their mobile phone. The app provides a convenient and secure way for users to manage their finances, perform transactions, and track their spending.
M-Shwari mini-app in the M-Pesa app is easy to use and provides users with a range of tools to manage their finances, including account balance inquiry, transaction history, and loan management features.
Related: Safaricom Unveils a New M-PESA for Business App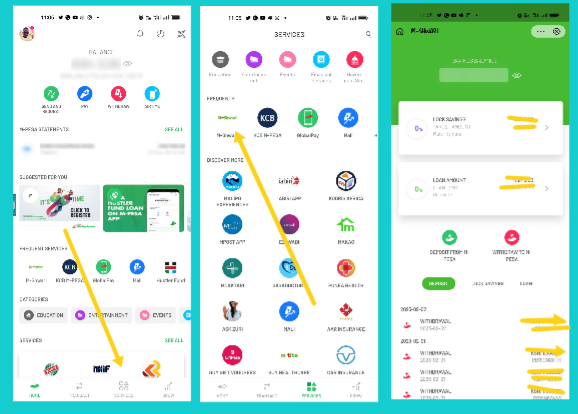 To access M-Shwari via the M-PESA app, follow these steps.
Advertisement - Continue reading below
Open the M-PESA App and Click on Services
In the next page, select M-Shwari from the list of mini-apps
The Mini app will load up giving you your M-Shwari dashboard
From here, you can see a mini-statement of your transactions, withdraw to M-PESA, deposit from M-PESA, create a lock savings account and much more.
The M-Pesa app is available for download from the App Store or Google Play and can be used on both Android and iOS devices.
SIM Toolkit
This has been around for years now and offers the primary method through which M-PESA customers can access their accounts. It is versatile as it works on almost any device; smartphone or feature phone, as it is based on the SIM Card.
To access M-Shwari from your SIM Toolkit, simply follow these steps.
Open your SIM Toolkit from the app drawer or main menu
Select M-PESA
Select Loan and Savings
Select M-Shwari
You should then have a list of M-Shwari services like loan options, balance check, ministatements and so on.
MySafaricom App
The mySafaricom app offers users a one-stop shop for all Safaricom services. These include management of tariffs and plans, access to promotions and offers, purchase of bundles and minutes, and so much more.
The app also gives users access to M-PESA services and by extension, M-Shwari services. In this section we quickly guide you through how to access M-Shwari from the mySafaricom app. First step is to install the app from your Play Store or App Store, links at the end of this section.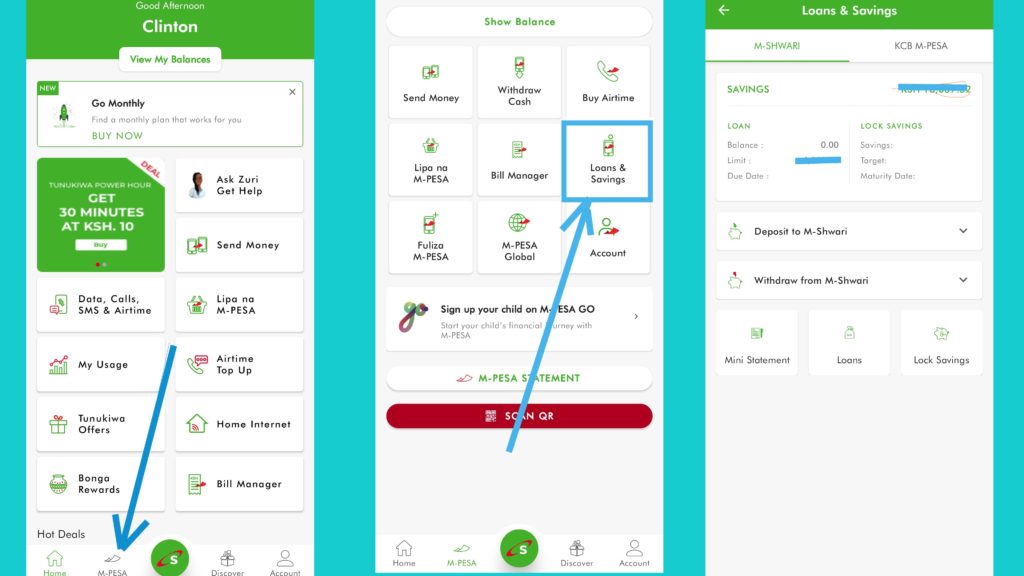 Related: MySafaricom by Safaricom is your one-stop for all Safaricom Services.
Advertisement - Continue reading below
Now to access M-Shwari follow these steps.
Open the mySafaricom app
Select M-PESA at the bottom of the screen
Select Loans and Services
Select M-Shwari and proceed with whatever task you want.
To get the mySafaricom app, download it from your specific store.
USSD
You get the idea now. M-Shwari is just as much a part of M-PESA as it is a part of Safaricom and anywhere you can access M-PESA services, you bet you can access M-Shwari as well.
M-PESA is available via USSD via the *334# short code. As such, Safaricom users can also access M-Shwari via the same platform.
---
Related: You Can Now Access M-PESA via *334# USSD: Here's What You Need to Know
---
To do that,
Simply dial *334# on your Safaricom line
Select Loans and Savings
Select M-Shwari
From here, you can proceed to perform any one task you'd like from the service.
M-Shwari was launched in 2012 and has become very popular in Kenya for its convenience and accessibility. The role of this platform in enabling access to financial services in Kenya can not be understated. Here's to hoping for even more impactful products from Safaricom.
Advertisement - Continue reading below