M-PESA, the mobile money service that has revolutionized the way Kenyans transact, is set to introduce Tap-to-Go, a new feature that will reduce the steps it takes to complete a transaction.
With this new feature, M-PESA users will no longer have to go through the multiple steps of entering the amount, the recipient's number, and their PIN in order to complete a transaction. In internal strategy documents seen by The Standard, Safaricom is reportedly planning to lean on scanning a QR code or even sharing a payment link as the preferred solution as opposed to using NFC at Points-of-sale.
Advertisement - Continue reading below
"As the number of M-Pesa users with smartphones increase, we are looking at ways to reduce the customer journey when completing payments and therefore reducing the number of steps taken to complete a transaction."
Once implemented, this new feature is set to greatly improve the user experience on M-PESA by reducing the time and effort it takes to complete a transaction. Additionally, this should alleviate the need to manually input complex till and pay bill numbers, processes that are prone to erroneous entries and allow customers to only "tap and go" when paying for goods and services.
Worth noting is that this is not Safaricom's first rodeo in the quest for a more seamless tap-to-pay solution. In 2017, we saw the debut of 1-Tap, an NFC-based solution whose implementation was seemingly ahead of its time.
---
Related:
---
Little is known about these plans with regards to the implementation but chances are that it will be based on the M-PESA app that is already shaping up to be one of the most capable super-apps we have around.
The M-PESA app already has features that allow users to request for payments and funds from other M-PESA users who have the M-PESA app, kinda like the PayPal feature that allows you to do the same. That said, we should see a pilot program of the same in due course, at least knowing how Safaricom rolls.
Advertisement - Continue reading below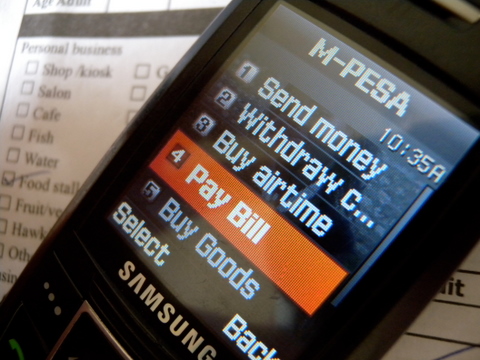 M-PESA has always been at the forefront of mobile money innovation, and the introduction of Tap-to-Go is no exception. In fact, this feature is just one of many initiatives that M-PESA has launched in recent years to improve the user experience and make transactions more convenient.
---
Related:
---
For example, M-PESA also introduced the Hakikisha feature, which requires users to confirm the recipient's name before sending money to prevent accidental transactions. Additionally, M-PESA has partnered with a wide range of merchants to make it easier for users to pay for goods and services using M-PESA. Not to mention the PayPal integration and much more.
The expected Tap-to-Go feature is a testament to M-PESA's ongoing efforts to innovate and stay ahead of the curve in the mobile money space. By introducing this feature, M-PESA is not only improving the user experience but also making it easier for more people to participate in the formal economy by making transactions more convenient and secure.
In conclusion, the looming introduction of M-PESA Tap-to-Go is a welcome development that will greatly improve the M-PESA user experience and make it easier for users to make payments. It is just one of many initiatives that M-PESA has launched in recent years to improve the mobile money ecosystem in Kenya and beyond. With the Tap-to-Go feature, M-PESA is setting the standard for mobile money innovation and paving the way for a more inclusive and efficient financial system.