In 2018, the average number of devices and connections per person globally was 2.4. This was set to rise to 3.6 in 2023, with the greatest growth coming from North America and Western Europe. Other parts of the world are not too far behind and today, one could reasonably assume that people have at least 2 smartphones with them.
WhatsApp is one of the most popular messaging apps in the world, with over two billion users. However, if you have more than one Android device and want to use the same WhatsApp account on all of them, you might face some challenges. WhatsApp does not allow you to use the same phone number on more than one device at a time, and you can only link up to four devices to your account using WhatsApp Web or Desktop.
Advertisement - Continue reading below
Most instant messaging platforms like Telegram do allow users to sign in to their accounts via various devices. This allows them to have access to their account and chats through these devices with little to no limitations.
---
Related:
---
How to use the same WhatsApp account on multiple Smartphones
Now, WhatsApp is reportedly working on native support for this feature but for now, we will use two things. First, a feature in the Android Developer Options that helps you to scale your display to DPI of a tablet. This tricks WhatsApp app into allowing you to set it up as if it is a tablet.
Secondly, you will need the Linked Devices function that is used to activate WhatsApp Web and WhatsApp desktop.
Before we start, make sure you have the following:
A phone with WhatsApp installed and registered with your phone number. This will be your main device. This could be either Android or iOS.
Another Android device with WhatsApp installed. This will be your secondary device. Enable Developer Options on this device. We will use it shortly.
A stable internet connection on both devices.
---
Related:
Advertisement - Continue reading below
---
Here are the steps to follow
On your main device, open WhatsApp and tap on the three-dot menu icon at the top right corner. Then, tap on Settings > Linked Devices.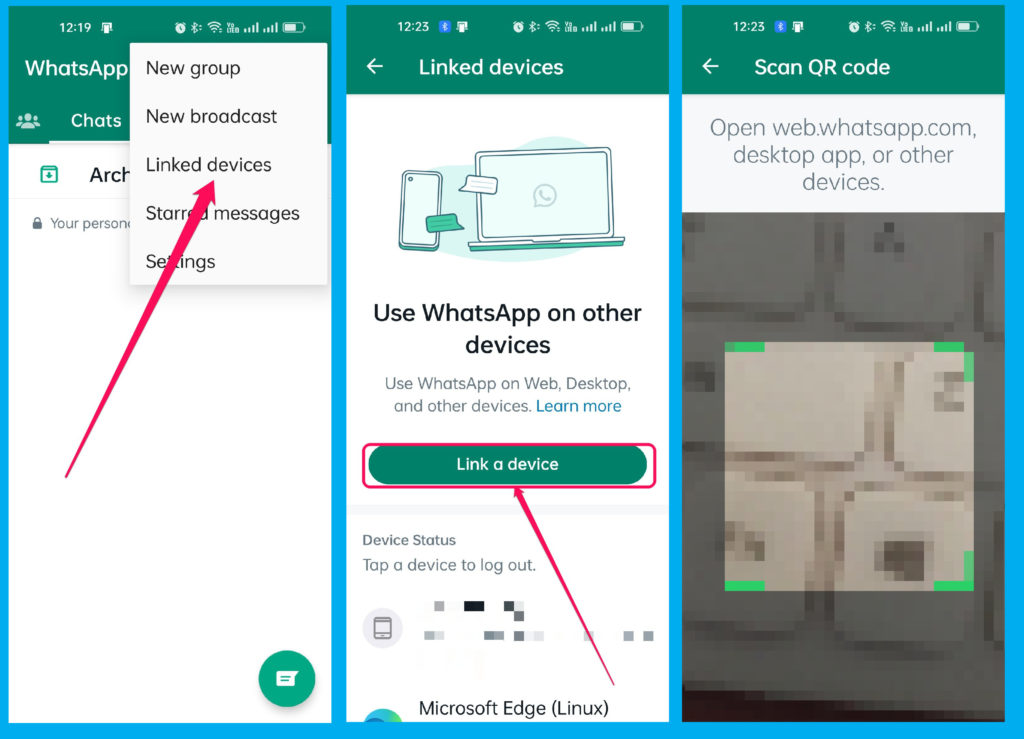 On your secondary device, navigate to Developer Options in Settings and find Smallest width.
Take note of that value because you will need to revert back. Now set that to 600. Your screen will glitch for a second and resize accordingly.
Open WhatsApp on this device in that scaled mode and begin the setup process.
On your main device, scan the QR code on your secondary device using the camera. You might need to grant permission for WhatsApp to access your camera.
Once the devices are linked, you will see your WhatsApp account on your secondary device.
You can go back to developer options and input the original value you changed from the Smallest Width option, or go to Display settings and choose the appropriate display size.
You can now send and receive messages, media, and calls from both devices as they're now mirror copies of each other. You will also see a notification on your main device whenever a new device is linked to your account.
Some things to keep in mind
You can link up to 4 devices to your WhatsApp account using WhatsApp Web or Desktop, but you can only use one phone at a time.
Your primary phone does not need to stay online to use WhatsApp on linked devices.
You can check and manage your linked devices from Settings > Linked Devices on your main device. You can also log out of any linked device from there.
We hope this blog post was helpful for you. If you have any questions or feedback, feel free to leave a comment below.