Looking for another reason to create your baby registry on Amazon? You should know that you get a free baby registry welcome box with goodies for you and your newborn. All you need to do is follow a few steps to claim yours. So if you already have your registry and you're a Prime member, this article will show you what to expect in your free welcome box along with how to claim yours.
What is the Amazon Baby Registry Welcome Box?
The Amazon Baby Welcome Box is a surprise selection of full and sample-size products for parents-to-be and their baby. Being one of the perks of creating a baby registry on Amazon, the welcome box originally worth $35, gets to you, free of charge.
Advertisement - Continue reading below
Since it's a great way to get additional baby products for free, you don't get it immediately you create a registry. That's why you need to go through certain steps to claim yours and get it delivered to you.
What's included in the box?
To be honest, what you get in the box is a surprise. Amazon tries to keep the details a secret because it varies. However, we asked some new parents about the content of their boxes and it included;
Laundry detergent, diapers, wipes, pacifiers, diaper rash cream, bath wash, baby soap, nursing pad, a onesie, a burp cloth, a bottle, storage bags, prenatal gummies, lactation boosting drink, and a ton of coupons.
Since the contents in the box change from time to time, you can see what some of the previously featured items looked like here.
How to Get the Free Amazon Baby Registry Box
Ready to get your free welcome box? Here's a step-by-step guide to help you get started;
The first step is to have an active Amazon Prime membership. If you don't have one, you can sign up for the 30-day free trial here.
Next, create your Amazon baby registry. How do you go about this? Follow our detailed guide here.
Once your registry is set up, make sure you tick at least 60% of the items on your registry checklist.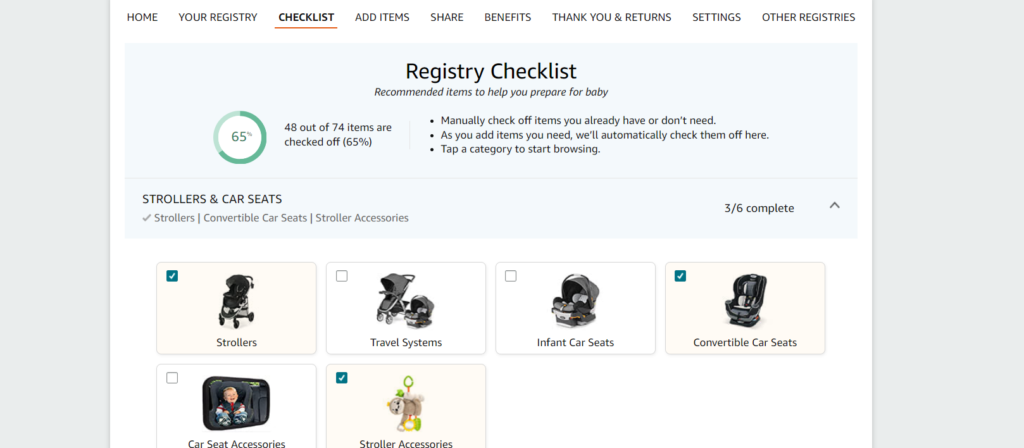 Now this is the tricky part. After sharing your registry link, make sure you purchase and ship at least items worth $10 from your baby registry list. This could be from your friends or family – just as long as it isn't a gift card.
Once your item(s) has been shipped, you can now request for your box.
You should see a 'claim now' button close to your 'Benefits and Welcome box' section. Tap on it and you'll automatically find it in your cart.
Check out and make sure you select the box next to 'Use your $35 promotional balance'
And that's all.
Advertisement - Continue reading below
Frequently Asked Questions
After purchasing up to $10, why can't I claim my welcome box yet?
You have to ensure that your items have been shipped first. Once it's been shipped, you will be able to claim your box
What countries are eligible to receive this welcome box?
You can only ship your Amazon welcome box to addresses in the US.
Do I have to be the main owner of the Amazon Prime account to be eligible?
As long as you have a baby registry under an active Amazon Prime account or one that is part of an Amazon Household, you are eligible.
Do I have to be the main owner of the baby registry?
Yes. To be eligible for a welcome box, you have to be the main owner of the baby registry.
And that's our guide on getting your very own baby welcome box from Amazon. Do share this post with any expecting parent you know who might need this.