Summary
Like we said in our first impressions with the Tecno H6, we believe that it is Tecno's 2014 early Christmas present to all Tecno fans. We have not seen a mid-range budget phone packed with a lot of power features and functionality like the H6.
With really good specs, a premium design, an entertainment and a good enough battery, the H6 makes a really good deal for a smartphone. The Tecno H6 packs in a lot of features, functionality, an awesome 8MP camera and a steady performance for a mid range smartphone. We dive into an in depth review of the Tecno H6 starting with unboxing.
Advertisement - Continue reading below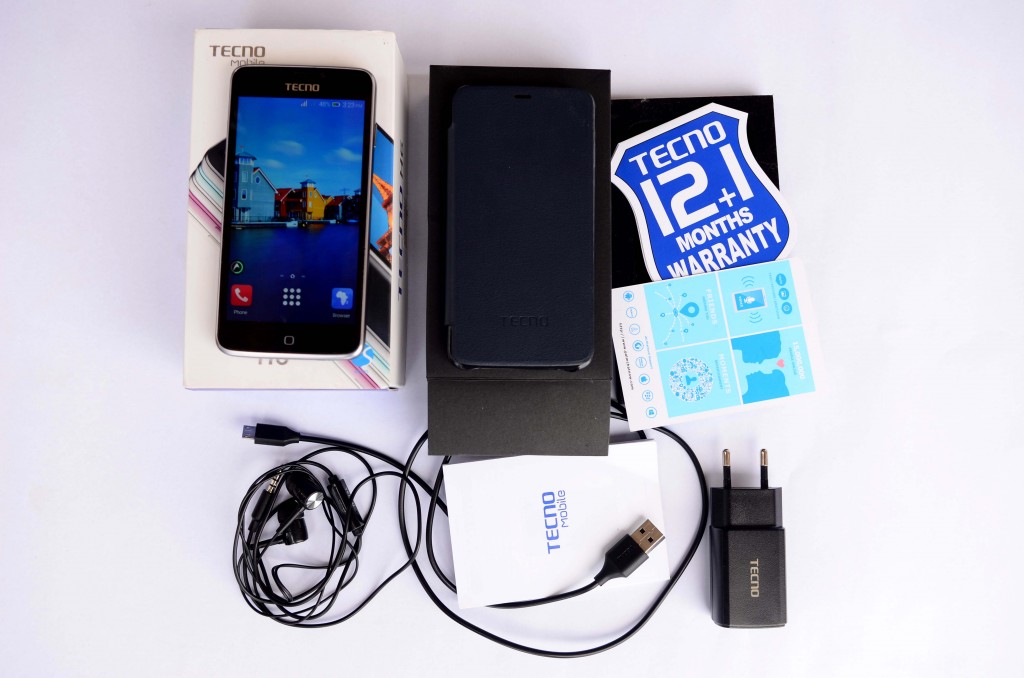 Unboxing
The H6 has minimalist packaging, not as fancy as, say the Tecno H7 or the Tecno Phantom Z. It doesn't come with a battery bank or a memory card (but at its price, I am even surprised I even get a phone 🙂 at all). The box contains the H6 of course (with a screen protector pre-installed), a 2350 mAh battery, a flip cover, a travel charger and earphones. The box is still neat and well branded like with most Tecno smartphones.
You have to break a seal to open the box and when you do, you find the beautifully designed H6 on top in a rectangular soft pouch. (make sure the seal on the box is intact at the time of purchase or it might be a fake phone) Below the pouch is another black box that has the earphones, travel charger, USB cable, the back cover, the flip cover, a manual, a warranty card and a battery all neatly wrapped and packaged. Now let's look at the specifications of the H6.
Tecno H6 Specifications
Released: October 2014
Available: November 2014 (in Uganda, Kenya, Ghana, Nigeria )
Colors Available: Black, White, Grey, Pink and Aqua)
SIM: Dual SIM ( 1 Mini and 1 Micro)
Operating System: Android 4.4 Kitkat upgradable to 5.0 Lollipop
Network: GSM/WCDMA
Band: GSM900/DCS1800/W2100
CPU: 1.3GHz Quad-core Processor
Memory: 1GB RAM, 8GB ROM, Micro SD Slot expandable up to 32GB
Battery: Capacity – 2350 mAh.
Data: GPRS, EDGE, 3G, 3.75G
Dimension: 129.7*64.5*9.8mm
Weight: Not Verified
Camera: 8.0MP Auto Focus Back Camera with Flash, Video Recording, Video Calling. 2.0MP Front Camera
Display: 4.5" IPS touch screen display with 480*854 Resolution/240 dpi
Entertainment: FM radio, Voice recording, E-book reader, Built-in games
Connectivity: GPS navigation, WiFi(WLAN), Bluetooth V.3.0, 5 pin Micro USB port, 3.5mm earphone jack.
Sensors: Gyro -sensor, Light sensor and Proximity sensor.
Common Tools: Torch, Calculator, World clock, Alarm, Memo, Calendar.
Multimedia: Audio format- WAV/MP3/MIDI/APE/MP2/AMR/FLAC/Ogg, Ringtone format- Midi/MP3. Video format- 3GP/MP4, Image format- BMP/JPG/GIF/PNG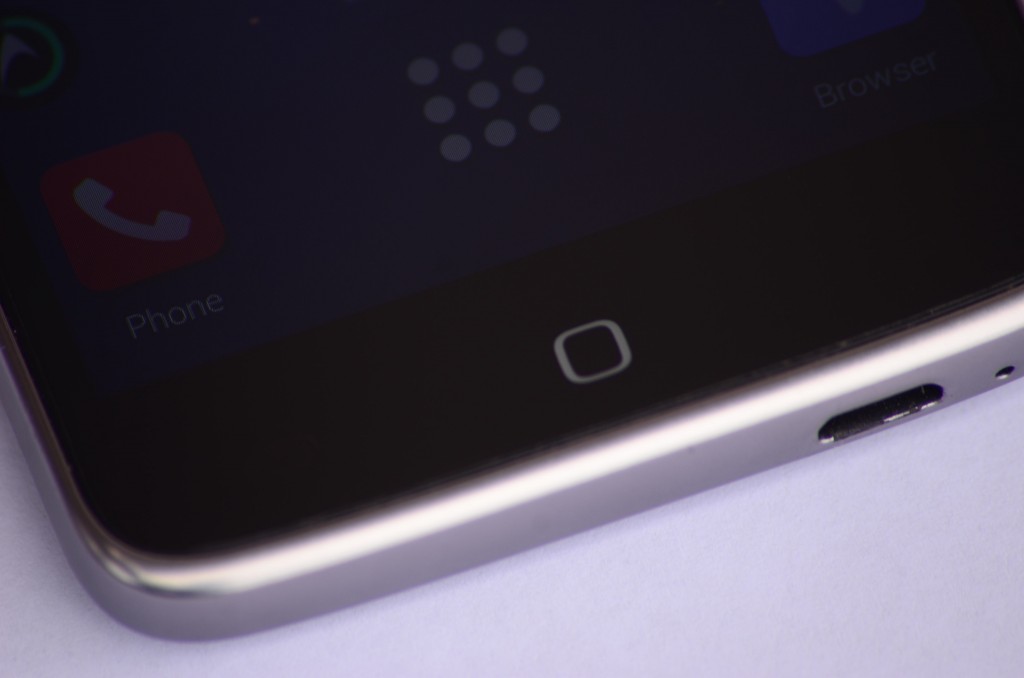 What is New?
Home Button
The home button isn't like the house icon we knew as synonymous with Android. Starting with the Phantom Z, the new Tecno home button is a touch sensitive square with rounded corners that also acts as a notification LED light. When the display is off, the home button illuminates as notification light.
Advertisement - Continue reading below
Kit Kat
The H6 is one of the few Tecno phones running Android 4.4 Kitkat. Unfortunately, it's hard to experience Kitkat per se because it's mostly covered up in the new Tecno UI that now powers their smartphones. From what we see, the H6 is updatable but we do not know if Tecno will release an Android Lollipop 5.0 update for their phones.
Tecno UI (User Interface)
The User Interface (UI) is what we have seen since the Tecno H5 and from Tecno's consistency, we are now sure that Tecno has it's own custom UI just like Huawei, HTC, or Samsung. Let's take a look at a couple of features of the new Tecno UI.
We have the improved notification panel that you slide from top to bottom. When you slide it down, It reveals quick access buttons to apps like the torch, calculator, camera, recorder and timer. It also shows the time, network and the a switch button.
The switch button then reveals a quick access panel to a host of shortcuts. The panel includes shortcuts to settings, brightness control, flight mode, battery level, WiFi, Hot Knot, Bluetooth, data switch, GPS, hotspot switch, data usage, audio profiles, auto rotate, screen time out, power save, low power and ultra power modes.
Hot Knot
This is the new Tecno NFC (Near Field Communication) of sorts. It's a file/data exchange function that allows you to share data by tapping the screens of two Hot Knot enabled Tecno devices together. It's different from "Flash share" because they seem to be primarily different technologies. We aren't sure If Hot Knot can enable actual Near Field Communications since Tecno doesn't offer this information. We are yet to confirm.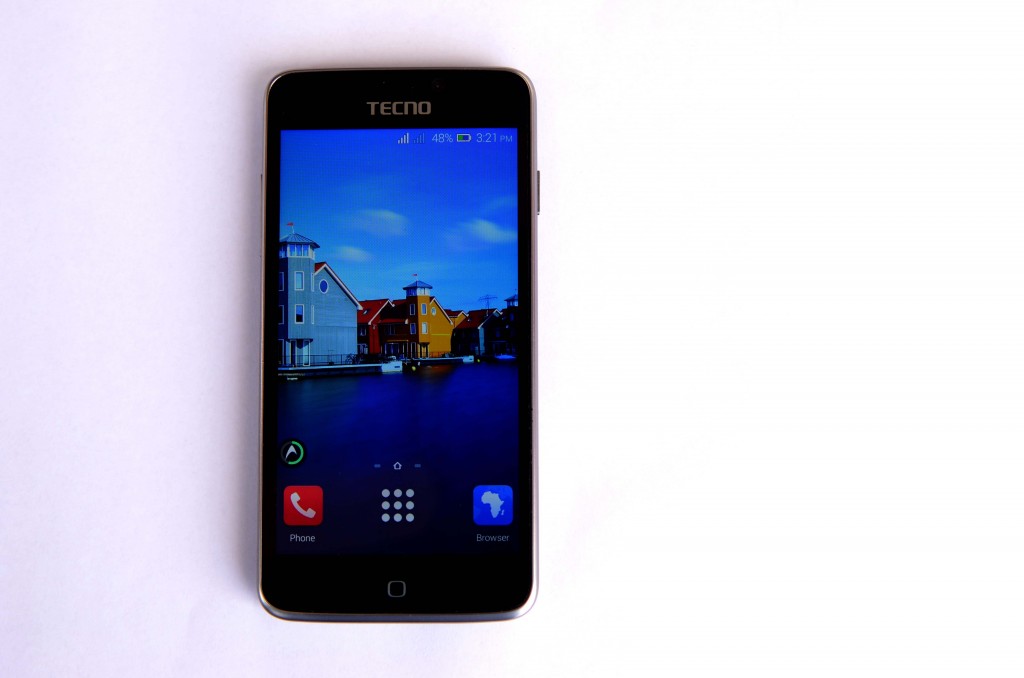 3 Power saving modes
Knowing that battery is one of the major issues most smartphone users complain about, Tecno has built 3 battery saving modes to help you make the best of your battery.
Power Save: When turned on, this feature lets you vary how much power is used by the different functions of the phone to save on battery.
Advertisement - Continue reading below
Low Power: We didn't notice any change when this feature was turned on via the quick access panel. We are still tinkering and if we find out, we will let you know.
Ultra Power: The ultra power saving mode literally switches off all functionality and only lets you access your phone, contacts, messages and clock. Nothing else will work with the ultra power mode turned on.
We also aren't sure how long this extends the battery life but from out tests here at Dignited, we saw that the battery life was quadrupled. Meaning if you had 10% battery that could last you 4 hours, you could get 16 hours in ultra power mode. Of course it would last that long if you aren't making calls consistently.
Inadvertently Mode
This helps keep your phone off when it is in your pocket so that you don't make the wrong calls or let your phone operate itself by mistake while in your pocket. This feature was previously unavailable in earlier Tecno models and comes in really handy.
Screen-casting or mirroring:
This allows you to project the device's screen to another screen. If you have a TV that supports screen-casting, you will be able to cast your device's screen to the big TV screen. It's like having a second and very huge screen. You could literally watch a movie wirelessly from your phone on a big screen with this screen casting feature.
Tricks
Tecno has also included a couple of fancy tricks in the Tecno H6. We first saw these tricks in the Tecno H7 and Tecno R7. The H6 allows you to tap the screen to wake it up or put it to sleep without having to press the power button like done in earlier models. All you have to do now is double tap the screen to wake it up or put it to sleep.
Tecno has also added the quick start function that helps your phone start up faster than usual. You can also call a contact displayed on the screen by just waving your hand over the screen. The same can be done to answer a call – Just wave your hand over the screen when you receive a call and the the call will automatically pick up. The H6 also allows you to mute a call by flipping the screen over.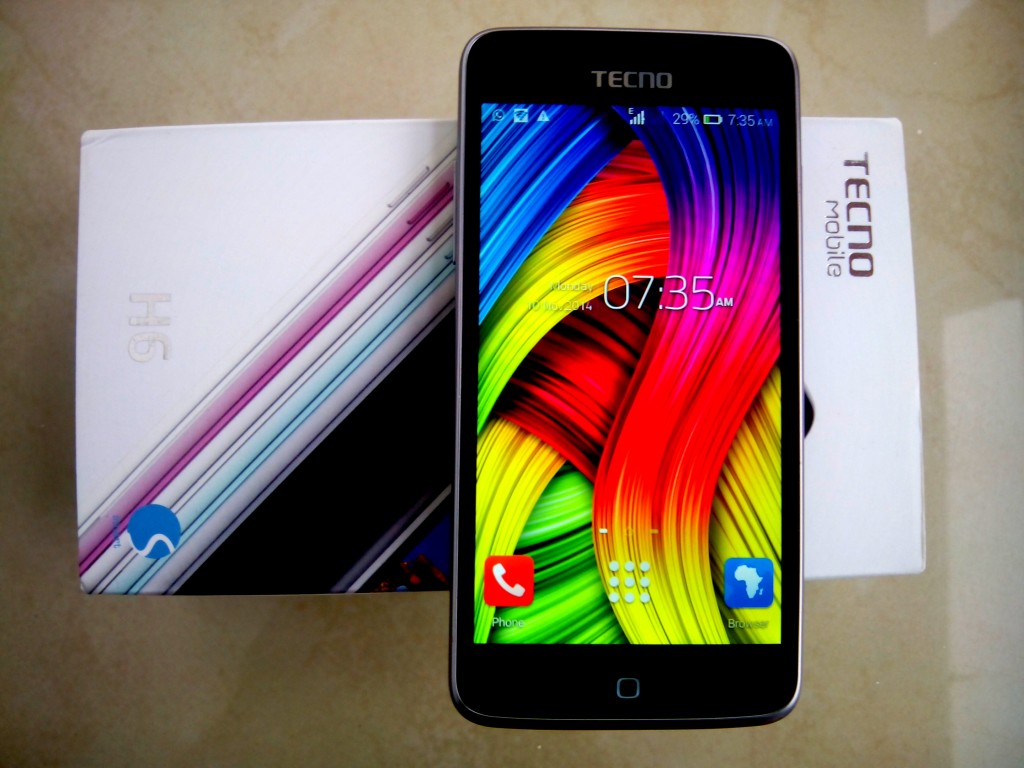 Advertisement - Continue reading below
Display: Not the best resolution but you won't notice the difference
It's sometimes hard to notice that the H6 only has a resolution of 480*854. and a 240 dpi (Dots Per Inch) As much as these seem on the low end of the display meter, H6's 4.5' IPS display looks sharp and colorful with lots of bright colored wallpaper. We had a good experience with viewing images and video even with the supposedly low resolution.
Design: Beautiful but still plastic
The Tecno H6 like many Tecno phones has a beautiful design. From the rectangular form factor with soft curves, the slightly protruding camera, to having the perfect size that fits in your hand, the H6 nails design. The charging port has been taken to the bottom and the earphone jack left on the top. The power button as always has been kept on the right with the volume keys to the left.
The problem comes with the easy to scratch plastic back cover that also feels cheap. It means one year down the road, you H6 won't be looking so good. A poly-carbonate back cover would have actually fixed this but Tecno has insisted on plastic for all phones except the Phantom A+ and the Phantom Z.
The new home button that doubles as a notification light is a plus from Tecno – We love it.
Pre installed Apps
As always, Tecno packs their phones with lots of apps they believe you might need. Thankfully they give you the option to uninstall them if you so wish. They also give you a couple of app APKs (Android Application Package) that you can install offline should you need them. In the Tecno H6 we notice a few important apps that are worth mentioning.
The first is the Du Speed Booster. This basically helps you speed up your phone by clearing up junk files, cache and anything that might be slowing down your phone automatically.
The second up is the new Opera Max app that basically helps you manage your data better by showing you which app is taking your data and giving you advanced controls to manage your data usage. Those are the apps we found worth mentioning.
Performance: Fluid and fast all the way
The Tecno H6 features a 1.3 Ghz clock speed with 4 independent (a quadcore) processor, 1GB RAM and 16GB of ROM. This was enough to keep the phone fast and fluid.
Advertisement - Continue reading below
We were looking for signs of lagging, freezing, crashing or anything that created a bad user experience. For the 3 weeks we had the phone, we didn't find any. We succeeded at activating all the 3 sleeping cores with a lot of activity but the H6 remained responsive and fast amidst the multiple apps that we had opened in the background.
We mixed work and play in trying to determine how the H6 would react in different scenarios and we weren't surprised that the H6 handled everything we threw at it.
We also shifted all the apps that could allow to shift to the SD card freeing memory space to keep the phone fast.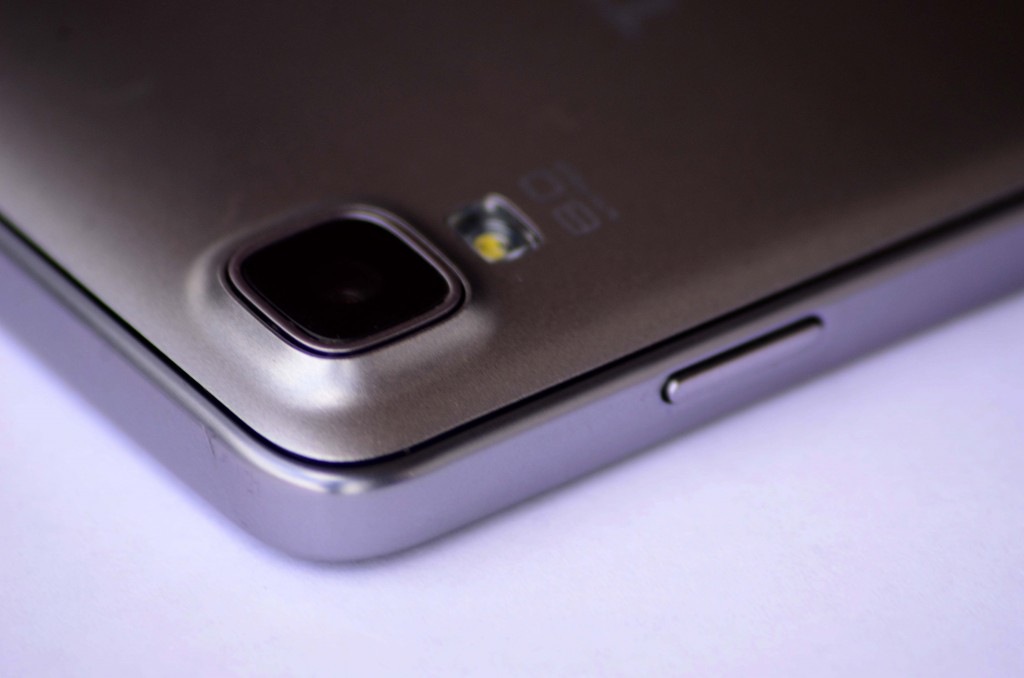 Camera: Improved Low light capabilities
The Tecno H6 features an 8MP primary camera and a 2MP secondary camera. Tecno has improved it's camera app since the phantom A+. They have added a couple of features and  functions that make taking pictures a lot more fan. They have also addressed a couple of previous complaints we had in earlier Tecno models.
The H6 camera allows geotagging of photos so that you can get the location a photo was taken from if you don't remember. It also allows you to choose different shutter sounds or none at all.
The H6 also has customizable keys that allow you to choose which key/button to act as the shutter key – This solves the lack of the a dedicated camera button. For Instance we were able to program the volume down key to trigger the shutter.
The H6 camera also allows you to adapt settings like Exposure, Color, White balance and ISO. You can also set the camera to detect faces, touch, wave or speak to capture. Add time watermarks to your photos so you know what time you took them. For selfie lovers, you can use the self timer to take photos without pressing any button to trigger the shutter. Let's look at the improvements made.
Faster Shutter Speed: This basically helps you capture photos faster reducing the possibility of blurry photos. Together with faster auto focus, the faster shutter speeds allow you to capture crisp and sharp images. Unfortunately even the faster shutter speeds cannot replace the need for Image stabilization.
Better Low Light photography: We weren't able to establish the aperture of the H6 but we definitely saw an improvement in low light photography
Advertisement - Continue reading below
Better Video: The H6 can shoot lovely full HD videos with good sound too. Even at night, we were able to shoot quality videos with the help of the flash.
Entertainment: All you need to stay entertained
SD Card:  The H6 comes with 16GB memory but doesn't come with an SD card.The SD card slot can takes in up to 32GB to store all your favorite entertainment.
Speakers and Earphones: We didn't notice any better sound with the speakers but suffice to say that it is good enough. The earphones gave us a very good listening experience with really good sound. We enjoyed them very much.
Radio and New Music App: As with most Tecno phones, the H6 has an FM radio. There's nothing much to write about the Radio except it's functional and easy to use. Like noted above, one of the best things is that with the earphones, the H6 delivers good sound that enhances your entertainment experience.
The new music app also helps navigate and easily find your favorite music. It helps you quickly access music by swiping your menu to the left. The app automatically categorises your music and allows you to create your favorite playlists. The Music app also has quick access to music controls like repeat, shuffle, skip among others. You can also play your music from the notification panel or via a music widget without necessarily going to the app.
Movies and Video: The H6 display is also big enough for your video and movies with a resolution good enough for a crisp image. The H6 is also perfect for entertainment because of the support for multiple formats it has. All this coupled with good sound on the earphones delivers a good entertainment experience.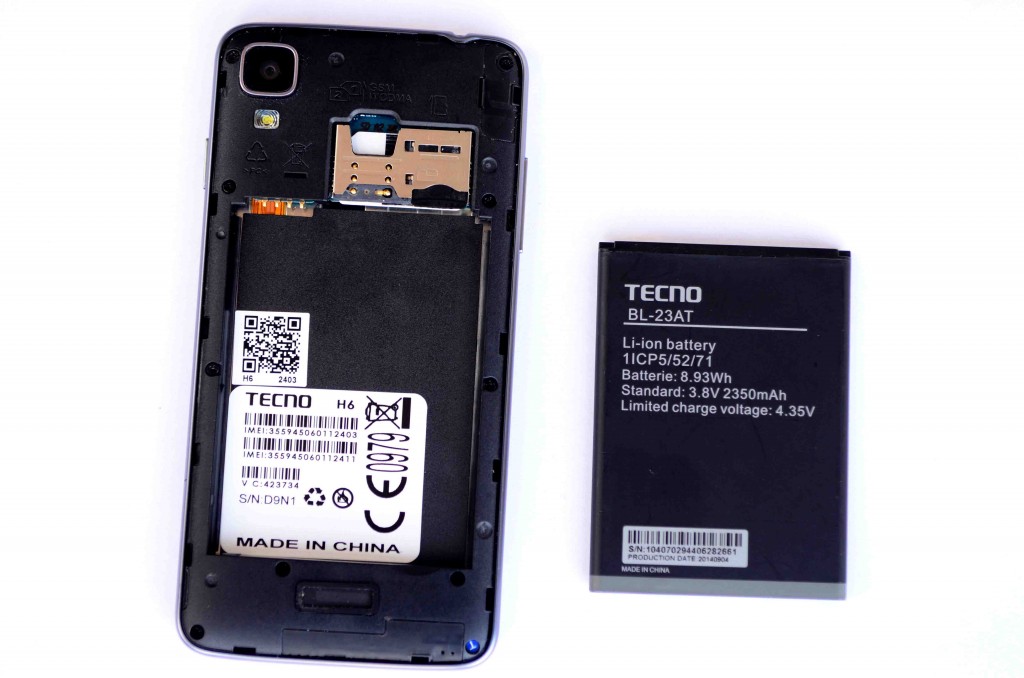 2530 mAh Battery: Good enough but you still need to get a battery bank
One thing we love for sure is how fast the H6 battery charges. In about an hour or less, the Tecno H6 battery fills up. Unfortunately, It equally drains fast especially with heavy usage. Since the H6 doesn't come with a battery bank, you probably want to invest in one.
According to our battery tests, the battery could last a day if you didn't turn 3G often and received a couple of calls here and there. With 3G and constant use in a mix of calls, music, chatting, watching Video and checking email, the battery could only go for between 5-8 hours
The battery saving modes come in handy but since all they do is disable the extra functionality that you so often need especially internet, one might find them not so useful.
Tecno H6 Price and Availability
The Tecno H6 is available across Africa but specifically in Uganda, Kenya, Ghana and Nigeria among others. In Uganda, you can get the Tecno H6 from the retail store at the Tecno head office at Plot 20 William Street Rene Plaza, Kampala. You can also get it at the recently set up fancy Tecno store at Lugogo Mall at only 350,000 Ugx ( about $ 126)
Tecno H6 Price in Kenya (Ksh. 9,500 about $105)
Tecno H6 Price in Ghana (GHC 430 about $134)
Tecno H6 Price in Nigeria (18,500 Naira about $103)
What we Liked
Kitkat and New UI
Hot Knot
Battery Saving Modes
New Tricks
Price and Availability
Fast charging battery
Inadvertent Mode
What We didn't Like
Plastic back
No Battery Bank
No memory Card
Wrap Up
Just like we did for the Tecno Phantom, we would love to review the H6 after one year to see if we would have the same opinion of it then. But for now we are very much impressed with the performance and price of the Tecno H6. If you want a good first time Android experience or if you want to buy a gift for someone, The Tecno H6 would be it.
Do you own the Tecno H6 or would you want to own it? Let us know what your experience with device has been.
Tecno H6 Gallery