The Microsoft Lumia 435 is a Windows Phone 8.1 low-end smartphone that was released in Febuary this year. The device was launched in Uganda in mid-March this year along with the Lumia 532. They are targeted towards users who are "moving towards a smartphone for the very first time" according to Mariam Abdullahi, the General Manager Microsoft Mobile Devices East Africa.
We've had an experience with the device for a month now and here's our spin with it.
Advertisement - Continue reading below
Summary
The good
Dual-SIM support with seamless, fluid user experience
Swappable colorful hard covers that can easily be switched to suit your preference
Swype-like keyword with auto complete and auto correction
30GB of free online storage for files and photos
Clean Operating system with consistent performance
Windows phone 8.1 upgradable to soon coming Windows Phone 10
The bad
2MP rear and VGA front cameras as a hard sell for photography enthusiasts and selfie lovers
Apps not optimized for slow internet connection
Doesn't come with Whatsapp pre-installed
Non-detachable charging cable
#1. Unboxing
The Lumia 435 Dual SIM phone comes in a well packaged colorful box with Lumia 435 branding that's nice and smooth. The phone comes with a standard micro USB charger, earphones for making calls and listening to music. The audio port is a standard 3.5mm port which means you can use the same earphones across most phones and even your PC. The device is certainly light measuring only 134.1g(4.73oz).
The Lumia 435 comes with an easily swappable colorful hard plastic cover. For my case, it was a green one. Lets not take this "easily swappable cover" for granted because when I reviewed the Lumia 820, I had to refer to the manuals on how to remove the cover, which still didn't help much!
Read more: Nokia Lumia 820 4G LTE Smartphone Review
The cover beautifully wraps around the phone exposing only the ports and camera. The cover is scratch-resistant and is designed to protect your phone from damage in the event it falls on a hard surface which is one of the big pluses of the Lumia 435.
Advertisement - Continue reading below
We however didn't like the non-detachable charger whose cable is hard-wired to the charging head. It would be nice to have a detachable USB cable which can be used to charge the phone on a wall socket and on a PC via USB port.
#2. Features and functionality
Pre-installed Apps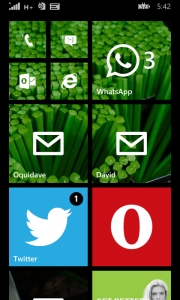 Everything you need out of the box: Now we know Windows phone mobile Operating System hasn't received much love from developers who regard it as a second citizen to Android and iOS. But Microsoft is making every effort to make its platform attractive with more app options.
Microsoft in fact bills itself not just as a device vendor but also a services and cloud provider. That's why the company pre-installs some of its services on its phones with the hope that users will find them useful. Some of these include Microsoft's popular emailing client Outlook, Microsoft's productivity suit Microsoft Office with things like MS Word, Excell. This makes it easy to create, open and edit documents on the go especially for those created from the desktop. On the communication and collaboration, the device comes with Skype which it bought some time back, calendar, maps, and BBM messenger Apps installed and of course Internet explorer for browsing.
But Microsoft doesn't just want to run the whole show alone. The company knows how popular social networking is, so it pre-installs Facebook and Twitter out of the box. HERE Maps from Nokia is your Google Maps in the Windows Phone world. It's interesting and impressive that Microsoft plays nicely with its competition specifically Google since most of Google services such as Gmail, calendar sync nicely well the operating system.
Browsing and social networking
Smartphone have brought information a lot closer to us. We are also more connected than previous generations.
You can Bing Google and vice versa: The Lumia 435 comes with Microsoft's official browser Internet Explorer to help you with your basic browsing. Search is powered by Bing, the companies search engine. However, you change the default search engine to Google in the settings if you wish, which was a pleasant surprise for us.
If you are not so into typing, you can also use Cortana, Microsoft's voice search and personal assistant that was integrated in Windows phone 8.1. We took Cortana for a spin. We found that she has a personality unlike Google Now or Siri. For instance you ask her her favorite dress, dish, movie or even her/his? gender. She's good with recognizing or translating speech into text inorder to make search queries and return relevant results. She was good at creating appointments for us in the calendar, calling someone and opening Apps.
But Cortana struggled recognizing local notable personalities, places and historical events. Problem partly is because Cortana has a long way understanding different accents.
The Lumia 435 comes with a dedicated search printed button that sits horizontally along with the back and Microsoft home button. Personally when I want to search, I'll fireup a browser or Cortana to search, but the thought of hitting the search button never clicks my mind. Earlier versions of Android phones had this but they replaced it with a menu button instead to ease navigation.
Advertisement - Continue reading below
Thanks for Facebook and Twitter, but where's Whatsapp?: The Lumia 435 Dual SIM phone comes with Facebook and Twitter pre-installed so you can keep in touch with friends and your networks.
However, the Apps seems to perform really poorly under slower connections specifically EDGE or 2G which is still prevalent in Africa. Another thing is having these native apps will also weigh heavy on your data plan. What's disappointing is Microsoft did nothing to optimize or re-engineer these services to both work on slower networks and also consume less data.
But the big disappointment is the exclusion of Whatsapp to make a complete social networking trio. Yes you can install Whatsapp from the Windows store, but that's under the assumption that everyone understand the whole app store model especially in Uganda.
#3. Performance and connectivity
More RAM is always good: What's impressive about the The Lumia 435 Dual SIM phone is its consistent performance. The device sports a 4.0" capacitive touchscreen with a resolution oof 480 x 800 pixels which makes reading web pages and viewing photos stunning.
But it's the Qualcomm 1.2Ghz  Dual-core processor and 1GB of RAM that give this low-end device a consistent, fluid performance for the apps and services it runs.
We are impressed with this new specs mix because previous Lumia phones of this caliber had quad-core processors (twice as many processors) but with only 512MB of RAM (half as much as RAM). We know that if you don't want your phone to behave like it's drank, then you need more RAM which Microsoft has wisely done with the Lumia 435 for a reasonable price point.
By the time of this review, the phone had more than 70 Apps — that included pre-installed and those that I installed myself. Running more than 10 apps simultaneously starts to bring the phone to its knees. We had a fluid experience with Skype calls, so if you tend to communicate with friends and family or business partners overseas, then this is definitely a phone for you.
The best Dual-SIM phone we know:  On connectivity, Africa is a dual-sim content. Whether you are in Nigeria, Ghana, Kenya or Uganda, users prefer dual-sim phones anytime. That's irrespective of whether it's a low-end or high phone by the way. I clearly explained reasons for this trend in my guest post on African makers channel on Medium while TechCabal's Bankole wrote an elaborate post on Quartz on the same.
Microsoft has wisely made the  Lumia 435 dual-sim compatible with Micro-SIM cards. But that's the boring and easy part. The more interesting aspect here is the user experience. Microsoft has customized the operating system to handle dual-sim functionality in a fluid, clutter-free, seamless way. It's so easy to make calls or text between the two different simcards or networks.  It's simply brilliant.
Sim applications finally here: From Windows phone(WP) 7.5, Microsoft has learnt a big learnt about what should be core and nice-to-have features in its devices. When I reviewed the LG e900 which ran WP 7.5 about two years go, Microsoft adamantly didn't include USSD functionality, one of the core technologies that powers mobile network services like loading airtime, data and mobile money. Hence devices with WP 7.5 were a serious flop in Africa.
Read more: LG E900: A mid-range windows mobile phone on the Orange Uganda network
The company later iterated to WP 8 and included the service which we saw when we reviewed the Lumia 820 running WP 8.
Still one had to dial a known USSD shortcode such as *133# for instance for loading data on Orange/Africell Uganda. But now with WP 8.1 which runs the  Lumia 435, the company has included "Sim applications" which lists all a network's services in a nice interface similar to Android's Sim toolkit.
You've probably interacted with it with for instance the "MTN menu". Which means users nolonger have to recall a specific shortcode to fireup their network's services such as mobile money, data services etc. However, the feature remains hidden in the general applications menu instead of showing it in one of the tiles like what they've done with calling, texting, email and other very relevant applications.
High performance services on slow-networks, such a bummer: But what's not brilliant about Microsoft's Lumia 435 is a disconnect between the functionality of the Apps and the mobile networks they run on. Let me explain;
As we've already said, most of the networks in Uganda still run on EDGE or 2G network with 3G connectivity in select areas specifically in near main trading centers. Yet most of the apps that in Lumia 435 such as Skype, Cortana, Internet Explorer(IE), Outlook, One Drive work best with either reliable 3G+ or 4G network fast Wi-Fi.
Infact we tried browsing with EDGE(2G), but Internet Explorer often showed "we're having trouble displaying this page" after long loading times most of the times. Don't even bother using Twitter or Facebook Apps on 2G connection.
We could only have a better experience on 3G for IE, Skype, Facebook, Twitter and Whatsapp on 3G+ or Wi-Fi.
Obviously it's not entirely Microsoft's fault here. The networks should "style-up" their networks too.  But the software giant could have done some magic optimizing or creating stripped-down version of these apps for slow network connections similar to how Facebook released Facebook lite for slow-network or Whatsapp version for low-end or feature phones.
Share your phone internet: It's also worth mentioning that you can easily turn your phone into a wireless hotspot under "internet sharing" in settings. This enables you share your internet with your laptop, tablet or with a friend's smartphone or PC without having to buy another modem or Mi-Fi. While Android users can take this granted, it wasn't until WP 8.1 that this feature was available and flawlessly worked on Lumia phones as an in-built feature.
Read more: Review: Windows Phone 8.1, a tell tale of looking in the mirror and it says nothing but the truth
#4. Camera and Multimedia
Radio is still king: Including an FM radio in the  Lumia 435 is another plus for Microsoft. We know radio is still the undisputed mass media application in Africa especially in Uganda. Like most smartphones though, the radio features only works when earphones are plugged in which Microsoft includes in the device box.
Now for those of you who wish to be in-charge of what you listen to or watch, Lumia 435 comes with 8GB internal memory although in practice you've only 4GB to work with. The rest is already taken by the operating system and pre-installed Apps. Well, you can expand this memory footprint with an external SD Card which you have to buy separately.
Now to transfer music to your phone, you'll have to connect your phone to a Windows PC. If you are running anything below Windows 8 like 7/XP, you'll have to install Zune software to sync music and videos. Otherwise, with Windows 8, all you need is Windows media player which you can setup to sync your PC music with your phone. The Music App on Windows Phone isn't the best though. But it supports mp3/wav/acc for music formats and mp4/H.264 standards for video playback. So don't expect your .avi, .mkv, .3gp, .ogg files to play.
Shoot good enough images, but selfie lovers not invited: The Lumia 435 camera is sort of a trade off. With 2MP rear camera and VGA front camera, am not sure that would excite photography and selfie ethusiasts. But hey, you've probably heard it being said "it's not about Mega Pixels", it's what you do with the pixels and how well Microsoft has optimized their software to make the most of their optics.  Camera supports geo-tagging so you know the location where  a photo was taken and shots video [email protected], so HD videos here.
The camera lacks back flash LED which means you won't get the best experience with night photography. But also when you experience load shedding, you can't turn your phone into a torch with specific apps that rely on the rear cam's LED flash light.
#5. Battery: Full day battery on 2G
The Lumia 435 comes with a Li-Ion 1560mAh replaceable battery. We know the new trend vendors are following is building devices with non-replaceable batteries, Samsung being the latest manufacturer to join the bandwagon. This of course makes devices more expensive since you'll have to buy an entirely new phone each time your phone battery reaches its end of life. Thankfully the Lumia 435 comes with a replaceable battery which you can swap once you you a new one and still keep going.
With this 1560mAh, we managed to go a full day on 2G. When we turned on 3G, things got less interesting. With 3G turned on, we managed to go 5-6 hours, but with a bit more multi-tasking, browsing and Facebooking, this could be less.
Charging the phone from zero charge to full charge takes an epic 3 hours. Also as I've already said having a non-detachable USB charger means you've to invest in another USB cable if you wish to charge the phone using a PC which isn't good.
#6. Price and availability
The Lumia 435 is available in both Uganda and Kenya. In Uganda, the  Lumia 435 goes for a price of Ugx 330,000 at Simba Telecom and at Midcom stores. The device is also available on MTN, and Airtel Uganda.
Wrap up
The Lumia 435 is a great attempt in capturing a market that was once dominated by Nokia its predecessor. Its hardware customization, dual-sim functionality, productivity and communication services that run on a smooth and consistent mobile operating system at an affordable price make a suitable candidate for budget-sensitive user who wish to upgrade from feature phones (katochi), Asha and S40 phones to a real smartphone.
Dignited Rating: 3.7/5