Summary:
The Lumia 820 is a solid Windows Phone 8 mobile phone built with a smooth polycarbonate material that's scratch resistant. The phone's top notch optics, slick design, Live Tiles with customizable bright color schemes etched on Windows Phone 8 Operating System make the phone adorable.
Advertisement - Continue reading below
The phone is your gateway to a brave new world of futuristic Technologies like 4G LTE, NFC and Wireless charging.
But the phone's achilles' heel is its not-so-great battery, late Operating System updates and bug fixes and In terms of price, it  slightly costs more than its competing Android phones.
It's almost 3 month now since i bravely though reluctantly left the Android camp to the Windows Phone world — a move that has since won me a name attached to notoriety  among Android diehards like Onyait Perez.
My journey started with the LG E900 windows phone running Windows Phone 7.5. I almost wanted to turn back due the phone's lack of  true multitasking, a file manager, Inter-operable Bluetooth file transfer, internet sharing, USSD technology, non-up-gradable to WP 8, poor battery life among other things.
I then met Moses Sitati,  the head of developer Engagement, Innovation and Corporate Relations for Nokia East Africa who seeded us the Nokia Lumia 820 which runs on Windows Phone 8.
I've had the device for more than a month now where each day, i had to test, compare, contrast the phone against its competitors, discover and adventure like an explorer who's set sail to uncover unfounded lands.
Advertisement - Continue reading below
The Build and unboxing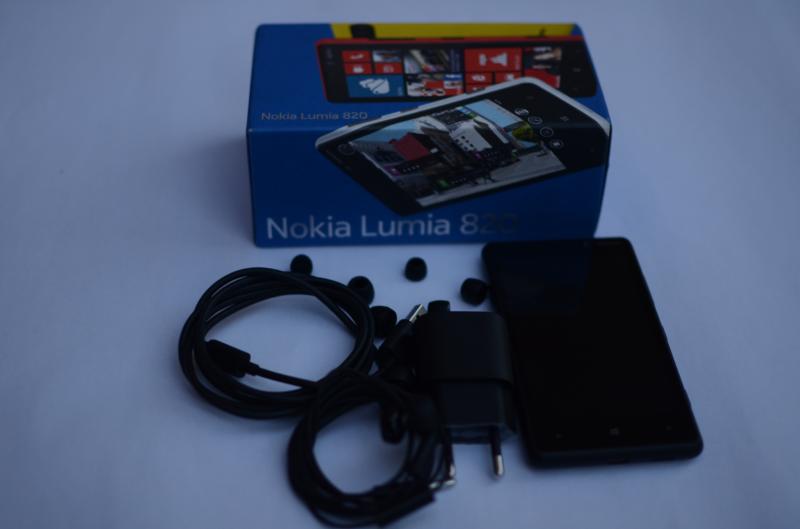 The Lumia 820 is packaged in a hardcover box with printed images of the phone and it comes with the usual phone accessories — standard charger, a Micro USB cable for USB charging and connecting to the PC, Earbuds for making calls and listening to music.
A removable poly-carbonate shell houses the phone's innards, and it's sturdy as well as colorful. The 820 also has comfortable, rounded corners that don't dig into your hands.
USSD Now supported
You have to live in Africa and have a full understanding of the African market to fully grasp the grand importance of this Technology. While, as a technologist i can argue whole day how this is so decade-old obsolete technology, lo and behold, it's the backbone technology to what some have termed as revolutionary mobile products i.e Mobile Money in Africa.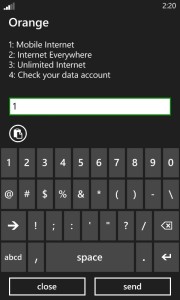 In the previous versions of Windows Phone (7.X) it wasn't supported, but it seems Nokia/Microsoft came to senses with WP 8.  However, not so fully! Still the "SIM Applications" which are operator services that heavily rely on the technology accessible from setting is still buggy. You need to use a USSD code directly for a smooth operation.
2G, 3G, 4G LTE, select your choice
In essence, we say the Lumia 820 is a 4G LTE phone. But, as expected, the phone maintains backward compatibility with 2nd and 3rd GSM networks giving you the flexibility to use the phone in areas that are not covered the latest network standards.
Carriers across the world and specifically in Africa are beginning to slowly roll-out 4G network with 3 providers in Uganda already with the standard. 4G is only in selected areas in major cities and it won't be another 2-3 years before the standard becomes ubiquitous.
Advertisement - Continue reading below
However, in the meantime, the 820 has you prepared for the future!
Great Camera with Bing and search integrated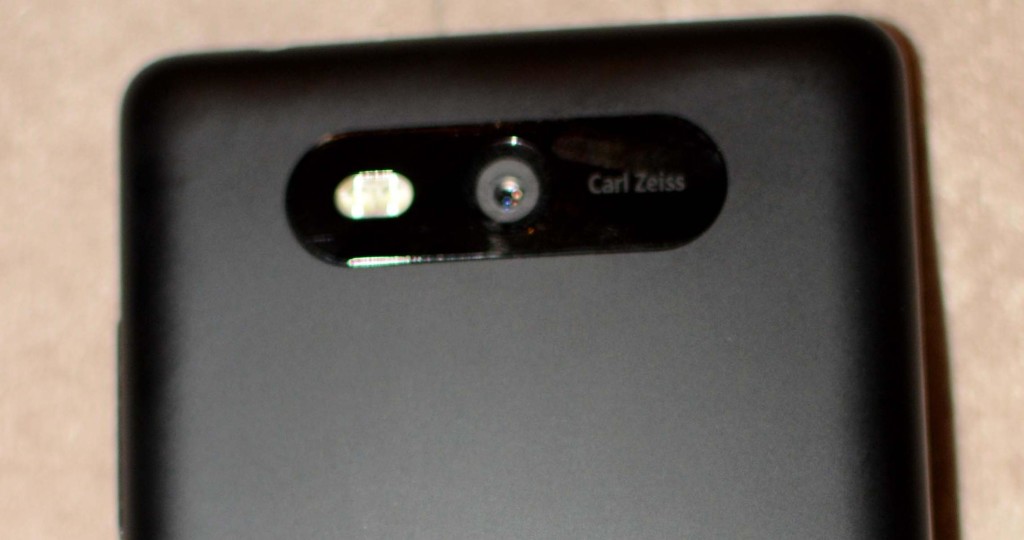 Don't even bother comparing anything and anyone else with Nokia when it comes to optics. These are the guys the 41MP PureView 808 camera and now on the  Nokia Lumia 1020.
The Lumia 820  though,  has an 8 MP camera with 3264×2448 pixels and is developed by Carl Zeiss optics. It also has autofocus, dual-LED flash for low light shots and Geo-tagging so you know exactly where you took your photos.
You can shoot in either a 16:9 or 4:3 aspect ratio and there's also a front-facing secondary VGA camera for video calling. With the super awesome Skype App on Windows Phone, this is simply an invaluable asset for those who prefer face-to-face conversations.
A hard button on the lateral side for quick access to the camera is a plus.
To style-up the camera, Nokia introduced some extra features that it dubbed "lenses". These are programs developed for the Lumia series. There are two that come pre-loaded. The first, Bing Vision, is a traditional barcode and QR code scanner that looks up the product and gives you a Bing search on product. It even translates words and phrases in what it scans if you want. Now that's cool.
Having this as a built-in feature is a big deal since with other platforms namely Android/iOS you've to download third party Apps like Google Goggles on Android  to do this.
Advertisement - Continue reading below
When we tested it on some everyday products(books, CDs, DVDs, beverages) it came up with the required information.
The second is called Smart Shoot and lets you pick a spot on the screen – you select it with a tap on the display – that will then be removed from the resulting picture. The camera shoots five individual pictures, letting you select the best one from the results.
More lenses are available to download from the Windows Phone store, including a Nokia-developed Panorama feature.
Nokia City Lens and Maps that won't get you lost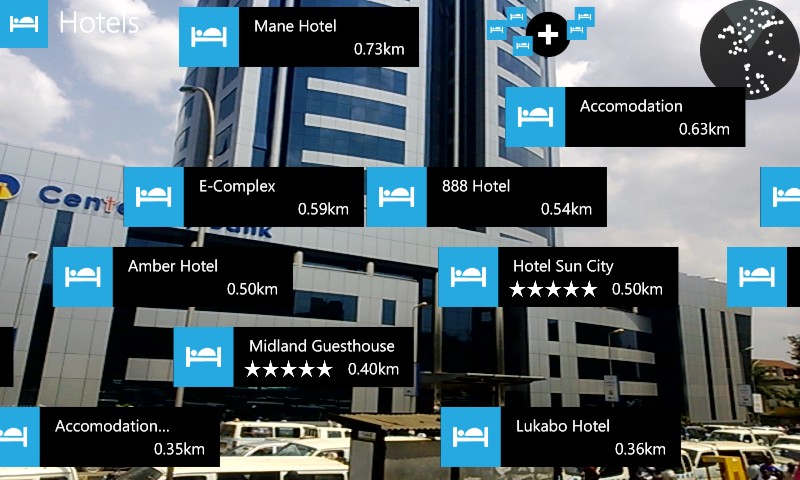 Nokia City Lens is  augmented reality app by Nokia for Windows Phone 8 that enables you find information in the real world in a more visual way. It was one of the first feature that captured our attention.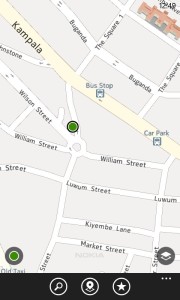 When we tested it around the streets of Kampala, its obvious that Nokia has invested a hefty amount of money to collect this information and map it on its mobile virtual information service.
If you don't like moving around pointing your phone in front of you as information is pulled on whatever your camera points at, then you can go with Nokia Maps.  Nokia had to part with $8.1 Billion to acquire Navteq — a Chicago-based provider of Geographic Information Systems (GIS) data and is a major provider of base electronic navigable maps that now powers its mapping service.
By comparison with Google Maps, there's absolutely no doubt that the two mapping services matchup. However, when we tested the two services side-by-side, Google Maps appeared to have a slight edge over Nokia maps with more labelled locations and pathways(common in Africa) than Nokia Maps.
Advertisement - Continue reading below
Ring, Lock & Erase your lost phone with Phone finder App
For my Android friends, if you've searched for all possible reasons to switch to a windows phone and have failed to find one, this is one of them! Up until this August, when you lost your droid, you lost it, period.
If i told you, i actually lost this Lumia (not for review purposes), am not sure if you would believe me. But i did and i found it! The phone slipped out of my pockets in a Taxi, but i was lucky to find it with someone who was willing to give it back at a reward.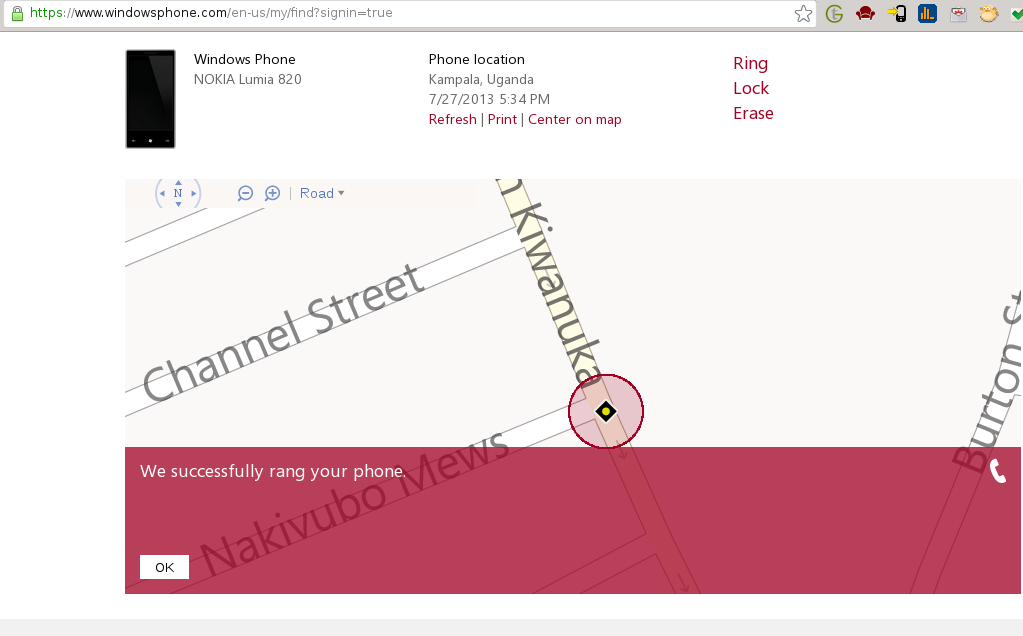 When the Phone went missing, i immediately logged into WindowsPhone and logged in using  my windows live account and there click on "find" which led me to a page where i could ring, lock(using a 4-digit code) or erase all my data on the phone.
I've lost at least 3 phones to thieves and 2 just misplaced. A Phone Finder feature isn't just an option for me, it's a must!
Mediocre Battery life and wireless charging without charging mats
Even the King of phone battery falls short when when it comes to smartphones. The official  8 hours of 3G talk time, with 360 hours of standby is still a far cry to the Nokia 105's one month battery(as seen in the billboards, not verified by the TechPost).
Practically, the Lumia 820's removable 1,650 mAh battery gave me a full day on EDGE, but about 5-6 hours on 3G browsing.
To recharge the Lumia 820 you have the option of purchasing a wireless charging cover that works with Qi standards. The cover doesn't add any extra noticeable weight or thickness to the device, but charging pads aren't exactly cheap right now and the charging mats aren't readily available in the streets anyway. We hoped, that Nokia would include one wireless charging mat, but alas, none is!
So we had to stick to the old school ways of charging the device.
Tap and share using NFC, but you could be alone
NFC otherwise known as Near Field Communication is a short-range high frequency wireless communication technology which enables the exchange of data between devices over about a 10 centimeter (around 4 inches) distance.
Advertisement - Continue reading below
The Technology is currently being used in Contact-less Payment, public transit payment systems, Healthcare, smart objects and just the simple phone-to-phone data sharing ranging from files, photos, contacts etc.
NFC is a totally great technology and finds applications in almost any sector or industry. But, so far, there are way too few smartphones that support the standards including the very high end ones.
For instance among my friends, I've not exchanged any information with NFC and i've not found applications in stores, hotels, restaurants in the streets that support the Tech yet!
However, you can still use Bluetooth instead which is available on most handsets but works between Windows phone devices with Windows Phone 8 not 7 and Android devices.
Music and Multimedia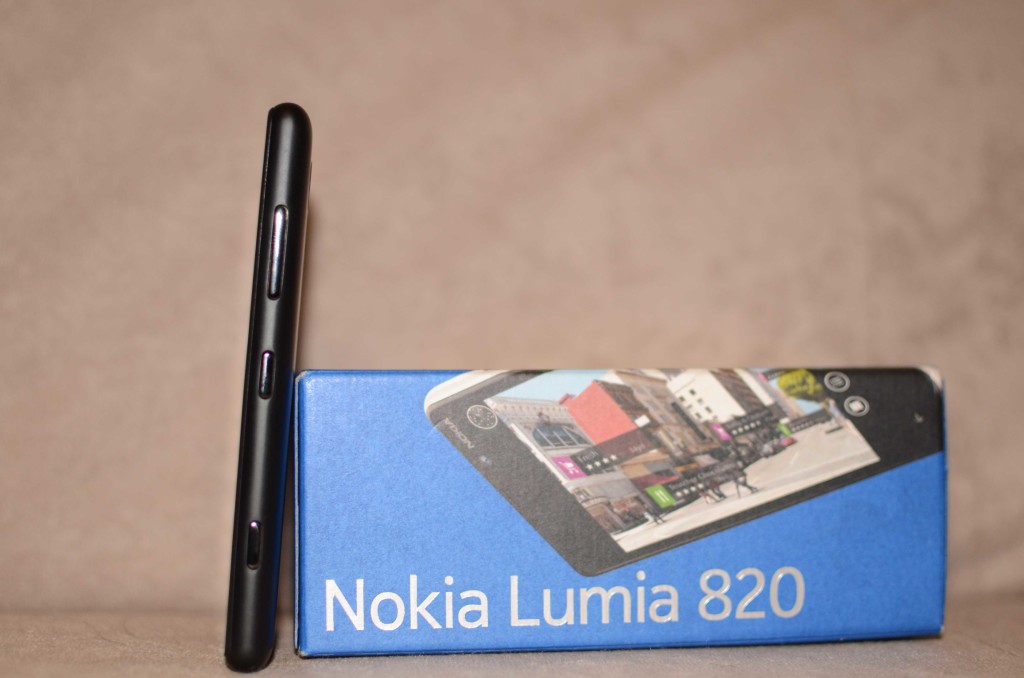 The Lumia 820 with WP 8 has more support for audio and video codecs than its predecessors.  So you can play your mp3, mp4 files without trouble. But you'll have to plug the device to your Mac or WIndows PC first with the appropriate Apps installed, then sync your music playlists using the software first.
The Phone comes with both Nokia's and Microsoft's music streaming services pre-installed. In a region where bandwidth costs are still off the roof, i didn't find these services of much help despite being a music fan.
Nokia should have included an FM radio based on the premise that Radio is the biggest media in Africa, and the most influential. I've heard stories from Telecom sales agent about walk-in clients who ask if "the iPhone has a radio/TV"!
Kids Corner and Nokia Drive among notable services
The Kids corner ensures that the little ones don't mess with the phone. When the mode is turned on, you choose which Apps will be available to the Kid and the other stuff be hidden away. However, Windows Phone doesn't ship pre-built reasonable Apps for the little ones to play with on the mode, hence you've to download some toddlers Apps first and then tell Kids Corner to show them otherwise, the mode isn't useful.
Should you happen to be driving, Nokia Drive is your companion. With voice turn-by-navigation which is similar to Google's voice navigation, Nokia Drive can you to your destination.
Some problems we found with the Lumia 820
OMG, removing the back cover is such a hustle
For the first time in my life, i  referred to the manual on how to do this! Unbelievable, right?
But, yet so true!
At first i was very nervous doing it fearing damaging the device, but i finally got it by using my fingernail to wedge the display free while bending the removable cover back.
This is made worse by the fact that i had to open the device, not once but four or more times to cold boot it when it occasionally freezes(see below).
Occasional Phone freezes
I was personally surprised this could even happen to a high-end device like this. At first, i thought it was just one of those one-off occurrences. But when it happened 3-4 times, i Googled around to confirm whether it was just my personal unit that had defects, but it turned out, many other people had experienced similar problems.
To rectify this issue, after some Googling, i had to press and hold the Volume down and the Power button simultaneously for 10 seconds to cold boot the phone and then power it on after. Alternatively if this didn't work, i  had to remove the battery(which is awfully difficult) for 10 secs and then put it back!
Internet sharing is buggy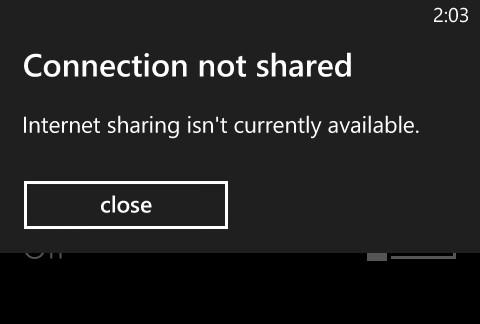 Coming from Android background where this feature is supported(not just on Wi-Fi but also USB) on versions as early as Froyo (2.2) is simply inexcusable for Microsoft/Nokia. Unlike Windows Phone 7.5, Windows Phone 8 actually has the feature, but my attempts to activate it proved futile to this day and despite my endless Googling for a solution which includes Updates, tethering is still not fixed!
Third party Apps didn't solve my problem either since there was none on the Windows Phone store. However, this problem could only be unique to Nokia phones(also reported on the Lumia 620) since the new Huawei Ascend W1 4Afrika windows phones actually do tethering without any problems.
Texts Sync doesn't work efficiently
I experienced this problem especially with Whatsapp messages and some email accounts configured on the phone email client. I've around 4 email accounts which include my Live/outlook account, my Gmail, my corporate TechPost account and ThinVoid IMAP/POP3 account.  My Live and Gmail emails were always in-sync and i got emails instantly, but the other two accounts didn't.
For Whatsapp App, i've to manually open the App and when wait for notifications to appear before i can read my texts.
However, photos and Docs instantly synced to my Skydrive without any trouble as soon as i created one or took a photo using the phone camera.
No System Wide File Manager
Nokia/Microsoft really? what possible plausible reason can you give for not having a System Wide File Manager?
I didn't find any great third party App for this. To Access Files in your Mobile, you have to connect it to the Windows/Mac Operating System and install a Windows Phone 7(Zune) or 8 App before you can browse through your files!
Availability and Cost
The Nokia Lumia 820 smartphone is available in Midcom stores in Kampala and at Orange Uganda stores at around  UG Shs 1.6M.
Conclusion:
Do i still miss my droid? I think i do, but not so badly to ditch the Lumia  820 that i hope to use for a couple of more month. Nokia/Microsoft is so far facing two problems; lack of adequate Apps in the Windows Phone store and Microsoft's late updates to the operating system. With timely updates, bug fixes and more Windows Phone Apps already in other platforms, Nokia will position itself not as the second choice, but the first choice option that it once was for most smartphone owners.