Digital TV migration in Uganda brings us a new way of watching TV; more TV channels, high quality pictures and sound. But that also means you've to kiss watching free TV goodbye — sort of.
Still even if the Pay TV providers want you to subscribe to monthly packages, they know most  Ugandans are used to Free-to-air channels. Here's how you can still watch TV for free.
Advertisement - Continue reading below
Buy a Free-to-air decoder

This is probably the best way to receive free-to-air digital channels currently in Uganda.  The price of fta decoders in Uganda varies from one vendor to another. But the Konka fta decoder goes for price of Ugx 148,000. We would recommend "Best-Digital HD decoder" priced at Ugx 130,000 from Jumia Uganda which we tested ourselves and reviewed.  We were able to receive at least 32 fta channels with this decoder. However, the final decision ultimately belongs to you.
However, you have to get an outdoor antenna for your decoder. You can get them downtown, although we recommend you buy startimes Uganda outdoor antenna which goes for a price of Ugx 35,000 or GoTV antenna priced at Ugx 27,000. You'll have to change the RF connector of the GoTV antenna to fit into your fta decoder.
Subscribe to GoTV lite
Now we know GoTV Uganda is a pay TV provider. However, they have a package for those of you who don't wish to pay monthly subscription called GoTV Lite that goes for a price of Ugx 66,000 per year. You'll get the following free-to-air channels on GoTV; UBC, NTV, WBS, Bukedde TV, NBS, Urban, Relition, Faith, Islam Channel, GoTV channel according to the flyers we received. 

But you've to buy the full GoTV kit which is currently running on promotion at price of Ugx 74,000. This includes the GoTV outdoor antenna (Gotenna) which usually is priced at Ugx 29,000. DSTV Uganda doesn't have Free-to-air channels like GoTV unfortunately.
Get Startimes fta decoder
Advertisement - Continue reading below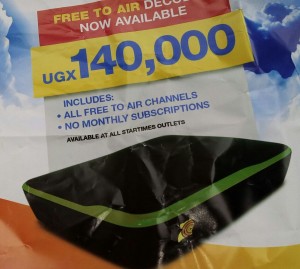 Startimes Uganda has been very inconsistent and contradictory with its pricing information. When we visited on agent, we found flyer that said you pay a one-time fee of Ugx 140,000 to receive all free-to-air(fta) channels in Uganda using their fta decoder. But don't take our word for it, visit one of their outlets and confirm for yourself.
Do you know of any other ways of watching TV for Free in Uganda? Let us know in the comments. If you have any other further questions, don't forget to post your question on "Dignited Answers", a new Q&A forum where your Tech questions can be answered by the community.