Contrary to what we had published earlier, the AddmayaIPO in the true sense of an IPO isn't happening today.
Instead the film and design company has announced a new website and reel that are modern and refined to capture the company's achievements in Film, TV and Design. Teased as the #addmayaIPO, the Improved Portfolio Online is an expression of what they stand for and showcases the breadth of the work they've done since inception.
Advertisement - Continue reading below
I know you are disappointed, but so are we. The possibility of a small firm rising to IPO stardom could have inspired many other startups currently working on their products and services in the dark corners of their garages and their university dorms.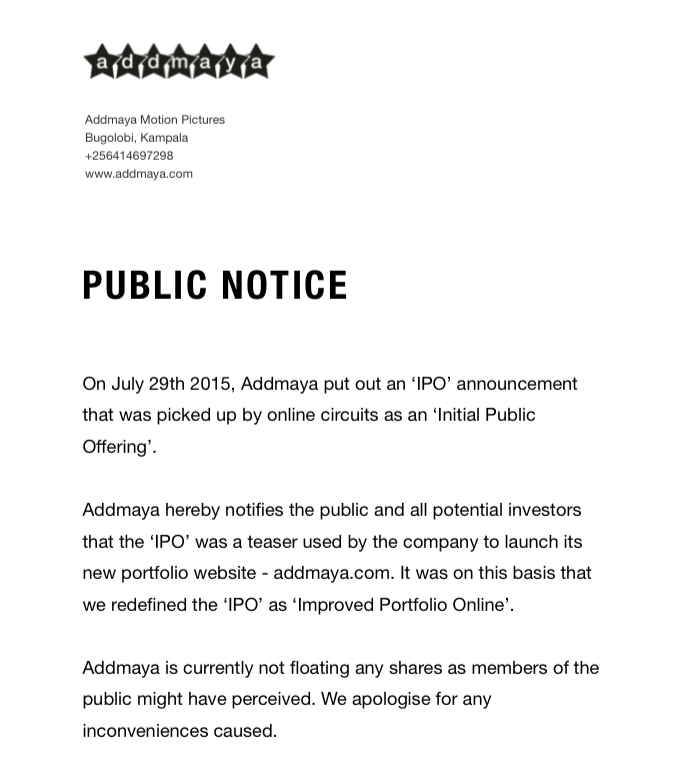 Addmaya is a design-driven production house born in Kampala, Uganda. Founded in March 2009, Addmaya has delivered design, documentaries and TV commercials for prominent companies including MTN, Bank of Africa, Watoto Church, DSTV and Coca cola. Addmaya prides in a creative team that is determined to create a culture that will offset and shape the future of production in East Africa.
Image: Addmaya.com