Whether you are new to a location or an old-timer, getting directions to a new destination can sometimes be a headache. Not anymore.
Google has done a great job of digitizing our planet with Google maps and Google earth. Maps has over 1 billion downloads on the Playstore which isn't even the right way of telling its tremendous popularity. Coupled with turn-by-turn voice navigation, you can reach any destination in Uganda and most parts of the world with your smartphone.
Advertisement - Continue reading below
---
Related story: Knock Knock? Karibu: Here are 3 smart ways to share directions with friends
---
We've used Google's turn-by-turn navigation for a while now. While its incredible, our still under-developed physical infrastructure might deny you some of the cool and advanced features of Google maps. So look out for the caveats.
Getting directions using turn-by-turn navigation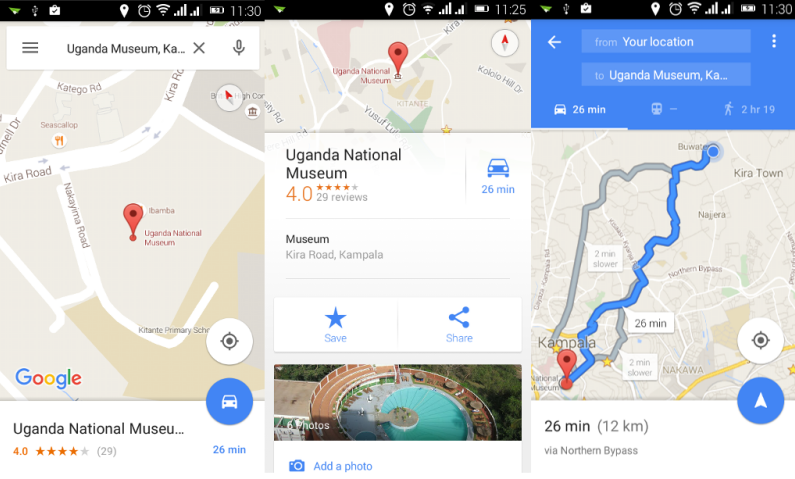 Step #1: Search for your destination 
The easiest way to get directions to unknown location is using Whatsapp. For instance if you're planning to visit a friend, tell them to share their location using Whatsapp. We already shared how to share your location on Whatsapp. If you don't use Whatsapp, then open Google maps, then tap or search for your destination. You GPS or location should be turned on from settings on your smartphone.
Step #2: Select transit type 
Advertisement - Continue reading below
The next step is to select the type of transit or means you are using. Google maps supports walking, bus and normal car. Maps will select the best route based on the means you're using. For instance if you're walking, Maps will priotize walk ways or "pajas" over main roads which are often shorter for someone walking.
Maps will choose your current location obtained automatically as the starting point to the destination you selected. It will show you the estimated distance in Km and time to get to your location based on your traffic conditions and your speed. Very cool, right.
Step #3: Start navigation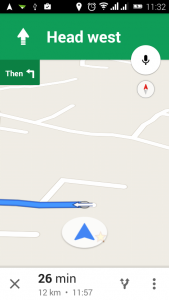 The last step is tap on "start navigation" or simply the arrow icon on the latest update. Voice navigation is enabled by default and it's very helpful when you're driving. Maps will tell you to say "turn right in 200m" and sometimes will mention road names. Obviously Google most times doesn't get the pronunciation right for our local names!
Some things to note
Now Google maps is pretty intelligent but not perfect for our roads. We noticed that Maps doesn't differentiate between murram and tarmac roads. So Google might throw you to a murram road instead of the main tarmac road as long as its faster to your destination. This is something you should take note of while driving.
When Google navigation suggests a murram road when you believe you could use the tarmac road, continue on it. Maps will automatically keep re-routing you with new directions in real-time.
Another thing to note is some roads might not be yet updated on maps. So don't be surprised when Maps gives you directions that you otherwise don't expect for instance a longer route when there's a shorter one. Unfortunately Google de-activated user-submitted updates, so you have to wait till Google knows about your new road or land mark.
Advertisement - Continue reading below
Have you used Google maps for navigation, share your experience in the comments below.