So you got yourself a MiFi. It has been serving you pretty well. You have set it up on the cheapest data plan in town. Its speeds are good enough, you are happy. All your devices are set up to automatically connect to the personal network, it is seamless. But then something happens, you get locked out. Since your devices have always known to connect automatically, you haven't bothered to remember the passcode.
You have been locked out of your own MiFi. If you have been here you know just how frustrating this feels. It leaves you out in the cold. Kinda like getting locked out of your own house, on a cold rainy night.
Advertisement - Continue reading below
Luckily, most MiFi's offer an easy way to factory reset them.
How to Reset your Alcatel LinkZone MiFi
These gadgets are pretty barebones to begin with. They spot a USB port, a bunch of LED lights and two buttons and that's it.
To reset these, hold down the Power and WPS buttons down for 15 seconds. The LED lights will all come on, keep holding the two buttons down until they all turn off. When they do, release the buttons. The lights will come on and your device has been factory reset. Use the default logins that came in the device packaging to log back in.
You can also get this default SSID and Password under the device's battery or on a sticker on its back cover.
If you are not able to get this password, plug in the MiFi to your PC and access the Admin Web Interface. Often, this is either 192.168.1.1 or 192.168.0.1. From this router menu, set yourself a new Wi-Fi name (SSID), and Password.
Read more: How to access your Mifi/router's web management interface
Advertisement - Continue reading below
How to Reset your ZTE Mobile Hotspot
Most ZTE MiFi devices spot a Reset Button somewhere on them. To reset your MiFi, locate this button and using a paper clip, press and hold the reset button until "MiFi Resetting" appears on the display then release. Allow for several minutes for the restore process to complete.
After the process is complete, log in using the credentials on the device's back cover. If you can't find this, plug in your MiFi to your PC via USB. Access the admin web interface, usually 192.168.1.1 and go through the setup process. This will guide you through the process of setting up a new WiFi name and Password.
How to Reset your Huawei Value MiFi
Turn on your Mobile Wi-Fi.
Remove your Mobile Wi-Fi's battery cover. You'll find the Reset button beside the power key:
Using a pin, press and hold the Reset button for five seconds.
The Mobile Wi-Fi will automatically restart. Your default settings will now be restored.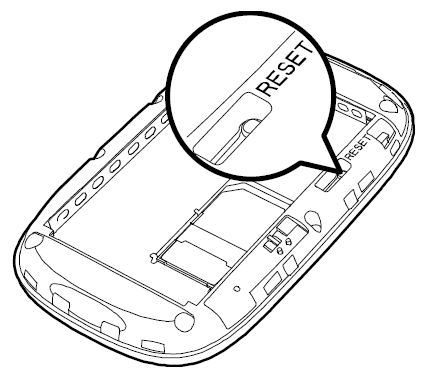 You can find your Mobile Wi-Fi name (SSID) and Wi-Fi key printed inside your Mobile Wi-Fi battery cover. Log into the admin dashboard and change your WiFi name and Password.