OnePlus, the Chinese company louded for bringing us 'flagship killers' is at it again. For the past two years we have seen the company realease two smartphones in a year. One usually towards the end of the first quarter and an updated, often beefier spec'd one later in the year. It is April which means it is around that time we should be getting the first installment.
OnePlus phones typically come with the latest and greatest processing internals around, and although we weren't expecting the OnePlus 6 to be any different, OnePlus has confirmed a few of the specs we've been anticipating for some time. On the company's forums, OnePlus CEO Pete Lau made it official. OnePlus 6 will be powered by Qualcomm's Snapdragon 845 processor, 8GB RAM, and 256GB of storage.
Advertisement - Continue reading below
There might also be a 6GB RAM option with less storage like it did with the 5T. This is however yet to be confirmed but if history is anything to go by, that might be the case.
The leaks so far
It is 2018 and they say when it leaks, it pours. We may not have a release date for the device but leaks have confirmed almost evrything we need to know.
The OnePlus 6 joins the list of Android-powered devices that shamelessly copied the iPhone X notch. It will keep the stretched out design from the OnePlus 5T and a little tighter bezels for a much more modern look. In addition to the high-quality display, OnePlus is also expected to make the move to a glass back. We hope they throw in wireless charging too.
The OnePlus 6 will also have a software option of placing black bars on either sides of the notch, effectively hiding it. This has been seen on the Huawei P20 and P20 Plus and is quickly becoming a trend among the notch copycats.
Price and availability
A lot of information about the OnePlus 6 largely remains unknown but if the intensity and frequency of the leaks is anything to go by, the launch is imminent.
Advertisement - Continue reading below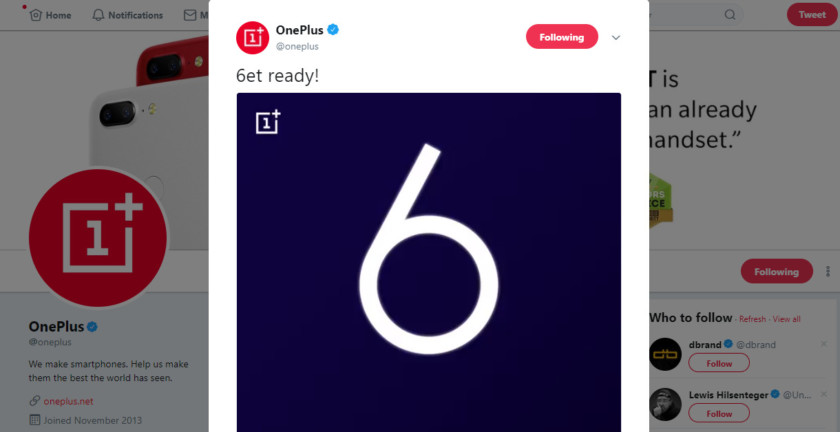 The device is expected to keep the OnePlus trend of marginally increasing the starting price with every subscequent model. At launch, the OnePlus 5 retailed for $479, while the OnePlus 5T did at $499. It'd be nice if the OnePlus 6 kept that same price, but another small price increase isn't out of the question.