Huawei is in a very tough spot right now. Following the US ban back in 2018, the hits to the Chinese tech giant just keep coming. Recently, we've seen Huawei being banned from acquiring its smartphone chips from a Taiwanese company, TSMC.
Down but not out, we've seen Huawei struggling to get up. The first order of business for this company being its own operating system dubbed HarmonyOS.
Advertisement - Continue reading below
The US Ban meant that Huawei devices could no longer use Google Play services. That means no Google Assistant, Google Play Store, and so on. This suddenly makes Huawei a tough sell for anyone in the global market where Google reigns supreme.
Huawei now plans to ditch Android altogether in favor of its own in-house software, HarmonyOS.
It is still pretty early to tell what HarmonyOS will have in store but there are a few things we know so far and that's what we shall talk about in this post.
Huawei Harmony OS-powered Devices Coming in 2021
In its annual developer conference held last month, Huawei announced that its devices will ditch Android in favor of HarmonyOS in 2021.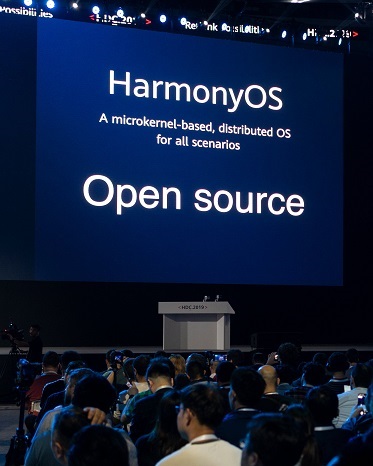 While that is still a fair couple of months away, HarmonyOS is already with us in a different form. See, HarmonyOS is not just meant for smartphones.
Like Android, HarmonyOS is set to power a bunch of other smart devices. At the moment, Harmony OS is already available across more than 20 product categories. These account for 12 million third-party products.
Advertisement - Continue reading below
One interesting application is when Huawei demonstrated a Harmony OS-powered smartwatch (see video above). Granted, this was merely a demo with the watch's internals laid out on a circuit-board but still, impressive.
---
Read More: 10 Facts about HarmonyOS, Huawei's new operating system trying to rival Android
---
When Harmony OS for smartphones launches next year, Huawei says that it will enable users of EMUI 11 to update to Harmony OS. This, despite Harmony OS being fundamentally different from Android.
For now, the closest we look we have to the upcoming HarmonyOS for smartphones is the company's own EMUI 11. And if this is any indication of what's coming, that'd be cool.
What Next?
How effective and efficient the Harmony OS will be, we can't wait to see. As mentioned, this is a very tricky position Huawei has been squeezed into. Also, this doesn't mean that Google's services will be allowed on Harmony OS devices so Huawei's 'problems' don't totally go away.
We're likely to see Huawei relegated to its home market of China, a market that has come through for the company in spades. And despite Huawei not having any significant shares in other markets, devices from the OEM still accounts for around 10% of the total smartphone sold in September 2020.
HarmonyOS's greatest strength, from what we know so far, is its cross-platform integration. The tight interconnection between various devices is something that could be a game-changer. If any company can pull this off, it's Huawei.
Advertisement - Continue reading below