Owned and operated by MultiChoice Group, GOtv is one of the most popular and most affordable Pay TV services in Africa. Like DStv (also operated by MultiChoice), GOtv uses a set-top decoder to broadcast digital channels to customers. GOtv Decoders have a unique identifier known as IUC number.
IUC Number isn't just an ordinary number; rather, a very important component of your GOtv decoder and GOtv service at large.
Advertisement - Continue reading below
What is IUC number?
IUC Number is a 10-digit identifier which is unique to your GOtv account and GOtv decoder. And just like no two individuals can own the same phone number or bank account number on the same carrier and bank respectively, no two decoders on the GOtv network can have identical IUC numbers. The IUC number is also known as the Customer number or Serial number of your GOtv decoder. So if you are asked for your GOtv serial number, don't get confused, you're being requested to provide your IUC number.
Uses of IUC Number on the GOtv network
1.Activate your new GOtv decoder: If you are new on the GOtv network i.e you just newly purchased a decoder, one of the very first things you'd be using your GOtv IUC number is activating your decoder. Without activating your account, you won't be granted access to channels on the network, even if you have an active subscription.
You can visit GOtv's official FAQs page to learn how to activate your decoder using your IUC number.
2. Pay For GOtv Subscription: As you know, GOtv is a subscription-based Pay TV where users subscribe to monthly packages. Irrespective of the package you're on, your IUC number will be required for payment.
3. Find Balance & Subscription Due Date: Your IUC number can also be used to easily check your package/subscription balance and due date. This is particularly useful when you can't seem to remember the last time you subscribed or how long you have left to enjoy your current subscription.
4. Manage your GOtv Account: The GOtv online portal allows users easily manage their account. To access the online portal, you'll be required to provide log-in credentials: Phone number/Surname and IUC number. The IUC number serves as the password to your GOtv online account portal. You can also pay for your package, pay for someone else, build a package, check TV guide, check account balance and subscription due date on the GOtv online portal.
Advertisement - Continue reading below
5. Clear Error Codes: If an error code pops up on your TV screen while watching a channel on your GOtv decoder, you can easily log in to your GOtv online portal or visit Fix Error page. On the page, input your IUC number select the error displayed on your screen, and click on FIX ERROR.
P.S: Ensure your decoder is on while clearing error codes.
How to get your GOtv IUC number
Now that you know how important the IUC number, let's talk about how you can check for your GOtv decoder for your IUC number.
Method 1:
Tap the MENU button on your GOtv remote
Navigate to 'Information Central' and tap the OK button on your remote
Your IUC number should be displayed on the screen, at the top-left corner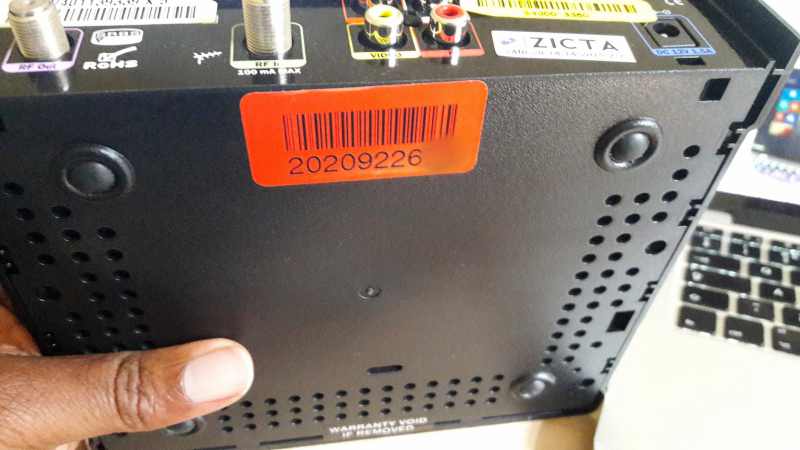 Method 2:
Lift your GOtv decoder and turn it upside-down
You'd find a red sticker containing some set of numbers at the bottom of your decoder
The IUC number is the 10-digit number printed on the red sticker
Method 3:
Contact the GOtv Customer Service in your region via call, text, email, or sending a direct message to their official social media accounts
Supply the required information you'll be asked about your account and your IUC number will be provided
Still can't find your GOtv IUC number? Let us know in the comments.