Netflix has some really amazing content for kids on its platform. Likewise, there are loads of inappropriate content kids could come across. And if you have kids, with this Coronavirus-induced lockdown, it is almost impossible to stop them from watching videos on Netflix.
However, Netflix understands that working remotely, and monitoring content your kids see on the streaming service during the lockdown can be a real challenge. This is why it has introduced a range of new parental controls to help control what they have access to.
Advertisement - Continue reading below
According to information on Netflix's blog, the parental control update is coming based on feedback from members. Here's a list of the new parental options and how to use them.
---
Related Article: Netflix is now charging Nigerians & Kenyans in local currency: Here's Why We Should Be Excited
---
Netflix's New Parental Control
Pin Protection
This option lets you protect every other profile on your Netflix account with a pin. This way, you can keep your own profile out of the reach of kids, and limiting them to only their own profile.
Filter Content by Rating

Netflix has now built a filter using individual country ratings. This means users can now filter out movies and series that are not appropriate for their kids. For instance, you can now block content on Netflix rated 13+ off your kids' profile.
Remove Individual Series or Movies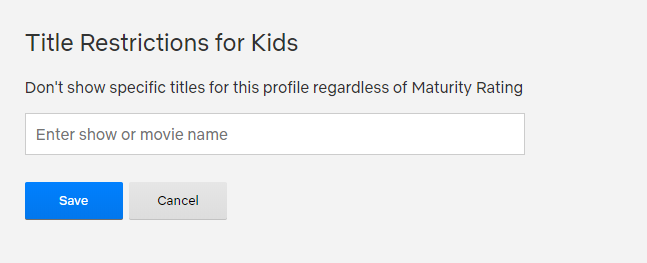 However, if the filter option doesn't do the job completely, you can as well remove content individually. There are contents with the right rating and are seen as appropriate for kids but still contain violent and adult scenes. You might want to restrict your kids from seeing those. In fact, you definitely should.
Also, you can check your kids viewing activities; view the log of all that your kids have been watching with the profile you created for them. You can also turn off auto-play preview of movies and auto-play next episode for your kids.
Advertisement - Continue reading below
---
Related Article: Netflix Mobile Plan: Should We Expect It In Africa?
---
How to Set Parental Control
Go to Account settings on your computer or smartphone.
From the "Profile & Parental controls" section, select the dropdown menu for 'Kids' or any other profile you want to restrict, and you will find all the new parental control options there.
---
Related Article: Who's using your Netflix account? Here's how to find out
---
Take Charge
Netflix has given parents and guardians more ways to be in the driving seat of content their kids view on the platform. Do you think these new parental control options are enough? Also, let us know in the comment section if you want to see Netflix introduce even stricter options.