Netflix is a popular movie streaming brand that has lived up to its brand promises in jaw-dropping ways that subscribers can't stop talking about. It is the most amazing online platform to watch award-winning movies, latest TV series, and captivating drama series in HD void of adverts. A lot of movie freaks have deviated from watching movies via satellite cable that has not such a great content which makes you lose interest and they charge twice as much compared to Netflix that provides you on-demand content with cost-effective price rates.
Since Netflix has scaled customer satisfaction level by constantly updating its playlist with new content, these tactics have succeeded in keeping their subscribers glued to the platform as well as get new subscribers sign in daily. Another grand tactics Netflix is trying to adopt is the mobile plan, which it recently launched in India and Malaysia, and is still the talk of the town.
Advertisement - Continue reading below
Related: How to switch from DStv to Netflix
New Mobile Plan in India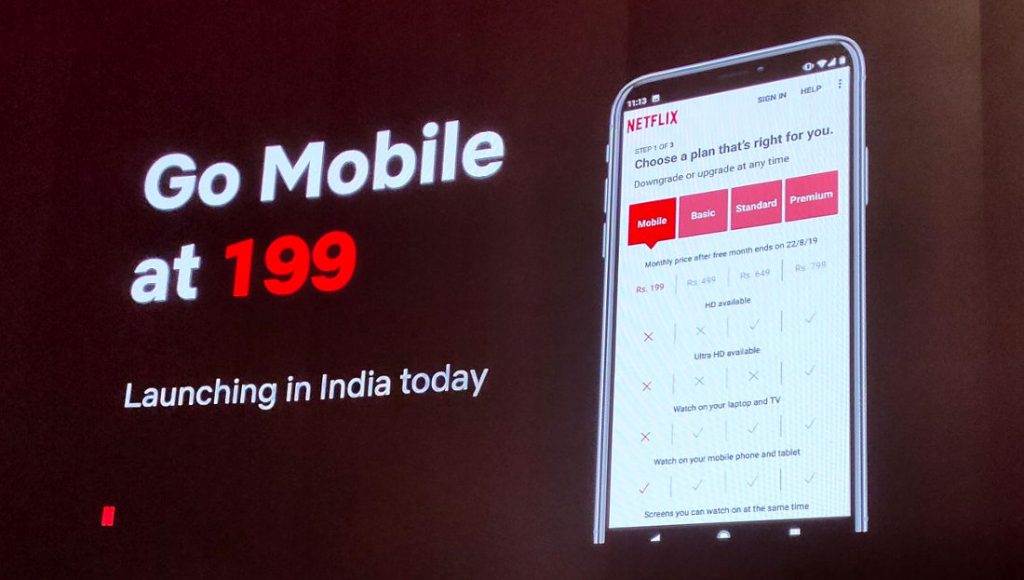 India is one of the countries that have an ever-increasing number of subscribers that enjoy using Netflix to streamline their favorite movies, entertainment shows with their smartphones. The advantages they enjoy especially with their top-notch Internet connectivity adds spice to their viewing experience.
Sometime in July, Netflix in a bid to reward its subscribers as well as enlarge their market base introduced a cheaper mobile subscription plan that enables users to stream all their favorite series on their Smartphone devices for as low as Rs. 199 ($2.88) per month. Since India is currently trending in terms of high technology, it was a wise decision.
Not only has it improved Netflix's visibility and adoption, it has also given room for low-income earners to enjoy the best of Netflix.
Related: How to cancel your subscription on Netflix
New Mobile Plan in Malaysia
With an eagle eye for opportunities, a report in 2018 conducted by the state communication and multimedia body reports that 78 percent of Malaysia's internet users spend time streaming and downloading entertainment series online. They further revealed that 88 percent of Malaysians own smartphones which was "green light" for Netflix to penetrate their market. To captilize on this opportunity, Netflix launched a similar mobile plan in Malaysia which skyrocketed its brand and gave competitors a good scare.
Advertisement - Continue reading below
Just like India, Malaysia now has four various packages that make Netflix more available and accessible to all. To spice up the mobile plan packages, they have also boosted up their local content with top-notch movies added to their playlist that allows more local costumers to benefit from.
Should We Expect it in Africa?
Looking into the Africa region, there is a surge of premium movies constantly produced that is gaining the attraction of Netflix. This was proven by the words of Erik Barmack who expressed positivism in opportunities Africa has to offer. The deepening relationship between Africa and Netflix has raise expectations as to the plans Netflix has in establishing its presence in Africa and what goodies the African audience should be expecting.
With the influx of smartphone and internet penetration across many African countries this is a good sign that is encouraging for streamlining opportunities. Africa is currently housing a massive number of tech-savvy persons and a considerable amount of Netflix fans that would never trade Netflix for anything in the world. Their acquisition of "Lion heart" movie and views about investing in the Africa film industry is a move to reckon with and shows that Netflix's interest in Africa is real and should be looked out for. 
This is indeed qualitative indicators that reveal the potential profit Netflix stands a chance to gain if they make a more solid move in the Africa entertainment industry.
Related: Netflix now allows downloading of videos for offline viewing: Here's how to do it
Although there are some challenges Netflix might face that can't be overlooked such as constrain in electricity, exorbitant internet rates, and strong competitors. The former constrains will be surmountable in the long run as Africa is really developing.
For now, we can only keep our fingers crossed and wait. But I am certain that with the rapid increase in smartphone users around the continent, internet penetration, and the inclusion of more local content on Netflix, more people will switch to Netflix and the mobile plan will eventually be launched in Africa.
Advertisement - Continue reading below