The music streaming scene is really taking shape. International players like Spotify, Apple Music and Deezer aren't slacking. So much so that even locally, Safaricom is dipping its toes in the scene with the debut of Songa by Safaricom in Feb 2018.
Apple Music is one of the newest players in the international scene, launching back in 2015 while Spotify remains the king, and one of the oldest we have today, having launched back in April 2006. But how do these two compare in 2019?
Advertisement - Continue reading below
Library size
Apple Music boasts of a library with over 45 million songs. Spotify's has over 35 million songs but if we're being honest, both these services have pretty exhaustive libraries. I rarely search for tracks on either of these services and miss a match.
Local music is also slowly but surely getting onto these platforms so you can be sure to enjoy a wide variety of songs from all genres and generations on either of these platforms.
Pricing
Spotify has an ad-supported free tier that allows users to stream at medium bitrate and also only allows Shuffle playing of playlists and albums. Users are also limited to 6 skips per hour on the free tier.
Apple Music only allows users to stream it's built-in Beats 1 radio on the free plan. You'll also be able to access your iTunes library on the free plan.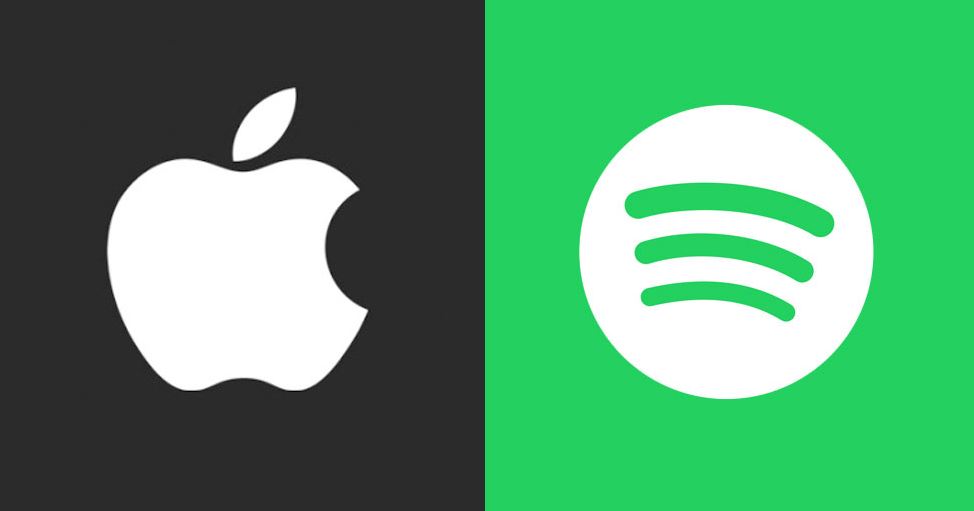 But these services are $10 a month though there's also a family plan that supports up to 6 users for $15 per month. Students get the service at $5 per month, subject to them verifying their student identity. Spotify only supports a handful of institutions while Apple Music is more extensive.
Paid subscribers on both services get the ability to download songs for offline listening. Very handy when you're about to go out on a run or when you're on a road trip and don't want to spend too much on mobile data.
Advertisement - Continue reading below
Cross-platform availability
Both of these services offer Android and iOS apps for Android. Spotify has officially supported and maintained apps for Windows, Linux and Mac while for Apple Music, there are third party ways of streaming on Linux and Windows as there isn't an official player. They also both have web players so you can stream music from your web browser.
The user experience when using both these services is similar. They both offer simple ways to access your music. There is a Browser/Discover section that opens up the entire library to users.
When it comes to smart speakers, Apple Music with Siri voice control on Apple's HomePod and is now compatible with Amazon's full line of Echo smart speakers via the Alexa App (the US only). It's also available on other Apple and Amazon devices like the Apple Watch, Apple TV and FireTV.
In addition to Amazon Alexa speakers, Spotify is also available on and Google smart speakers. And, if a device is certified as Spotify Connect compatible, it means you can use the Spotify app as a remote to control playback. Spotify is also available across a wide range of other devices like Xbox and PlayStation.
Music discovery tools
Where these differ slightly is in the recommendations. Spotify's legendary Discover Weekly playlists are individually personalized playlists curated algorithmically to present to you tracks that you will most likely enjoy, based on the music you have been listening to. Apple Music's just isn't as good, but nothing else in the market is.
When you first sign up for each service, both ask you for your favorite genres and artists to get a baseline reading. Once you start listening more, each gets a clearer picture of your likes and dislikes to help tailor recommendations even further.
Spotify and Apple Music also have radio stations based around your favorite artists, tracks or genres. Apple Music also has a separate station called Beats1 Radio which is curated and hosted by actual DJs, so you can listen to it in real-time like you would a traditional radio station.

Streaming Quality
Unless you're a complete audiophile, these two are again drawn on this one. Spotify streams at up to 320kbps Ogg Vorbis, or AAC while Apple Music maxes out at 256kbps AAC.
Advertisement - Continue reading below
---
Also read: Audio formats MP3, AAC, WAV and FLAC explained
---
In Summary
| | Spotify | Apple Music |
| --- | --- | --- |
| Price | $10 a month or $5 a month for students | $10 a month or $5 a month for students |
| Family plan | Yes, up to 6 people ($15) | Yes, up to 6 people ($15) |
| Free tier | Yes, ad-supported | No, only Beats1 radio |
| Free trial | 3 months  | 3 months |
| Stream quality | Up to 320kbps Ogg Vorbis, or AAC (see section below) | 256kbps AAC |
| Music library | 50 million songs | 50 million songs |
Bottom line
For many people, these two services are very comparable in many ways. From the exhaustive scale of their libraries to their costs per month. Even in availability across devices, both these services have dedicated clients for virtually every platform out there, from Android to iOS, PC and Mac, It all boils down to a matter of preference.
For another huge demographic, Apple Music remains the only option of the two as Spotify is still unavailable in many regions, especially across mainland Africa. Apple Music is available in many of these countries.
For Apple users, Apple Music plays real nice with other devices in the ecosystem so that might be something to consider. Students in many African and European Universities and colleges also have a reason to go with Apple Music as they get an awesome Student Discount. Spotify does have a Student plan but that is available for fewer institutions compared to Apple Music.
Verdict
Well honestly, I think it is a toss-up. For a while, Spotify has looked like the king in the north but that is quickly changing as the underdogs are really pulling their weight now. I mean, I ditched Spotify for Deezer a few months back and honestly, I haven't looked back since.
My verdict: Deezer, Spotify, Apple Music, they're all really really good in 2019. There has never been a better time to take the leap into Music streaming. Whichever service you decide to try out first, I guarantee you won't be disappointed.
What is your preferred music streaming platform? Why do you use it? Leave a comment below and tell us.
Featured Image courtesy of Consumerreports.org
Advertisement - Continue reading below