Plex has evolved from being a personal media server to an online streaming service. The software has been my personal favorite for organizing my personal media files including music, videos, and movies into a nicely done catalog accessible from smartphones, tablets, and PC on Windows, macOS, and Linux. But Plex seems to be increasingly pivoting from that function into a standalone streaming service with both free and paid-for features.
However, Plex is still keeping its desktop media server functionality in-order to appease its long-time fans. Plex still maintains a list of official clients available for mobile devices, smart TVs, and streaming boxes, and a web app. In a way, Plex is probably the only software I know that enables you to get the best of both worlds of online streaming as well as personal local home media. I have a Plex server managing my personal home media running on Seagate Personal Cloud NAS server as well as a Plex client on my Roku TCL TV, an Android App, and an iPad app. I am a big fan.
Advertisement - Continue reading below
So how's Plex evolving an online service?
Web Shows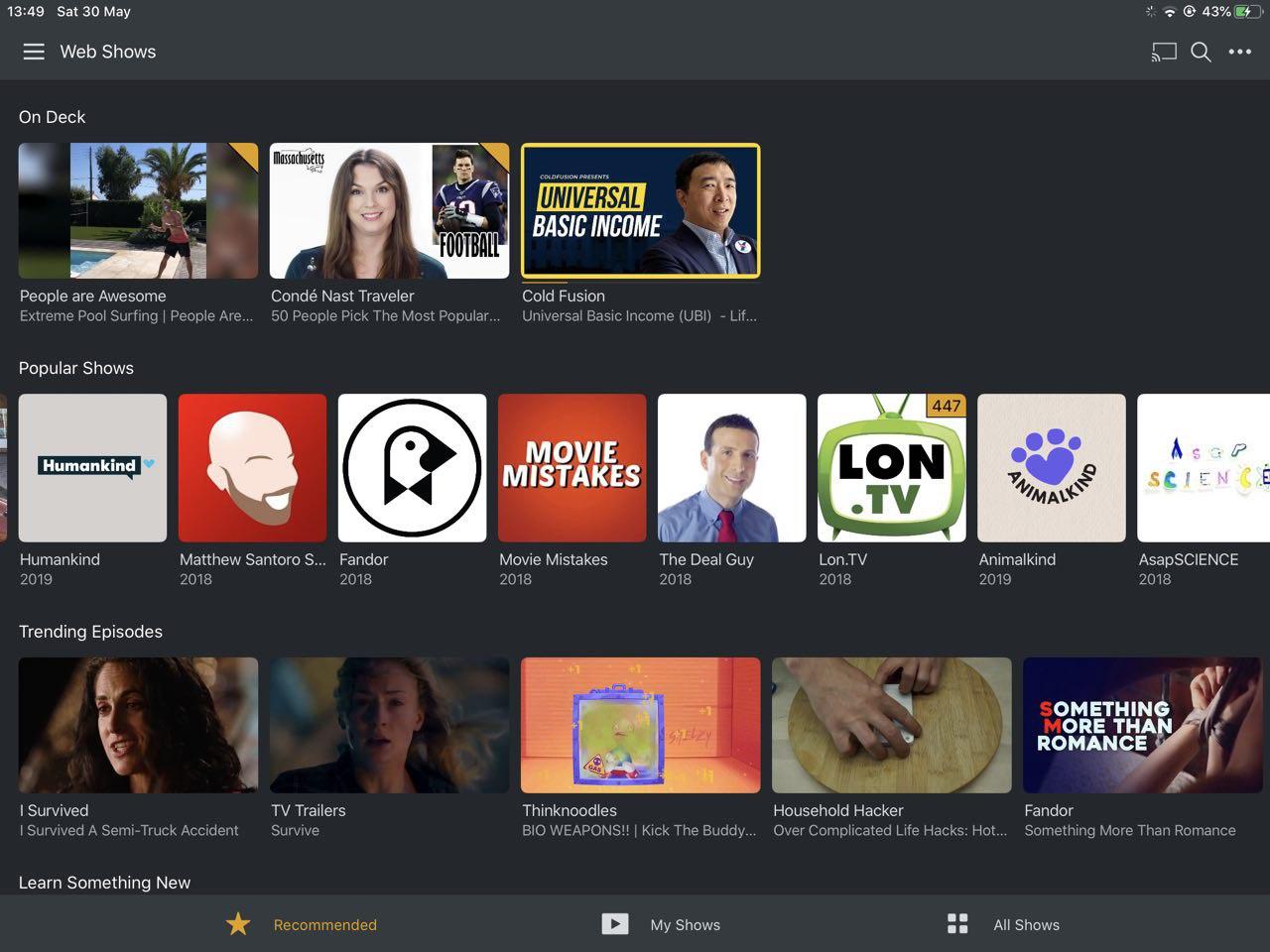 In 2018, Plex launched Web shows, a place for you to keep track of and watch the latest content from some of the best content video producers online. Plex Shows features the latest in sports, celebrity gossip, cooking, tech and science, home, and gardening among other categories.
Some of the popular shows include content from QC, Techcrunch, Condé Nast, People are awesome, Engadget, Vanity Fair, Made in Hollywood, Fandor, TWiT, PC Gamer among others. I have been following the latest episodes from some of the publishers who are also on Youtube. From my personal experience, content takes later a bit longer to be refreshed on Plex than on Youtube for the same publisher.
News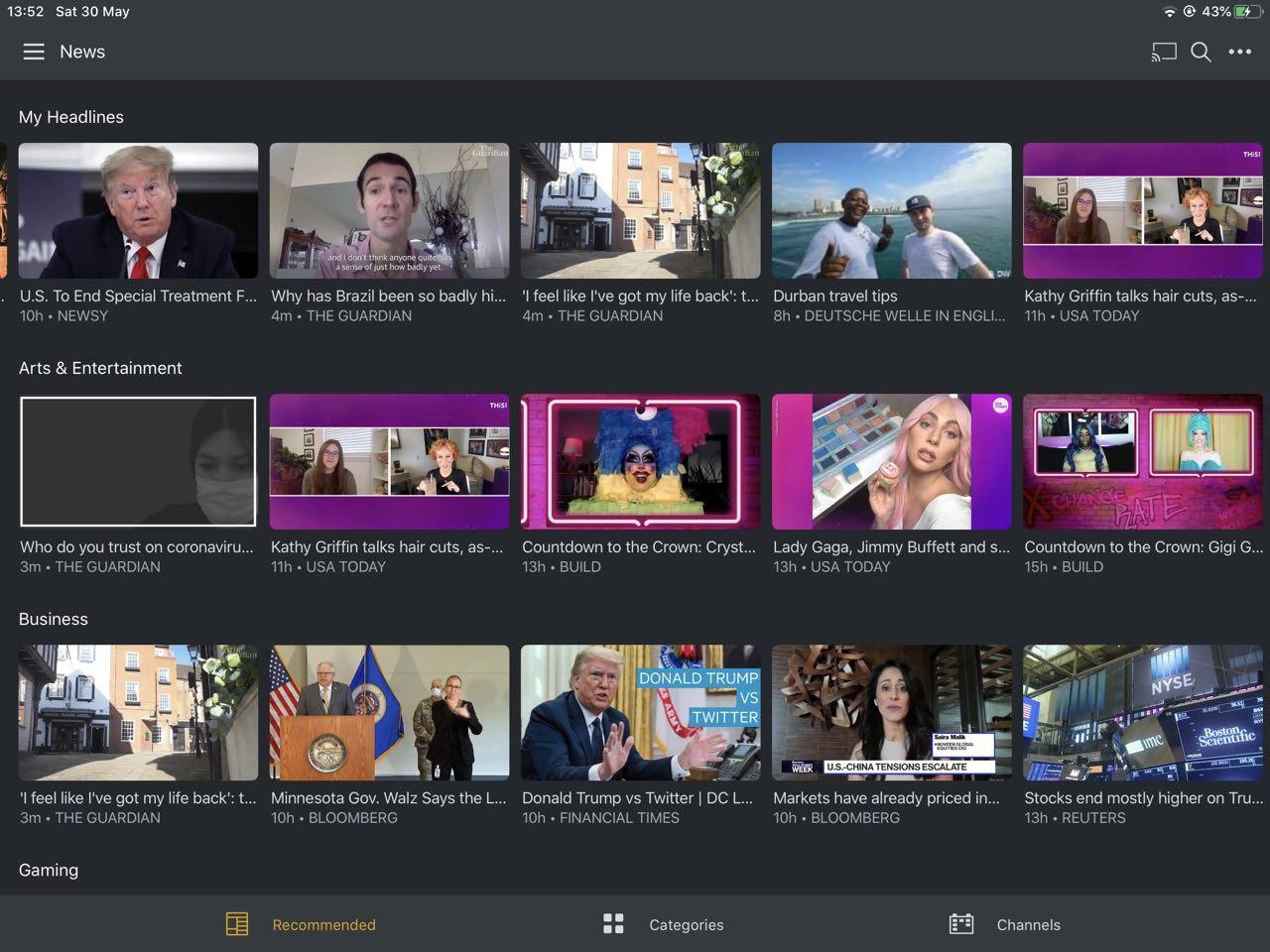 Plex also offers the bit-sized latest news headlines across the U.S and internationally. Plex News features media houses such as The Guardian, Newsy, USA Today, Associated Press, Voice of America, Reuters, DW, Financial times, Bloomberg, Euronews among other publishers.
Plex Review: Music and Podcasts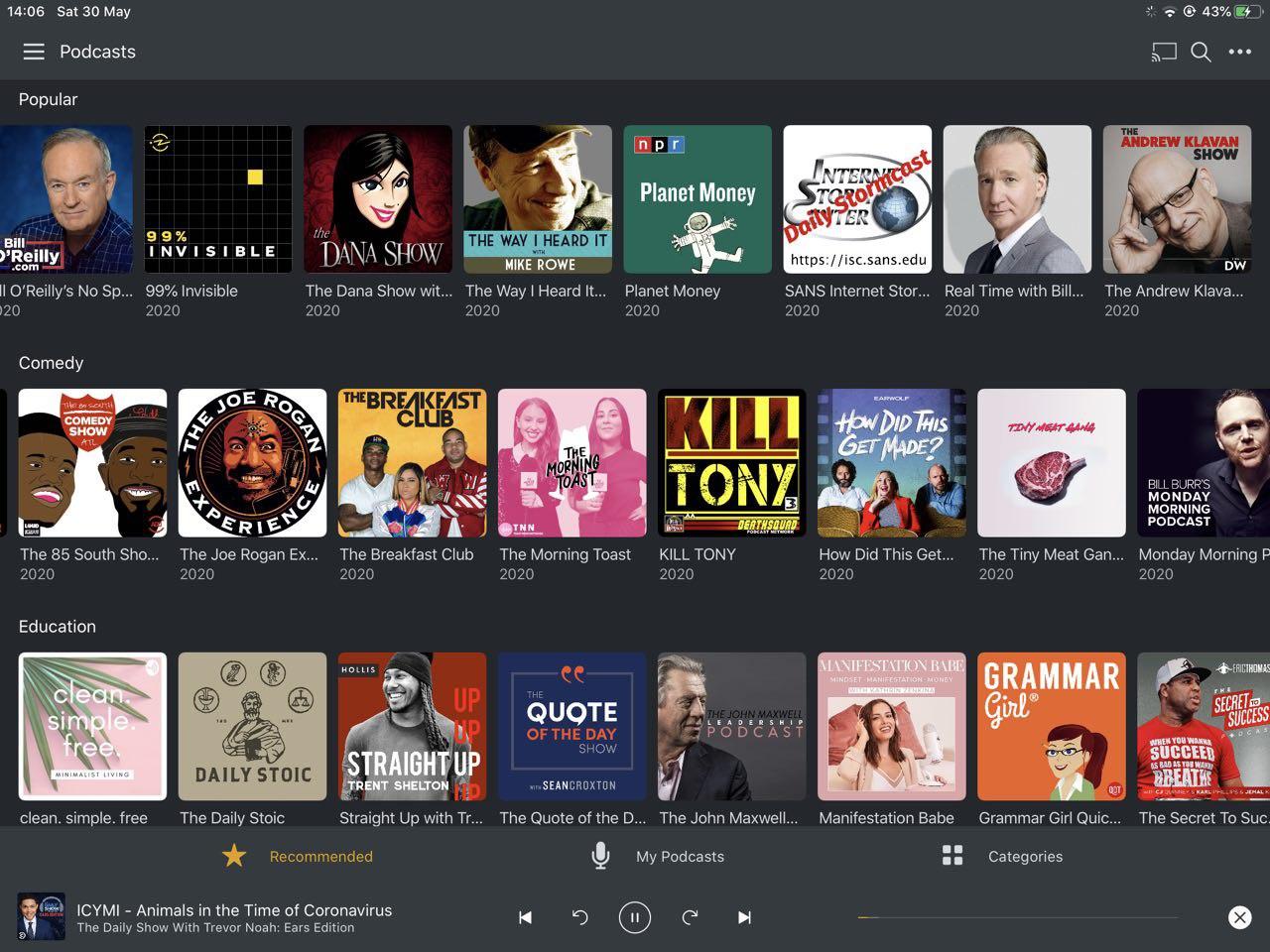 Plex is also big on podcasts and Music. You can listen to your favorite podcasts from top podcasters such as The Joe Rogan Experience, The Economist Radio, NPR Planet Money, Sean Hannity, The Ben Shapiro Show, The Intelligence from The Economist, NPR Politics, The Daily Show with Trevor Noah, The Daily from The Telegraph, The John Maxwell Leadership Podcast, Ted Talks daily among other titles.
Podcasts are currently supported on Android, Android Auto, iOS, Roku, Sonos, Chromecast, and the Web App.
Advertisement - Continue reading below
Plex Music is possible Tidal partnership starting from $9.99 USD per month after a 30-day free trial. Plex is promising a library of 60 million songs, and over 250,000 music videos, song lyrics, PLUS premium Plex music features on all your devices.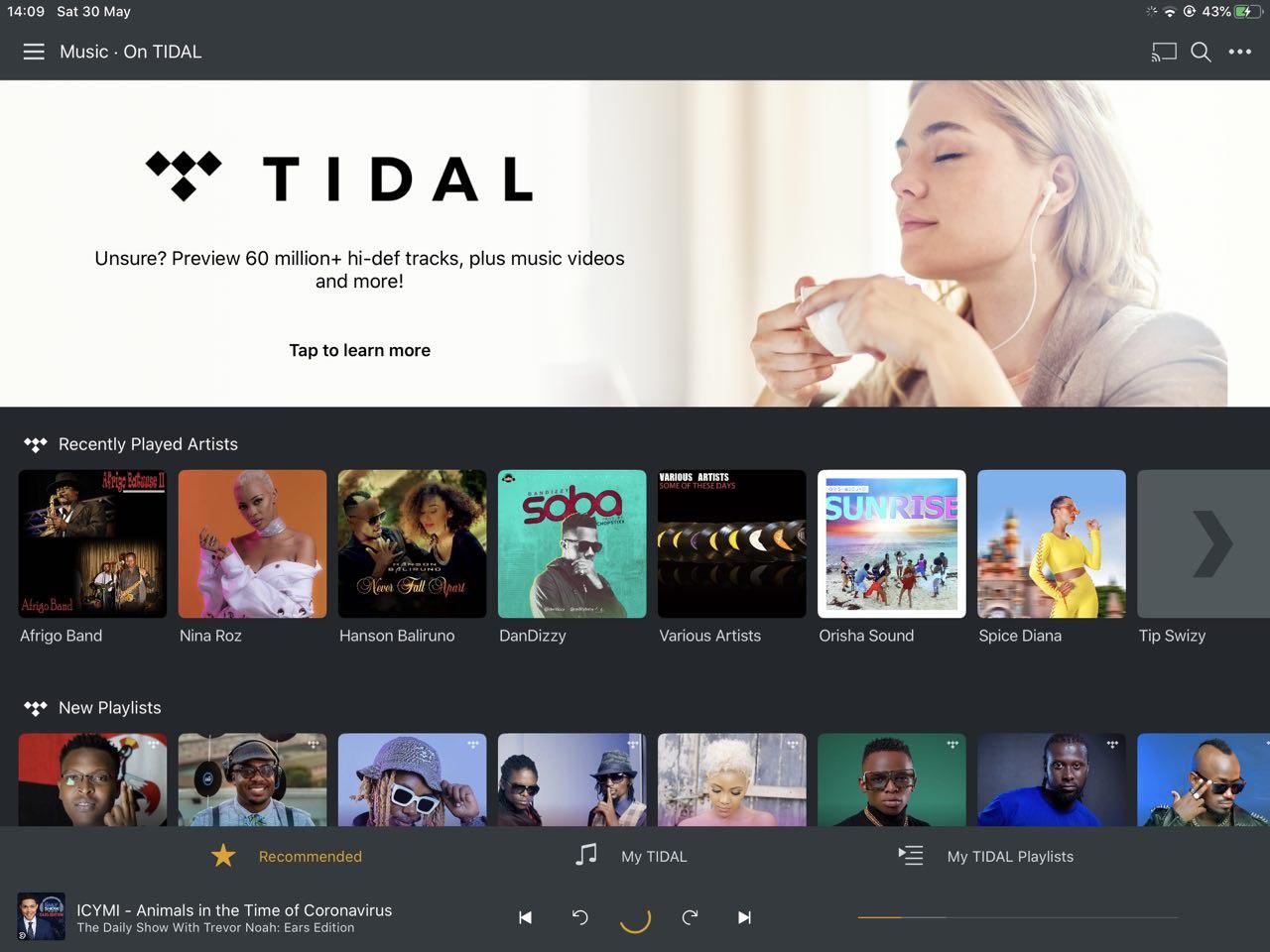 Movies and TV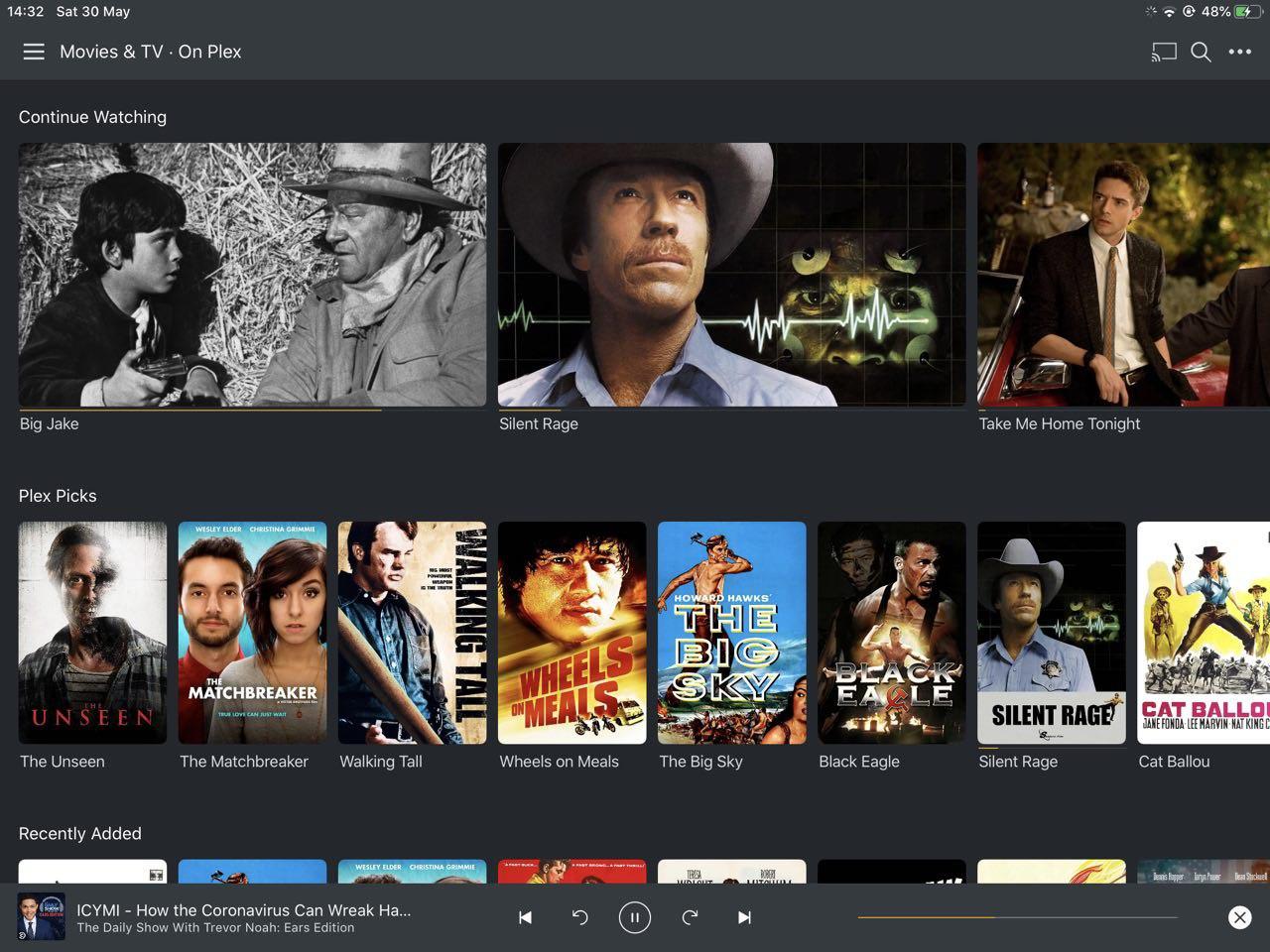 Starting from last year, you can now watch ad-supported movies for free on Plex. I have been enjoying a few classics from Warner such as Jackie Chan's Wheels on Meals, Chuck Norris' Silent rage, Black Eagle starring Jean-Claude Van Damme, Fitzcarraldo, Jungle Book and number of other classics.
There are also documentaries about historical personalities and celebrities such as Champions Forever featuring Muhammad Ali, Music for Mandela, Michael Jackson Unmasked, Banking on Bitcoin. The movies are available to the global audiences unlike similar services such as Tubi, Crackle, The Roku channel, Vudu, Pluto TV, Popcornflix, Sling TV that restrict their content to mostly U.S users.
Personal Media
Plex has tried to stay true to its roots as one of the best software for organizing and watching your own personal home media. In fact, this is how I got to like it. Unfortunately, this is slowing-fading to the background and harder to use with each Plex update especially to its client apps. Certainly, Kodi —its fierce competitor— appears to have become the best alternative software for managing your personal library at some point.
---
Read More: Kodi vs Plex, the ultimate media center showdown
---
I have the latest Plex Apps on Android and iPad, but it's not obvious anymore how I can connect to a Plex server running on a local network to stream my personal content. On Android, I had to go to Settings >> Advanced >> Manual connection to configure the App to stream from the Plex server.
Plex Pass: Paid-for features from Plex
While Plex is free for the most part, some features are paid-for as a way for the company to make money. Plex Pass has three price tiers; $4.99/month, $39.99/year, or $149.99 for a lifetime subscription.
Plex's Free Plan includes;
Advertisement - Continue reading below
Your local media
The Plex Media Server including the Plex Web App.
Plex 'Movies & TV' streaming service but ad-supported.
Plex News, Podcasts, and Web Shows
All of our non-mobile, public apps are free. These include Amazon Fire TV, Android TV, Apple TV, Chromecast, Plex Media Player, Roku, Smart TVs, TiVo, and game consoles (PlayStation 4 and Xbox One).
Plex's Premium includes features like;
Mobile syncing for offline viewing
Support for multiple users
Parental control
Movie trailers, and music features such as 'mood mixes' and lyrics.
Final Word
If you are completely new to Plex, you'll find it a competitive service for streaming free content similar to Tubi, Crackle, The Roku channel, Vudu, Pluto TV, Popcornflix, Sling TV. The difference is that Plex appeals to global audiences. Therefore, if you live outside of the U.S, it's your best choice. For the rest of the users that have been using Plex for a while to manage their personal media library, Plex seems to be taking a different route now with each update, the service seems to be alienating its staunch fans with features that pivot Plex an online ad-supported streaming service rather than the best software for managing your personal media.