Good news is that which comes with the new month. With effect from 1st November 2018, the validity of the daily OTT tax of 200/- has changed from midnight to 24 hours. Daily OTT tax validity has been a major point of discussion ever since the introduction of OTT tax.
On July 1st 2018, a dark cloud fell over Uganda's Internet fraternity. The taxes on social media and mobile money, as proposed by the President came into effect. The OTT and mobile money taxes came along with a lot of mixed feelings and a general public uproar.
Advertisement - Continue reading below
Social media blacked out  for all that hadn't paid the infamous tax. All the applications on the list of OTT services became inaccessible until payment of an OTT tax. The tech savvy and the defiant people resorted to using VPN to circumnavigate the tax.
Read: What are Over The Top (OTT) services?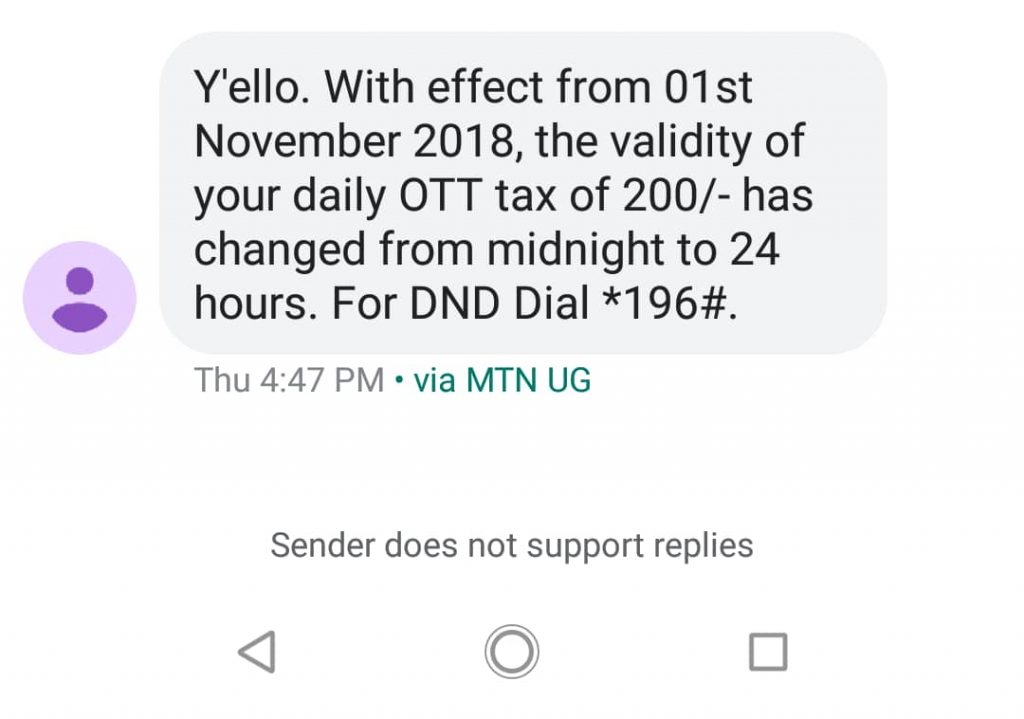 Daily OTT tax had everything wrong with it
OTT tax directive had pre-maturity written over it when it first came out. Much discussion centered around the rigidity in the mode of payment. Currently, you can only pay OTT using mobile money (something that needs to be checked too). However, payment is only available in daily, weekly and monthly packages.
The more affordable daily option of UGX 200 ($0.052) used to expire on the turn of each day at 11:59 pm not considering when you paid the tax. There was nothing daily about the daily OTT tax validity. Another weakness in the system. This encouraged more VPN usage and less tax payment. However, those that didn't fancy using VPNs because of their known constraints had to wait and pay for daily OTT after midnight to derive more value.
On the bright side, the government discussed plans to add an annual option of payment for OTT. Even brighter, starting 1st November, daily OTT validity will be 24 hours.
Advertisement - Continue reading below