Reading printed books is very rare in the digital era. Reading books on digital medium instead of conventional print material used to be a millennials' thing. However, the digital age is eating up the world like a Resident Evil virus, giving even the most old-fashioned folks no choice but to succumb to the new reality. Reading books has shifted to smartphones and tablets with a simple download of an app. Since Android is the widely used operating system, here are the top 5 apps for reading eBooks on Android.
Top 5 Apps for reading eBooks on Android
Cool Reader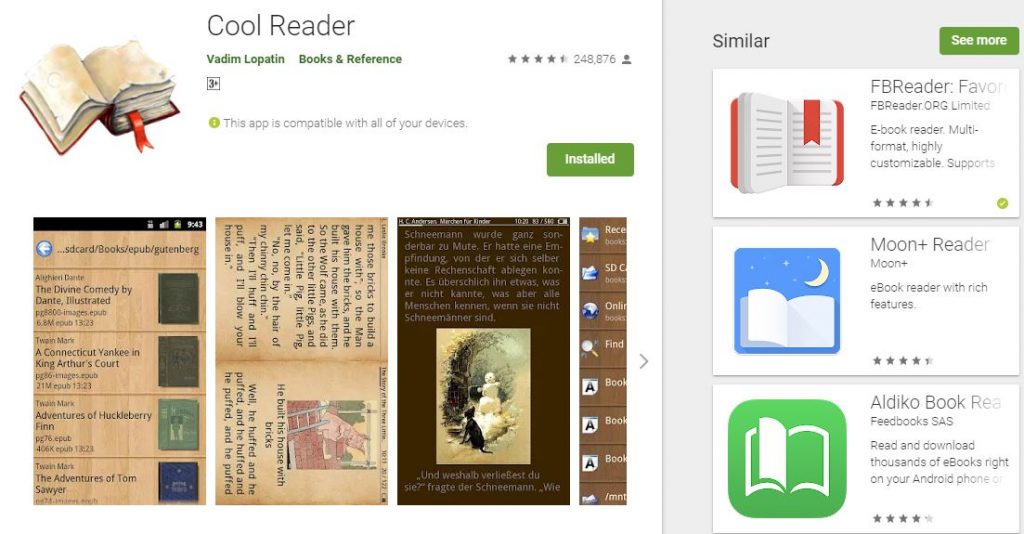 Advertisement - Continue reading below
Cool Reader offers several features that make reading easy and comfortable. The app offers a load of customization features, text formatting for any font size and extra smooth scrolling. A combination of these make reading more a pleasure.
Cool Reader offers a real life-like page turning animation and is the only e-reader app that offers free text-to-speech (TTS). Your love for reading shouldn't be compromised at Cool Reader comes with a day and night mode toggle to switch up thing and prevent eye strain.
There are other nifty features that all build up to an awesome reading experience and bring it on our list of top 5 apps for reading eBooks on Android. These include additional fonts, background texture, dictionary support, auto-scroll on key or tap zone and the ability to read booked from .zip archives. Cool Reader supports file formats such as ePub, doc, fb2, html, rtf, txt, mobi, pml and more.
Amazon Kindle.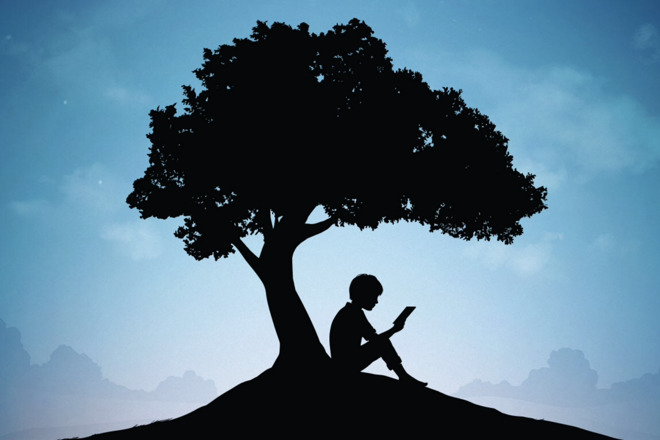 The Amazon Kindle is the smart reader's paradise. The app puts millions of books, magazines and newspaper at your fingertips. Kindle is one of the most popular eBook reader apps for smartphones and tablets.
The Amazon Kindle app is available on Android and iOS. The coolest thing about this app other than the multitude of reading materials is the technology under the hood. You can seamlessly sync your last read page, bookmarks and notes across all devices. Its inbuilt dictionary saves you from getting stuck with new words as you read. You can also Google search and use Wikipedia to enhance your reading.
Advertisement - Continue reading below
FBReader (Favorite Book Reader)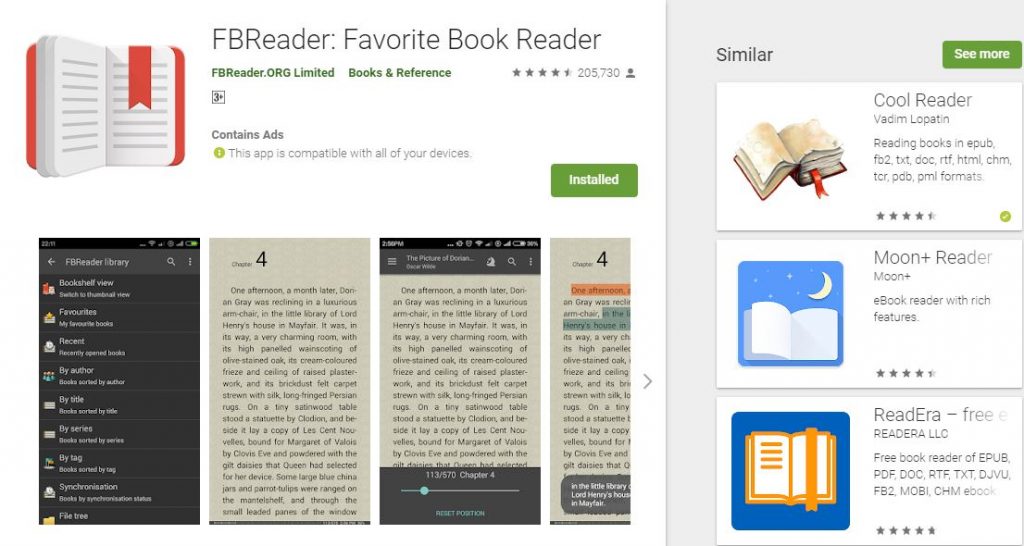 FBReader is a customizable free eBook reader with support for a wide range of devices. FBReader supports synchronization of a user's library and reading position with the FBReader book network.
The FBReader book includes a browser to access different network eBook catalogs and stores. It includes several popular libraries in English, French, Russian, Chinese among others. The app doesn't include an inbuilt dictionary. However, it can be integrated with external dictionaries including Dictan, ColorDict, For a Dictionary and LEO Dictionary.
Whatever your reading style is, you can simply choose from the available colors, font face, size, animations, bookmarks to make reading a joy. It comes bundled with eight online catalogs that provide access to a large set of eBooks.
Kobo Books- eBooks & Audiobooks.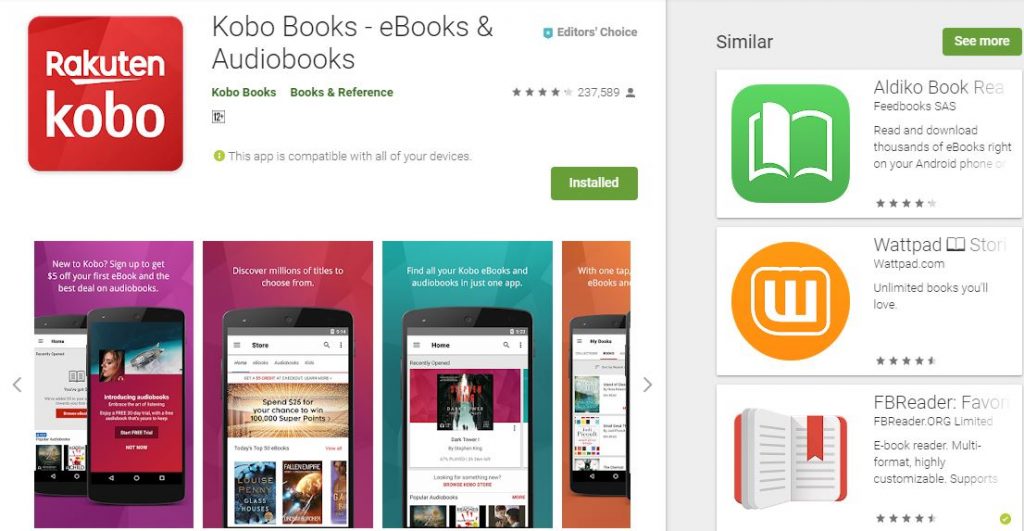 Millions of book lovers across the globe use Kobo Books – eBooks and Audio-books as their portable reading world. With over 5 million titles to choose from, Kobo is the reader's haven as there's something for every type of reader and listener. Reading eBooks on Android becomes cooler with audio books in the mix
Kobo allows you to browse a huge collection of the world's best eBooks, audio-books, graphic novels, and children's books, to enjoy instantly on your smartphone or tablet. You can search by author, title, topic or genre to discover your next great read.
With the Kobo App, readers can customize the way they read by choosing a preferred text size and style. Kobo's Night Mode makes reading easier on your eyes before bedtime, and you can lock the screen in portrait or landscape mode.
Advertisement - Continue reading below
You can start on one device and pick up on another. The Kobo App always remembers where you left off, so you can keep reading across all your devices. In the world where social media is a big deal, Kobo gives readers an option to share their love of reading on Facebook, Twitter and Instagram by posting their favorite quotes, notes, and thoughts from what they're reading.
Moon+ Reader.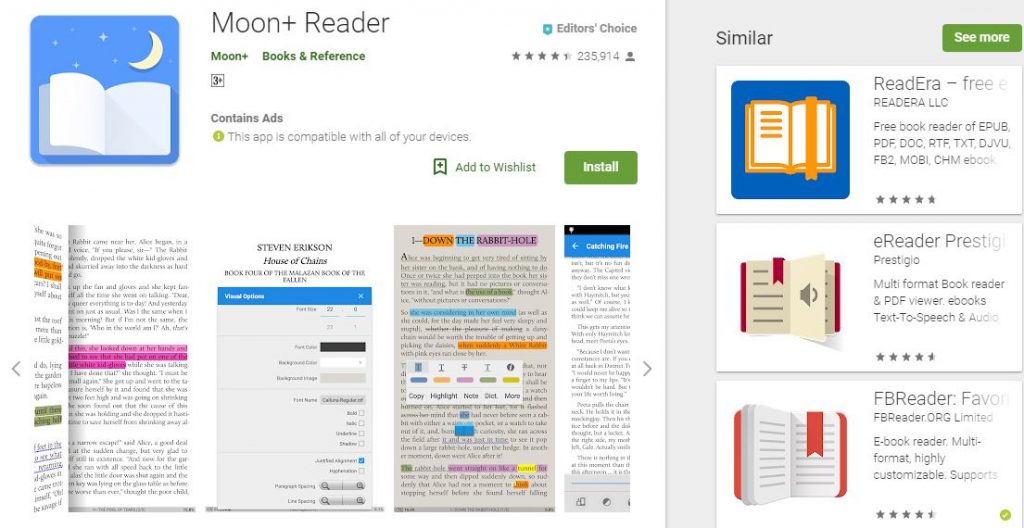 Reading eBooks on Android gets better with this innovative book reader which has powerful controls and full functions. You can read thousands of eBooks for free from the online eBook libraries or your downloaded books with smooth scroll and tons of innovation.
The app has a status bar that displays your reading progress and comes with 10+ embedded themes. It has 5 auto-scroll modes including rolling blind mode, by pixel, by line or by page and real-time speed control.
You can adjust the brightness by sliding your finger along the left edge of the screen since the app supports gesture commands. It is available for free on the Play Store. However, a pro version of the app provides additional statistics, such as the number of books in your shelf, pages turned and reading hours. Avid readers should really consider using Moon+ Reader.