There is a common saying that 'Sharing is Caring'. This statement can be used in practically every field of life. In the technological field, you might want to share your laptop internet with a friend or workmate. Or better still, you can share that laptop internet with your phone or other internet devices around you. The easiest way to do this is by Wi-Fi hot spot.
In this guide, you will see how easily you can turn your laptop into a wireless Wi-Fi hot spot so that you can make sharing easy. We shall cover Windows 10, MacOS and Windows 7 & 8.
Advertisement - Continue reading below
Using Windows 10
Check your Windows 10 version. The Windows 10 version 1607 which is commonly referred to as the Anniversary Update introduced the ability to easily turn your Windows 10 computer into a wireless hot spot without any additional software or command prompts.
Click the Start button or press ⊞ Window key.
Type winver and press ↵ Enter.
Check the "Version" entry. It should be "1607" or later.
Tap or click the Start button. Once the Anniversary Update is installed, you can access the wireless hot spot settings from the Start menu.
Be careful not to accidentally open the Search menu instead, which will lead to the wrong Settings menu. Make sure you're tapping or clicking the Start button in the lower-left corner of the screen.
Tap or click the "Settings" option. This is found on the left side of the Start menu. It appears as a gear icon.
Tap or click "Network & Internet." Your network settings will be displayed.
Tap or click the "Mobile hot spot" option.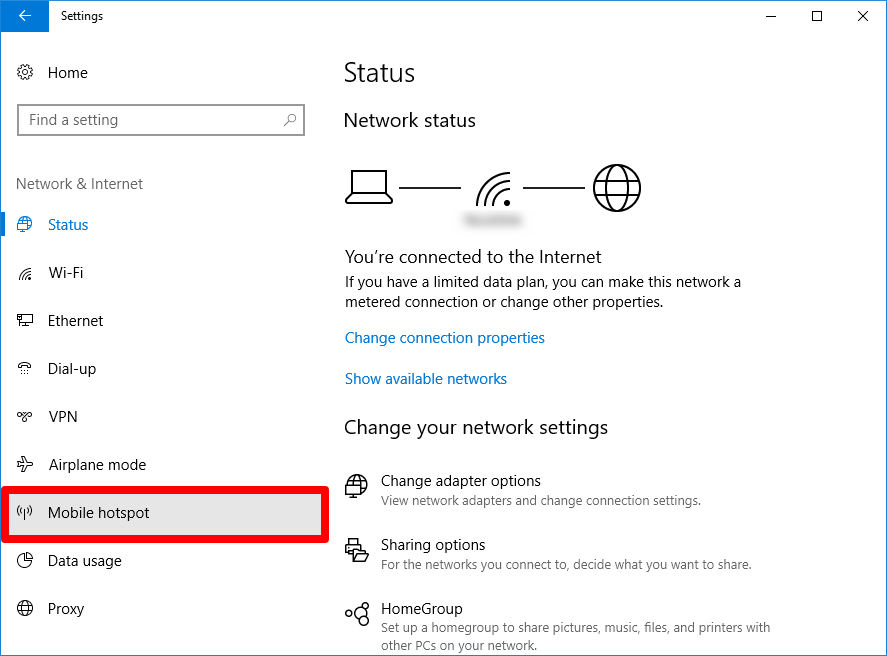 Tap or click "Edit" to change your hot spot settings. You can change the default name and password to whatever you'd like. The name will appear on your other devices in the "Available Networks" menu, and the password will be required to connect.
See also, an Idiot's guide to creating strong passwords.
Choose which network connection you want to share. If your laptop is currently connected to the internet via Wi-Fi, select "Wi-Fi." If it's connected to the network via Ethernet, select "Ethernet" from the menu.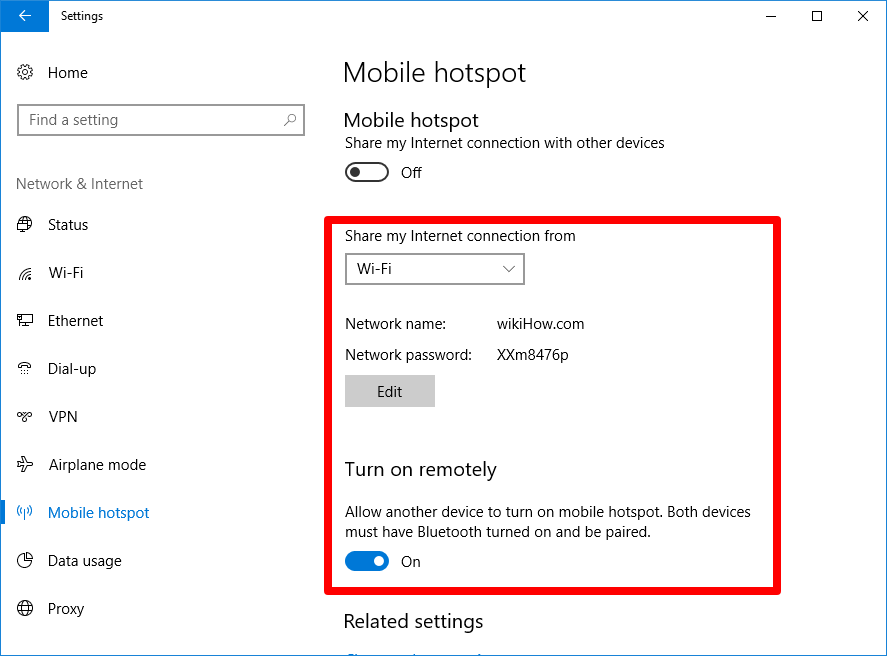 Toggle the "Mobile hot spot" slider on.This will enable the hot spot and allow up to eight other devices connect to your laptop and access the internet. These devices will not have access to the files on your laptop.
You can see how many devices are connected to your hot spot from the "Mobile hot spot" menu in the Settings.
Using macOS
The only way to turn your Mac into a wireless hotspot is to connect it to the network via Ethernet. You cannot create a wireless network if you're using your wireless adapter to connect.
Therefore, connect your MacOS to Ethernet to begin the process.
If your Mac does not have an Ethernet adapter, you'll need to use a USB Ethernet dongle.
Click the Apple menu. This is found in the upper-left corner of the screen.
Tap "System Preferences."
Click the Sharing option. This is found at the end of the third section in the System Preferences window.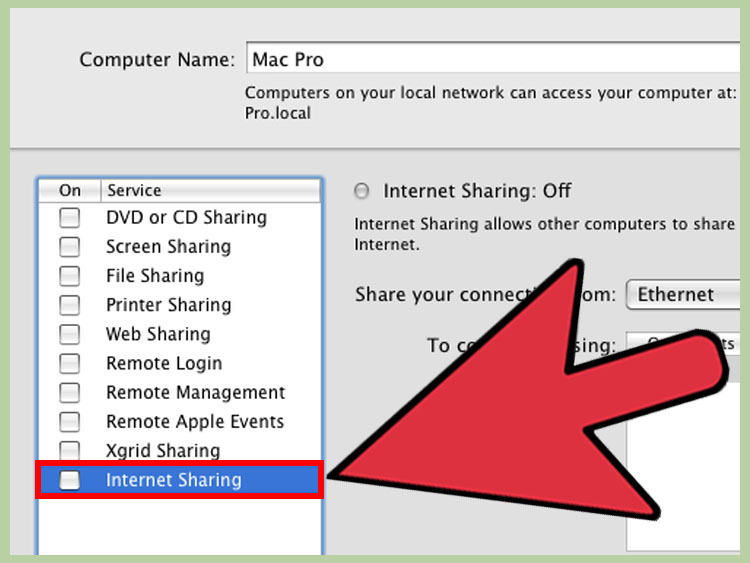 If System Preferences does not open to the main screen, click the "Show All" button at the top of the window. This button has 12 small dots.
Highlight the "Internet Sharing" option. The "Internet Sharing" option can be found towards the bottom of the list of "Services" on the left side of the window. Don't check the box yet, just highlight the "Internet Sharing" menu option.
---
Related Article: How to use your mobile phone as an internet modem
---
Click the "Share your connection from" menu. This will display the different network connections on your Mac.
Click "Ethernet" in the menu. This will set Internet Sharing to share your Ethernet connection with other devices.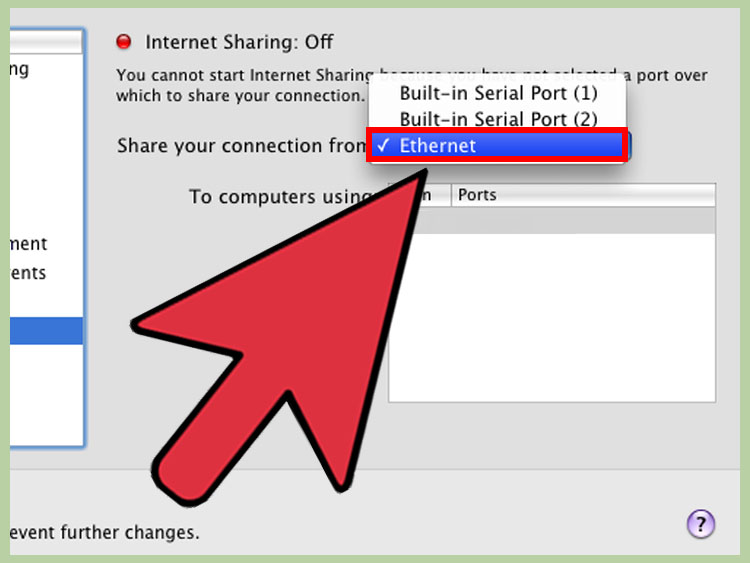 "Ethernet" may have a slightly different name depending on your Mac model.
Check "Wi-Fi" in the "To computer using" list. This will enable other devices to connect to your hot spot via Wi-Fi.
Click the "Wi-Fi Options" button. This will allow you to change your hot spot settings.
Set your wireless network name and password. This information will be required when other devices attempt to connect.
Check the box next to "Internet Sharing." This will turn on your Mac's new wireless hot spot, allowing other devices to connect to it.
Connect your other devices. Once your wireless hot spot is active, you can connect to it from your other devices. Your new network will appear in the list of available networks on nearby devices, and the password you created will grant access to the internet.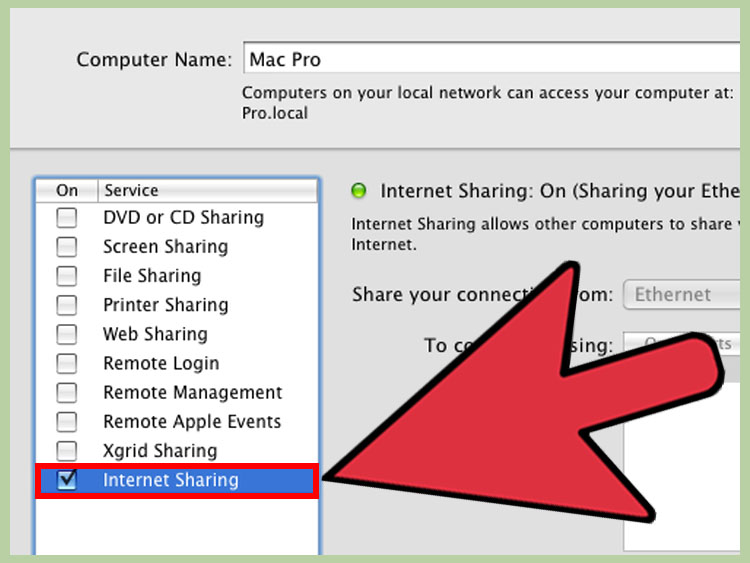 The other devices will not be able to access the files on your computer.
Using Windows 7 & 8
Visit virtualrouter.codeplex.com in your browser. This is a free, open-source program that will turn your laptop's wireless network card into a wireless hot spot. You don't even need a separate network connection in order to share it.
Click the "download" button. The installer for Virtual Router will begin downloading. The download should only take a few minutes at the most.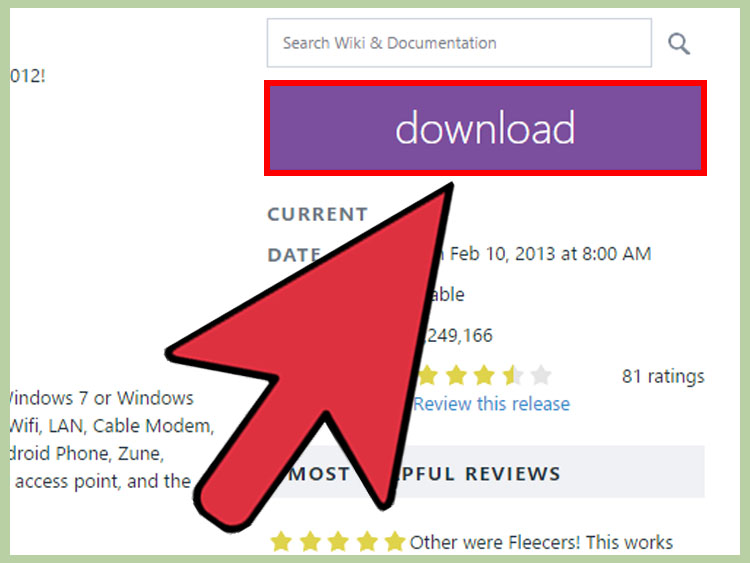 Double-click the installer. After downloading the program, run it to begin installing Virtual Router. You can find it in your Downloads folder or in your browser's Downloads section.
Follow the prompts to install Virtual Router. You can leave the settings at their defaults.
Tap the Start button. You can launch Virtual Router from the Start menu after installing.
Click "Virtual Router Manager." You'll find this program in your Start menu after installing Virtual Router.
Enter a network name. You can change the network name to anything you'd like. This is the name that will appear on other devices in the list of available networks.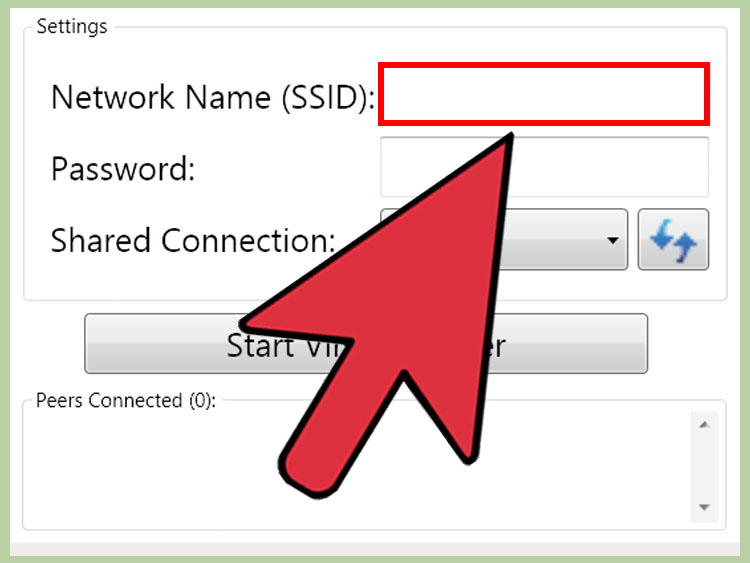 Create a password. This will help protect your network from unwanted connections. Users on other devices will need to enter this password in order to connect to the network.
Click the "Shared Connection" menu.This will display your available network connections.
Select your active network connection. Select whichever connection your laptop is receiving internet from in the "Shared Connection" menu. This will ensure that connected devices can access your internet connection.
Click "Start Virtual Router." This will start your new wireless hotspot, allowing other devices to connect to it.
Connect other devices to your new network. Other wireless-capable devices will see your new hotspot in the list of available networks. Select the network and enter the password you created a few steps back. This will allow the device to connect to your computer and access the shared internet connection.
Connected devices will not be able to see your computer's files.
Troubleshoot problems with Virtual Router.
Since Virtual Router isn't an official program, there are several things that may be causing it to not work for you:
Try re starting your computer, especially if you haven't done so since installed Virtual Router.
Make sure you have the latest available drivers for your laptop's wireless adapter.
If you get the "group or resource is not in the correct state to perform the requested operation" error, download and install the hotfix from Microsoft.
Make sure you're not using Windows XP, Vista, or 10. Virtual Router only reliably works on Windows 7 and 8. Windows 7 Starter is not supported.
With the above guide, I hope sharing your Laptop's internet via a Wi-Fi hot spot wont appear as though rocket science.