Tecno has recently launched 2 variants of last year's Pop 1 or Tecno F3 that are yet to make it to Uganda. The two new devices have been dubbed the POP 2 and POP 2 Pro.
The POP series category was created to cater for smartphone users with very low purchasing power — for consumers in emerging markets. These devices are all powered by the Google-optimized edition of Android Oreo operating system (i.e Android Oreo Go Edition).
Advertisement - Continue reading below
Itel has been known to dominate the low price segment with it's a series such as the A12 and most recently A16. However, we have seen Transsion companies release competing devices in recent times. Family fights aside, TECNO mobile is trying to to bring about revolutionary entry level smartphones that could revolutionize the digital concepts.
The new POP members boast of decent cameras and impressive performance given that they run a streamed down version of Google's Android which is specially engineered and optimized to offer the consumers a smooth and much responsive experience and usage on the entry-level devices. With Android Go comes a set reimagined Google apps that give users more power of choices such as the choice of opting video size and quality with YouTube Go.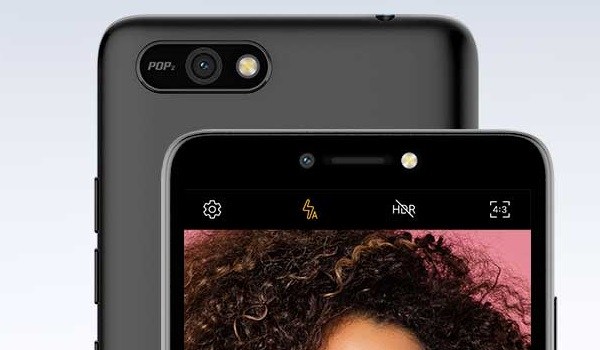 The POP 2 and POP 2 Pro use the MT6580M chipset which is clocked at a speed of 1.3 GHz. This is a fairly aged processor but still delivers good performance in this price segment.
The design is nothing to write home about. The POP 2 and POP 2 come with 2016 like bezels that give then a somewhat ugly look when seated next to the new breed of bezel-less smartphones.
The POP 2 and POP 2 Pro have almost similar specs. Both have the same processor, 1 GB RAM and a 5.5' IPS display. The striking difference is the presence of a fingerprint scanner at the back of the POP 2 Pro. Also, the POP 2 has been endowed with an internal memory of 8 GB while its upgraded version, the POP 2 Pro has a memory of 16 GB. The story of POP 2 Pro continues to differ with a more powerful rear camera of 8MP compared to 5Mp on the POP 2. However, the duo is on level pegging in the selfie department with 8 MP rear shooters.
Availability in Uganda has not yet been confirmed. However, we expect the POP 2 to retail at about UGX 265,000 while the POP 2 Pro may go for about UGX 290,000.
Advertisement - Continue reading below
Featured Image: Droid Africa
Related: