A good majority of smartphone users in this age just simply download and install apps on their smartphones without caring about the data these apps collect. Privacy and data security are important, which is why you should pay attention to personal data apps collect from you just the same way you shouldn't grant apps just any permissions they require.
You should take a cue from privacy scandals of the past like Facebook's Cambridge Analytica and the recent FaceApp saga. Likewise, you should try to obtain a copy of your data from the social media platforms you use. This will give you an idea of the volume and type of data some apps creators and companies collect from you while you use their (free or paid) apps.
Advertisement - Continue reading below
We previously discussed how you can view and download all your WhatsApp account information to have an idea of the data WhatsApp keep about you. Now, we'll do the same for Twitter.
How to download your Twitter data
Like WhatsApp, Twitter also allows users download their account information and data in a single zip file. Twitter says it includes the most relevant and useful information like multimedia (images, videos, GIFs), profile information, Tweets, Direct Messages, list of followers, Lists, demographic information, Ads that you've interacted with, and a whole lot more.
Here's how to download your account data on Twitter.
1. Log in to your Twitter account (on mobile, app, or web)
2. Tap your profile picture/icon at the top-right corner and select "Settings and privacy"
3. Next, select "Privacy and safety"
Advertisement - Continue reading below
4. Under the "Personalisation and data" section, select "See your Twitter data"
5. Enter your password in the provided box and tap "Confirm"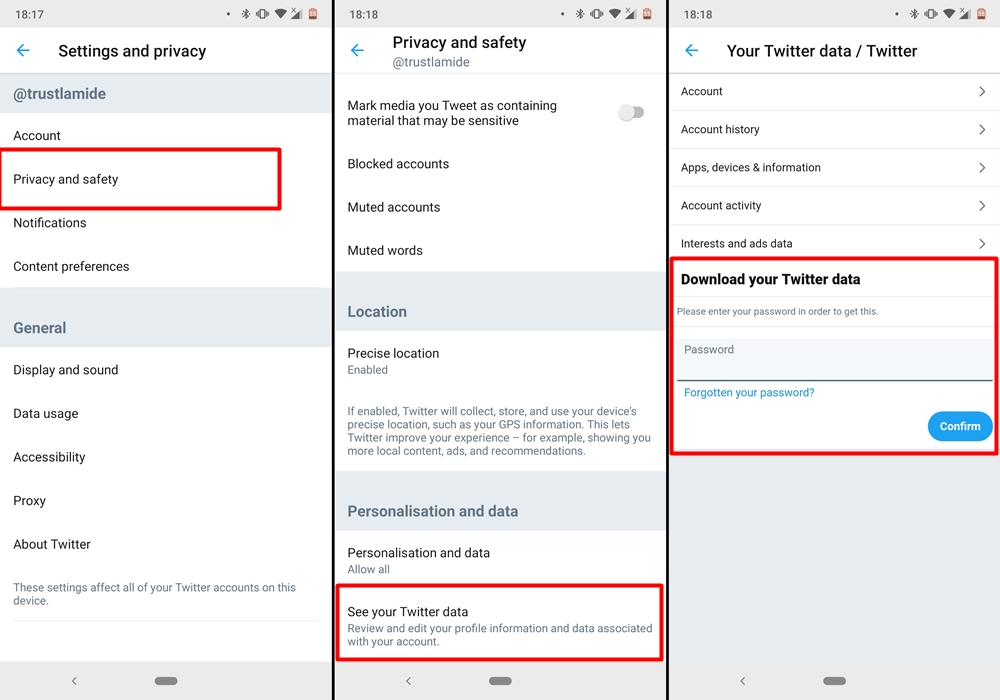 6. Afterward, Twitter will prepare your data and notify you when it is ready for download. This typically takes about 10-20 minutes.
7. When your download is ready, Twitter will notify you via push notification.
8. Tap "Download data" to download the zip file containing your Twitter account information.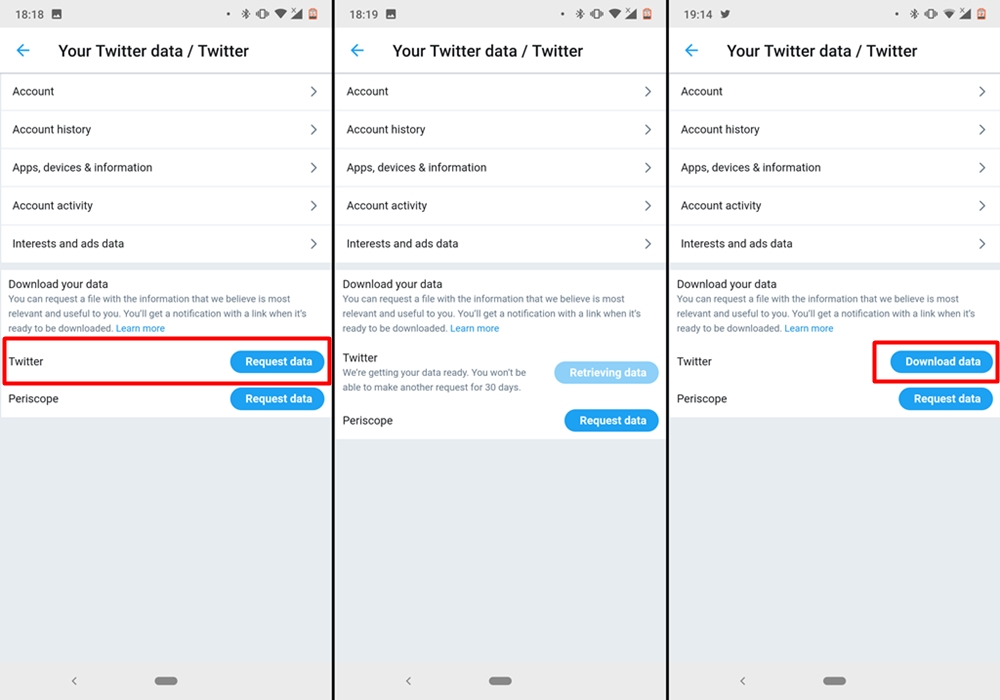 NOTE: You'll have 30 days to download your account information and likewise, you can only request for your account information once in 30 days.