Earbuds are becoming the most sort after type of headphone not just because they are fashionable, but because they are a lot more convenient to use than wired or over-ear headphones. Gone are the days of struggling to untangle wired headphones and accidentally breaking the handle of your over-ear headphones. Asides that, they are perfect for any kind of indoor and outdoor activity – workout, swimming, etc.
Just like every other gadget and accessory out there, even with their advantages, earbuds also have their shortcomings. In this article, we will discuss their advantages, but we'll focus more on their disadvantages, and whether you should buy them.
Advertisement - Continue reading below
Advantages of Earbuds
Earbuds give you that comfort
One good thing about earbuds is its wireless nature. Not having to deal with wires makes it very comfortable to use. With wired headphones, it is almost impossible to engage in other activities without having to battle with wires. But with earbud, you might forget that you have them on at some point. Also, they are not so heavy and they seat well in your ear.
Free movement
Earbuds give you that freedom to move around without needing to go along with your phone or whatever device you're connected to. With a wired headphone, you're stuck with the phone. Depending on the Bluetooth technology used by the earbud manufacturer, you can get a distance of 40meters before your earbud gets disconnected from your phone.
Disadvantages of Earbuds
You could misplace it easily
Because they are really small, it could be a daunting task to look for them when they go missing in your home or office.
They are quite expensive
Averagely, a wired headphone with great quality shouldn't cost you more than $5. But high-end earbuds are just too expensive. Take for instance the Apple Airpods and Samsung Galaxy buds; they cost between $100 and $150. Although there are cheaper brands, they do not offer great qualities (especially sound and battery) for the price they sell for.
Regular charging
Unlike the wired headphone which you just need to plug into your phone and you're good to go, earbuds are powered by batteries, and they require constant recharge. This is one major downside of earbuds; when you have a low battery, you're cut out until you're able to recharge.
Battery deteriorates with time
Just like smartphones and any other device that is powered by battery, battery life of earbuds drops significantly – depending on how often and how long it has been in use. When the batteries in these earbuds are not able to save as much power as they should, you might be forced to dump them and go for a new one or return to a wired headphone.
Advertisement - Continue reading below
Read: Wireless Earbuds: Cleaning and Maintenance Tips
Should You Buy One?
When you're making that buying decision, you should go for whatever rocks your boat. That which works best for you; what is perfect for the kind of activities you regularly engage. Earbuds are perfect for those who are involved in sporting activities; it gives them that flexibility. Or for those who aren't looking to deal with wires.
But if there is no urgent need to make that switch, I think you should stick to wired headphones for now, as earbuds are still too very expensive compared to wired headphones. Besides, wired headphones have been proven to have better audio quality than wireless headphones/earbuds.
The Best Earbuds To Buy?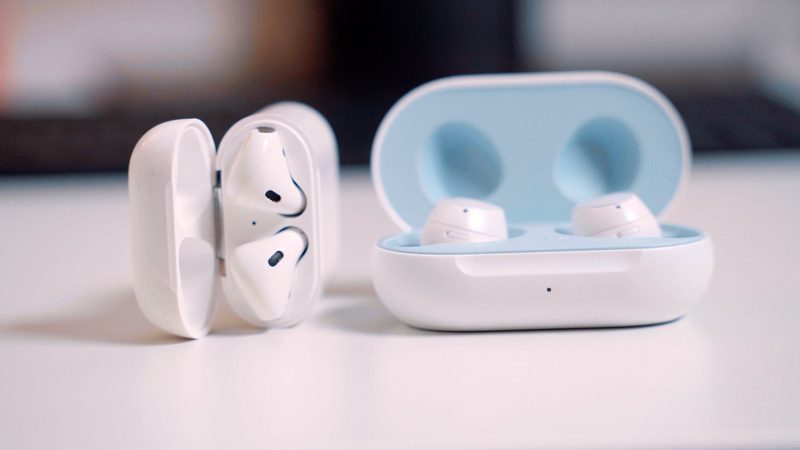 Just like we have it in the smartphone market, Apple and Samsung are the leading brands in the earbud market. Check out this post to learn more about their differences.
Also, if you are finding it difficult to choose a brand of earbuds to purchase, we have listed some of the best wireless earbuds you could choose from.