Flutterwave, a payments processor based out of Lagos has announced raising a Series B round of $35 Million.
From an email shared by the CEO, Olugbenga 'GB' Agboola, the round was co-led by Grey Croft & eVentures with additional participation from CRE Ventures, FIS, Visa, Green Visor, and Endeavor.
Advertisement - Continue reading below
Flutterwave is the first Nigerian investee of Venture Capital company, Endeavor Nigeria. They were also named in 2019 as Ycombinator's most valuable company in Africa, valued at about $150 million.
There has been a lot of visible progress since the company was created, and we want to access the journey so far.
Where It All Started
In 2016, Olugbenga Agboola founded Flutterwave with some other cofounders. Before the likes of Flutterwave and Interswitch were created, most online payments were done via Intersitch's WebPay which companies had to pay to the tune of N150,000 naira just to integrate.
Flutterwave was initially launched as an African digital payment infrastructure company that helps companies send and receive payments across Africa with one API. Their modus operandi or focus was quite different from Paystack… until it wasn't.
Some of Flutterwave's initial investors included Y Combinator, VCFintech (powered by FIS) and South Africa­-based CRE Venture Capital, among others.
Product and Features
Flutterwave have actively grown with regards to their product, features, and solutions. Some of these include:
Advertisement - Continue reading below
Checkout: This helps business owners or individuals collect payments from their customers anywhere in the world. On the web and mobile. payments from customers in over 150 currencies, including Naira, Dollars, Pounds, Euro and Yuan can be processed.
Card Issuing: This lets you create and manage virtual cards for various purposes using the Flutterwave API. Other companies can also build their businesses on this feature.
Invoices: Flutterwave also lets you create, send and track invoices in multiple currencies. This translates to a much easier way of tracking payments and overdue invoices plus easy sales and tax calculations. There are also sub-features of this like automated reminders.
Consumer payment: There are various options available for users to make payments. They include Pay with card, pay with USSD, pay with a bank account, pay with bank transfer, pay with mobile money, pay with QR and Pay with Barter.
How's Flutterwave's GetBarter Doing?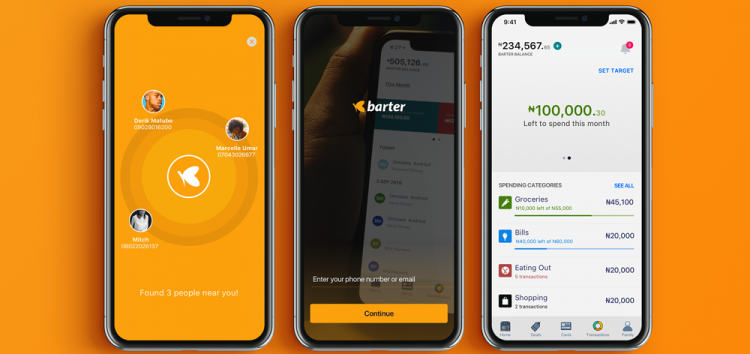 Consumer payment product, GetBarter came to live in January 2019 via a partnership with Visa. The product helps to facilitate personal and small merchant payments within countries and across Africa's national borders. Existing Visa cardholders were eligible to send and receive funds at home or internationally on GetBarter.
Even non-cardholders (those with accounts or mobile wallets on other platforms) were allowed to create a virtual Visa card to link to the app.
The GetBarter app currently boasts of over 100,000 users and transacted value of over $47,000,000 in 2019, which kind of points to users' receptiveness.
See Who's Been Growing
At the announcement of Flutterwave's launch, the startup had processed over $20 million in transactions for clients that include Uber, Paystack, Page Microfinance Bank, and Access Bank.
In 2018, Flutterwave saw a 550% growth in the customer base of Flutterwave for Business (Rave) while also retaining enterprise customers like Uber, Arik Air, Booking.com and Flywire.
In 2019, they processed $5.4 billion across 107 million transactions which were over two times the transaction count for 2018. They also welcomed 55,000 new merchants, which brings their total number of merchants to 86,000.
They also partnered, last year, with one of China's biggest payments processors, Alipay. And as a consequence, it opened Flutterwave's merchants to over 1 billion potential customers. This is a major step in the quest of trying to connect Africa to the world.
2019 was truly a year of growth for the company and by extension, the Nigerian FinTech space.
Advertisement - Continue reading below
Funds and Investments
Data from Crunchbase suggests that Flutterwave has raised a total of $55.4M in funding over 10 rounds. Their latest funding was raised on Jan 21, 2020, from a Series B round.
In 2017, the company raised over $10 million in a Series A funding round. This round saw Greycroft Partners and Green Visor leading it alongside initial investors — Y Combinator — and new investors like Glynn Capital.
The following year also saw them complete the Series A round of financing. This time, the funding came from Mastercard, CRE Ventures, Fintech Collective, 4DX Ventures, Raba Capital and more. The exact amount raised during this round was not disclosed.
The second round of financing saw current Green Visor Capital Chairman & General Partner and former Chairman & CEO of Visa, Joe Saunders, join the Flutterwave Board of Directors.
And the most recent, $35 million Series B fund.
A constant name in the list of investors is Green Visor and CRE Ventures.
Also, it is interesting to note the participation of finance company, Visa. Interestingly, Visa has now invested in both Flutterwave and Paystack, a move which has shown a pronounced interest of the company in the African FinTech space.
What Does the Future Hold for Flutterwave?
In an email shared by the company's founder and CEO, Olugbenga 'GB' Agboola, Flutterwave is nursing plans to expand into regions like the Francophone-speaking region of Africa and some countries in North Africa. 
Advertisement - Continue reading below
This expansion also means that businesses and individuals that currently use Flutterwave will be able to receive payments from those regions, hence expanding their market.
It's hard not to be optimistic about the future of the payments company. One very valuable feature of the company is the different markets they serve. They have essentially opened up some African countries to cross-country business and these businesses expand as they (Flutterwave) do.
Going forward, this (ubiquitousness) might just be top on the list of things a business or individual considers when choosing a payment partner.