Jumia, with operational presence in about 14 African countries, is arguably the largest eCommerce platform on the continent. The shift to online purchase by a large part of the African population, over the last couple of years, contributed to the growth of Jumia, and the e-commerce sector in Africa.
Jumia only owns around 15% of the products sold on its platform. Most items displayed on the platform are from third-party entrepreneurs and retailers selling on the platform.
Advertisement - Continue reading below
Related Article: Jumia Nigeria Tech Week 2020: Top Deals to Lookout For
Why Should You Sell On Jumia Nigeria?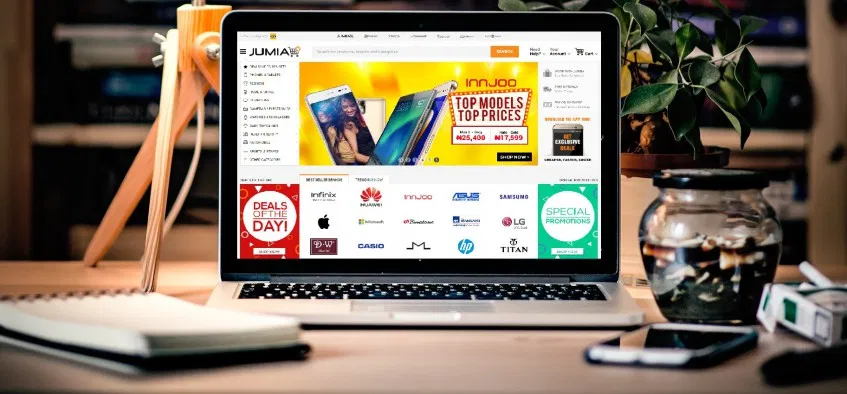 Reach a Wider Audience
Depending on the product you plan to list on Jumia, there is a chance of reaching a large part of the over 15 million monthly visitors on the platform (In Nigeria, alone).
Brand Trust
Selling items on social media (Instagram and Facebook) is quite common around here. Trust issues is, however, sometimes a huge hindrance as buyers are always skeptical about buying from unknown online stores.
Jumia's popularity, years of experience, and reputation precedes them. As such, people trust them, and would rather buy items on the platform.
What Can You Sell
Just like everywhere else, there are rules and guidelines to follow. The following are the category/types of products, items, and services that Jumia permits interested vendors to list on its platform.
Electronics (television, cameras, sound systems, etc.)
Phone & Tablets (mobile phones, tablets, and accessories)
Computing (laptops, printers, scanners, software, networking services, etc.)
Health & Beauty (haircare, fragrances, makeups, etc.)
Home & Office (cookware, appliances, furniture, bedding, etc.)
Grocery (laundry, cooking, toiletries, beverages, etc.)
Fashion Items (wearables, jewelry, watches, etc.)
Baby Items (toys, apparel, diapering, etc.)
Automobile Products (car & motorcycle accessories, safety equipment, etc.)
Sports Items (sport & fitness, cycling, camping, etc.)
Gaming Products (play station, video games, etc.)
Other Categories ( livestock, musical, gardening, movies, etc.)
What You Cannot Sell
Jumia forbids any product or service listed from being listed on its platform.
Advertisement - Continue reading below
Currency, valid invoices from any country. Fake money and every product which counterfeit financial instruments.
Every financial instrument disapproved by applicable financial controlling authorities.
Stolen or counterfeit goods.
Illegal substances and products sold to produce, modify or consume illegal substances. Drugs, medicines, steroids.
Plants and animals threatened by extinction. Fur, organs, part of animals.
Any explosive material.
Flammable material.
Fireworks, ammunition and every manual which would explain how to build bombs and explosives.
Articles considered as being part of the historic patrimony.
Every article related to hacking.
Weapons and items related to ammunition, bullets.
Fake IDS, fake birth certificate, driving license… Or any fake document.
Organs.
Items related to pedophilia, pornography, naked children.
Therapies.
Every item which contravenes to intellectual property.
Conditions Required For Selling
So, what exactly do you need to start selling your goods and making money on Jumia? We list them below.
The seller must be at least 18 years of age or selling under the supervision of a guardian or parent.
Jumia does routine quality checks. So, business transparency and maintaining high-quality products and standards is a must.
Maintain price parity for your products: Your products should be sold at the same price on all platforms they are listed. You shouldn't sell a product at a lower price on another platform and higher on Jumia.
For promotional purposes, you should grant Jumia access to your products, branding materials, and trademarks.
You must complete the registration process and obtain a Tax Identification Number (TIN)
Make sure your products are never out of stock.
Maintain a Ready-to-Ship policy within 24 hours
Revenue Sharing
In exchange for selling your goods on Jumia and to Jumia users, the e-commerce giant takes a commission. The sharing formula is determined by Jumia and is usually between 4% and 21%. How much commission Jumia takes from you largely depends on factors like the product(s) category, the delivery method chosen, etc.
Some other charges that you might have to pay for as a vendor on Jumia include cost of shipping to clients, multiple photos fees, enhanced marketing fees, etc.
You can learn more about Jumia's revenue and commission sharing model here.
How to Start Selling on Jumia
The registration process is quite easy. It involves 3 main steps; Registration, Training, and product listing.
Registration

From your web browser or mobile app, open the Jumia e-commerce website and scroll down to the bottom of the home page. Under the "MAKE MONEY WITH JUMIA" section, click "Sell on Jumia".
You will be taken to a registration form to fill in personal details (First and Last Name, Phone Number, Email Address, etc.), business details ( Company Location, Business Entity, etc.), and bank details.
Training
The dedicated new seller training is done online (YouTube) and offline. This training is to help you become a better online vendor and an expert in eCommerce.
Advertisement - Continue reading below
Product Listing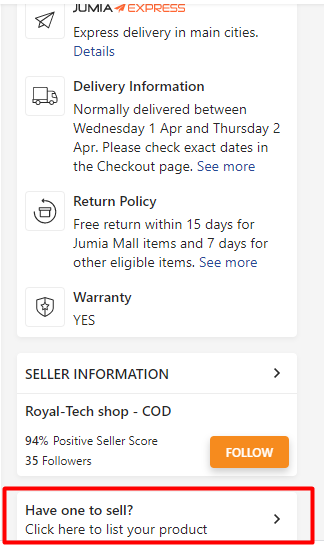 If you are listing a product that already exists on the Jumia platform, all you need to do is to search for the exact product you want to list and click on "Have one to sell?" and fill in the details of your own product.
Check the Jumia seller hub for full details about selling on the platform
Related Article: How to become a Jumia seller in Uganda: All you need to know
Sell Faster, Earn Bigger
As many countries are currently on partial/full lockdown, and access to physical stores is becoming increasingly difficult, people are turning their attention to eCommerce stores to get them their needs.
As a business owner, this is the perfect period to sell your product on a reputable eCommerce website like Jumia as demand for items has surged this period.