If you haven't jumped onto the Apple Music train, this might be just the best time to join it. Apple Music has extended the free trial duration of its Premium subscription from 3 months to 6 months. The beauty of this is that Apple Music is available on both Android and iOS devices. And even on (Windows or Linux) computers.
The Apple Music 6 months free trial offer is available in a select few countries for individual, family, and student plans for users who haven't tried Premium yet. After the trial period ends, Apple will start the premium plan which can be paid for using your VISA card, Mastercard, or Debit Card.
Advertisement - Continue reading below
---
Related Article: Netflix on YouTube: Watch Shows for Free
---
How to Get the 6 Months Free Trial
Head into your phone's application store and download the Apple Music app.
Once the app has installed, launch it, and select Try for Free.
It will direct you to a page that shows the number of months you have for free. If it shows 3 months, your location is probably not supported by this offer. If you are using a VPN, disconnect it, refresh your phone and restart the process.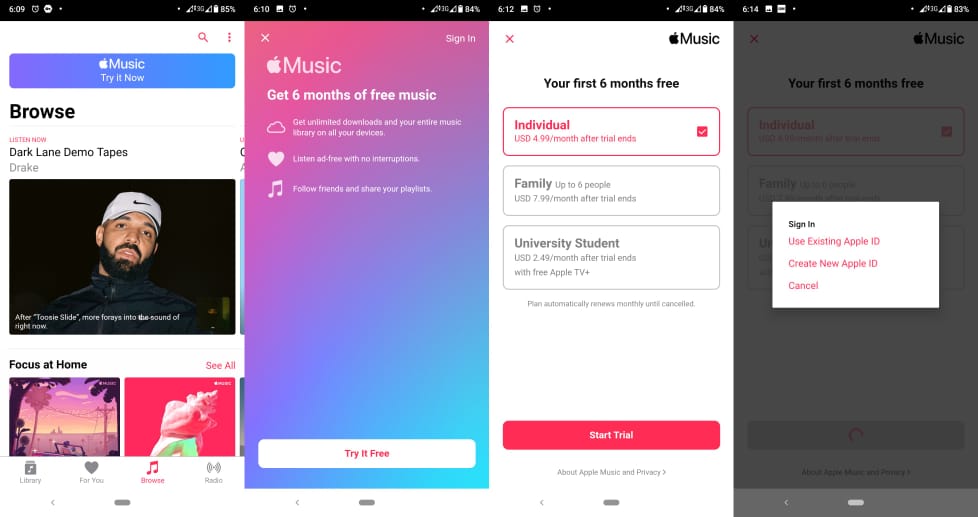 Once this is done, select Try It Free. You will then be asked to select a plan of your choice. The prices of these plans are dependent on your location/region too.
Now that the plan has been selected, you will be asked to sign in, either using an existing Apple ID or by creating a new Apple ID.
Once the plan and Apple ID have been selected, the free 6 months trial takes effect. Remember, the trial/plan can be canceled at any time.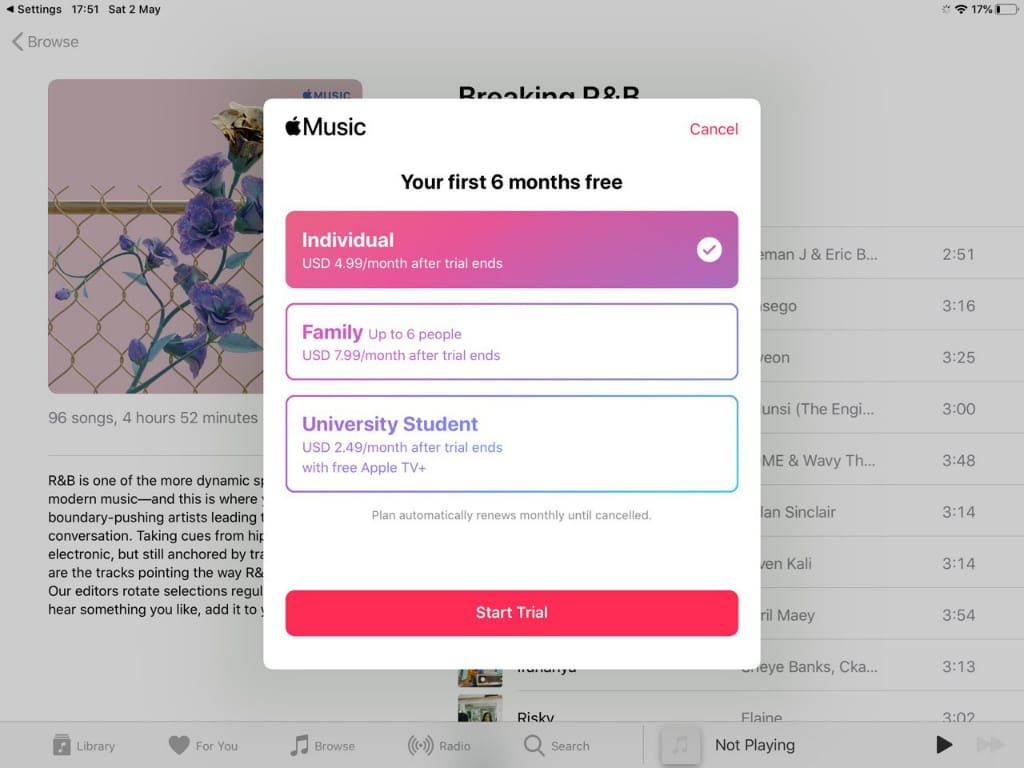 It is unknown why Apple Music decided to offer a generous half a year free trial but it is highly likely it made this move in a bid to encourage people to join the service as they are locked down in their homes as a result of COVID 19. If after your six months you decide that Apple Music isn't for you, just cancel it.
What is your favorite music streaming app and why do you prefer it? Let us know in the comments section.