iTel has launched the P36 series. This series features two devices — the iTel P36 and iTel P36 Pro. The device launch program was held online via YouTube and Facebook Live.
The start of the launch hinted at the brand mission of iTel, which is "to provide budget-friendly mobile communication devices for everyone". That already shows, obviously, that this new series is bound to be both entry-level and affordable.
Advertisement - Continue reading below
The company, which has been doing this for the past 12 years, is now present in over 50 emerging countries globally. This was as of December 2019. In Q3 2019, they were also the number one feature phone brand with a market share of 19%. This reiterates the company's mission.
Meet The iTel P36 Series: Speed Meets Power
iTel reveals that the P36 series comes with an all-round upgrade in power, security, design, storage, and camera.
Power: The series is packed with a 5,000 mAh big battery. And with the upgraded innovative AI power master. The AI power master is a power management system with two main power-saving modes – smart power-saving mode and an ultra power-saving mode. It also comes with many more power features.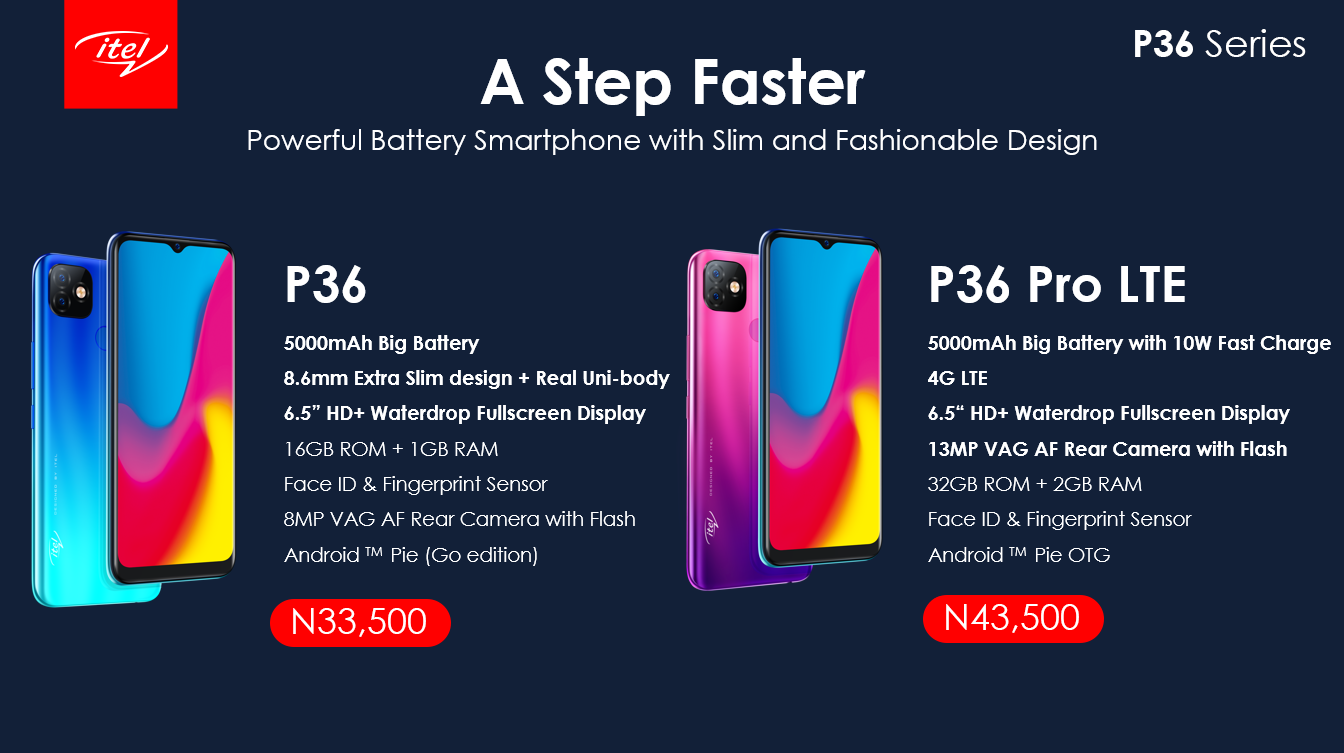 Design: The P36 series comes with a 6.5 inches HD+ Waterdrop Fullscreen display. And with a screen ratio of 20:9. The fullscreen display offers users an immersive experience when watching videos or gaming. It features a Double S Line design.
Storage: This comes in two variants – 16GB and 32GB internal memory for the P36 and P36 Pro devices respectively.
Security: A face unlock comes with the P36 series for security. It is also equipped with a smart and multi-functional fingerprint sensor. The fingerprint sensor allows users to do up to 8 things, with just a tap. This includes (but isn't limited to) answering calls, taking photos, accessing certain apps.
Advertisement - Continue reading below
Camera: The series comes with dual 8MP and 13MP rear cameras for iTel P36 and iTel P36 Pro respectively. Also comes with an 8MP selfie camera. Both devices come with portrait mode.
How much is iTel P36 and P36 Pro?
The iTel P36 costs N33,500 Nigerian Naira. The iTel P36 Pro costs N43,500 Nigerian Naira.
Quite fair prices given the specifications and features of both devices.
Hit or Miss?
The launch program ended with the new iTel brand ambassador, Olamide, further explaining the advantages of the P36 series from iTel. While also showing other iTel manufactured devices like the iTel TV, Smart fit band, and so on.
Tell us, what are your thoughts about the iTel P36 series smartphones? Hit or Miss?