Data shows that in Kenya, Infinix is the forth largest smartphone vendor, trailing behind its sister brand, TECNO and Korean tech giant, Samsung.
That is a very prominent position to hold in such a competitive market and with that, the bar is pretty much set! Infinix needs to deliver kick-ass devices if it is to maintain its position on the Kenyan market.
Advertisement - Continue reading below
In the recent past, we have seen a number of really compelling offers from Infinix. Today, we want to look at some of these offers and how much you can get yourself one of these for. We shall look at a few compelling offers from Infinix across the various available price-ranges.
1. Infinix Zero 8
Infinix's "Zero" line of smartphones has represented the company's creme-de-la-creme in all aspects, from performance to design and camera.
After a long hiatus, we have a new Infinix Zero in town, the Infinix Zero 8. Decked out with the latest specs, this device packs a 90Hz display, an updated design, and a brilliant paint job to match.
Under the hood is the Mediatek MT6785 Helio G90T chipset, 8GB of RAM and a 4500mAh battery cell. This battery can be topped up through a 33W charger that comes in the box.
The recently-released Zero 8 has received glowing reviews from first adopters, a befitting feat for a rather deserving sequel to the Zero 6.
Advertisement - Continue reading below
Initial reports indicate that the device should retail at around Ksh. 28,500.
2. Infinix Note 7
For users that aren't willing to drop all that dough for a device but still fancy a decent Android experience, Infinix has something for you too.
The Infinix Note 7 has been out for the past several weeks and we already have a detailed review on it.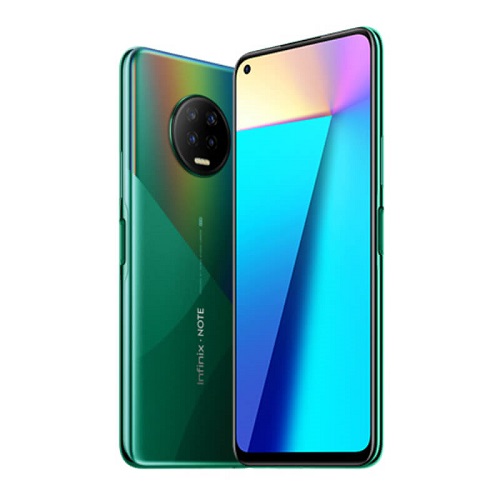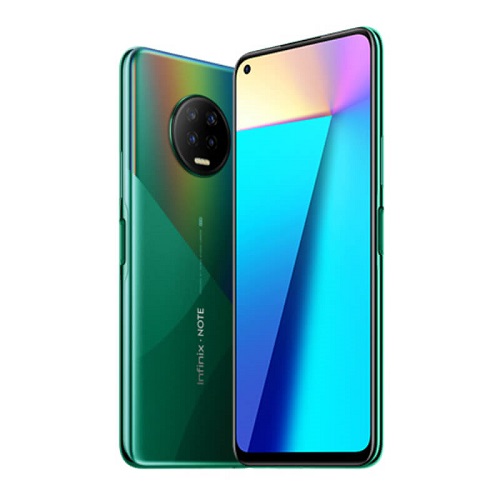 The Infinix Note 7 is powered by the Mediatek Helio G70 Octa-Core CPU clocked at 2.0GHz, paired with 4-6GB RAM and a massive 5000mAh battery.
The screen is bumped down to HD+ which means that you should get decent battery life on the device, albeit with a slightly diminished multimedia experience.
The Infinix Note 7 is available in Kenya through various online stores like Jumia Kenya and XPark for around KSh 17,799.
3. Infinix Note 7 Lite
There's also a slightly watered-down version of the Note 7 in form of the Infinix Note 7 Lite. This Lite device packs many of the specs we've seen with the Note 7, cheaping out on the processor as it packs the MediaTek Helio P22 chip.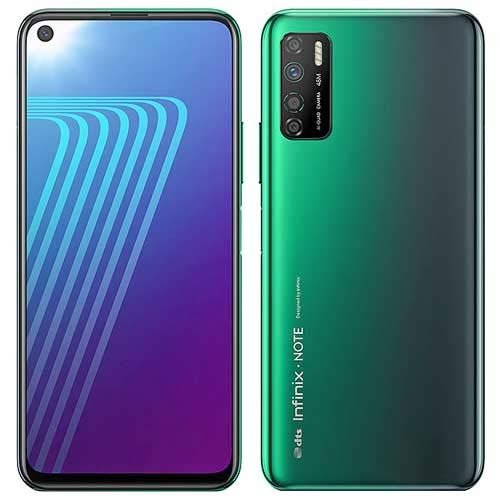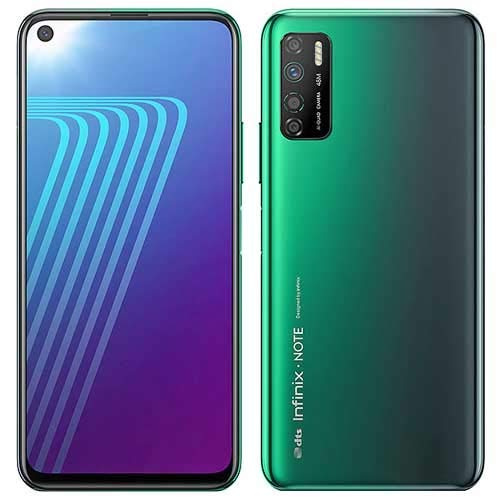 The Note 7 Lite also assumes a more traditional camera layout, lining the back cameras in a linear manner on the left side of the device.
The display also bumps down to 6.6-inches from 6.9-inches on its beefier brother and the base model starts at 4GB of RAM. Everything else is a draw between this device and the Note 7.
The Infinix Note 7 Lite retails for an average of Ksh 15,400 on Jumia Kenya.
Advertisement - Continue reading below
4. Infinix Hot 9
Infinix also has compelling offers for users in the market for an entry-level device. This market has traditionally been served by Infinix's "Hot" line of phones and the latest edition of the same is the Infinix Hot 9.
---
Read More: Infinix Hot 9: Here's Everything You Need to Know
---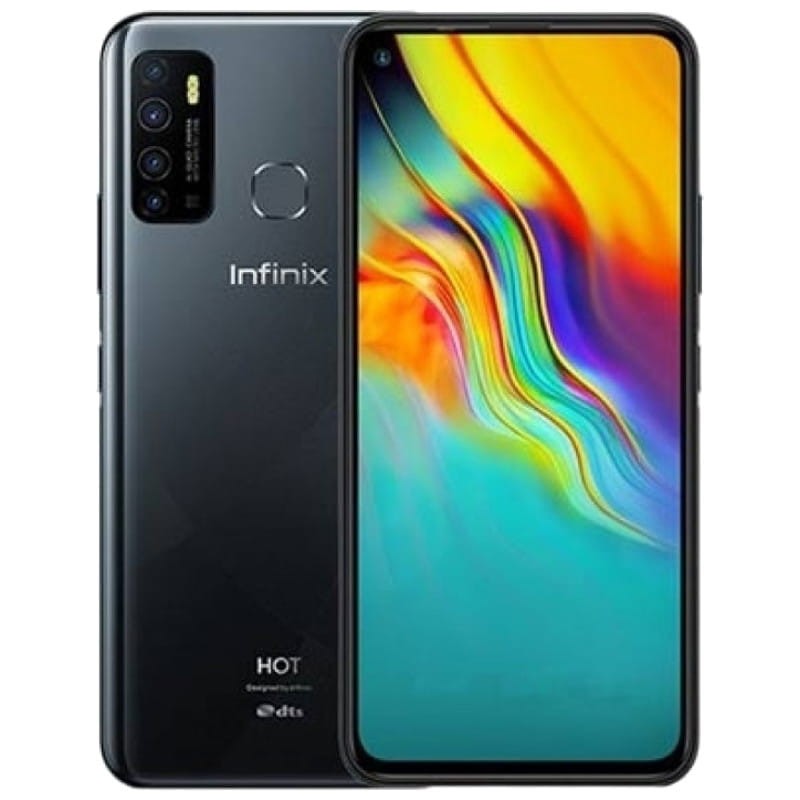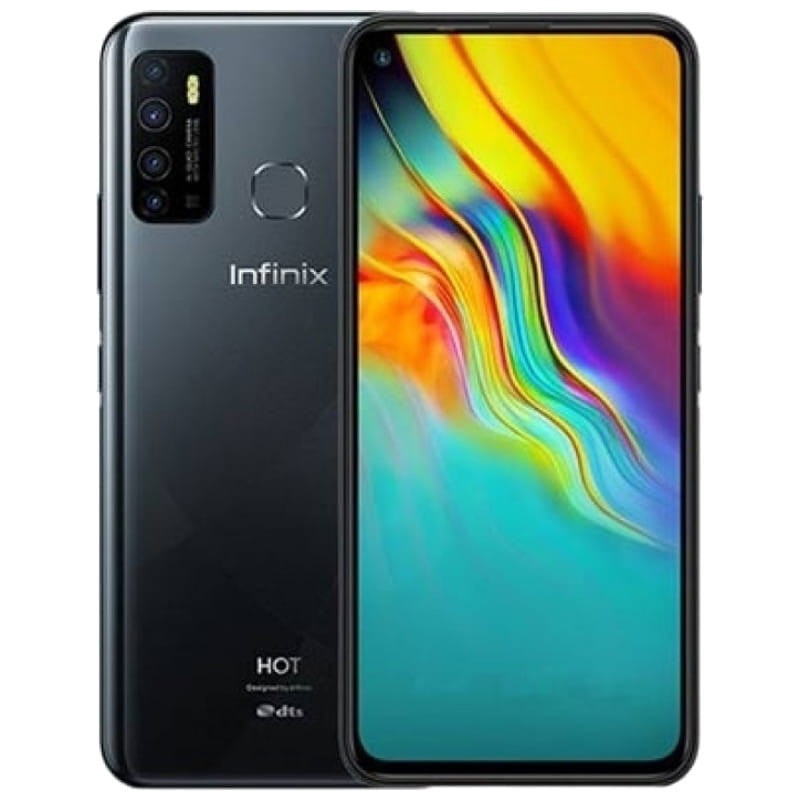 The Infinix Hot 9 retails in Kenya through the various online distribution channels from around KSh 13,920. Please note that there's also an Infinix Hot 9 Play that bears similar specs with a few key improvements in battery size and cameras. That version retails for around Ksh 12,300
5. Infinix Smart 5
For the sub-Ksh. 10,000 segment of the market, Infinix has a product for you as well. The Infinix Smart 5 offers quite a lot for its price.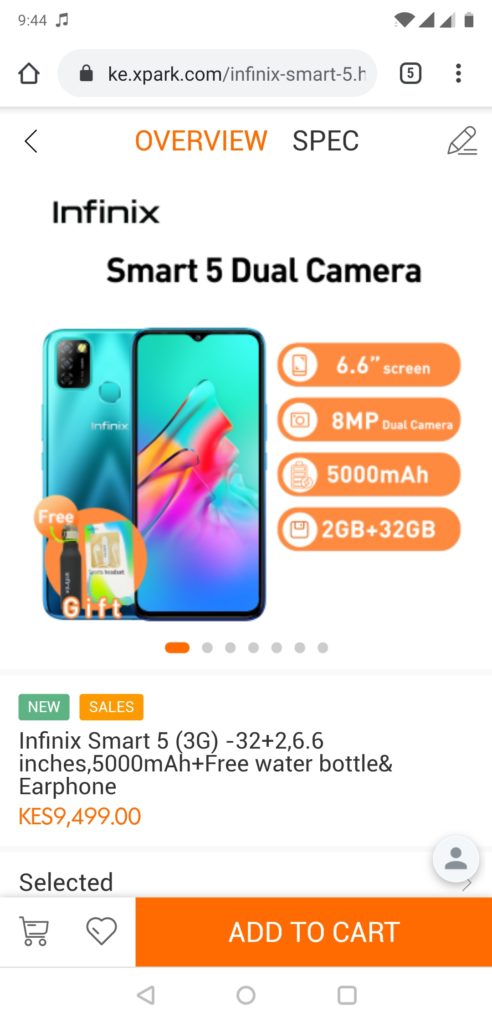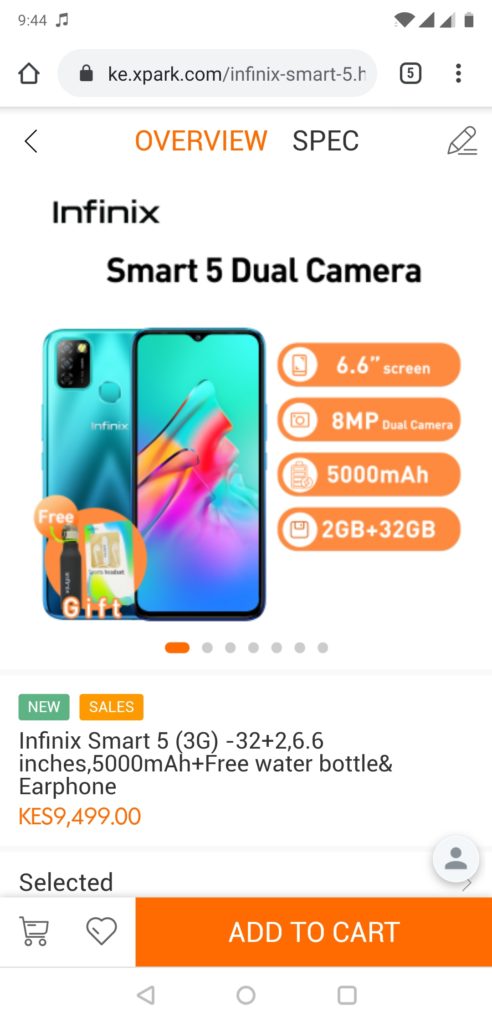 For that price, you get a dual-camera set-up, 2GB of RAM, and 32GB of expandable storage. If you purchase a unit of this device from XPark, you get a free water bottle and a pair of complimentary earphones. That is real value, if you ask me.
See, Infinix and its sister brands —Tecno and iTel— primarily focus on the African market and a few other regions across the globe. This means that the company can tailor-make devices to best suit the applicable markets.
For Kenya and a bunch of other African markets, price is the biggest contributor to purchase decision-making. It is nice to see Infinix offering options for the various price-segments we have today.