Albeit the technology went mainstream since 2012, I didn't really take wireless charging seriously until recently. Obviously, wireless power itself dates back to the 19th century when Michael Faraday proved that a rotating electric current in a coil of wire could induce a current in another nearby coil of wire. However, the technology saw very few applications until smartphones arrived.
Today, wireless charging is beginning to be the norm in most flagship smartphones through the Qi standard. Samsung Galaxy S8 (and newer) as well as the iPhone 8 (and newer) are some of the prominent smartphones that support wireless charging. As a result, there are a plethora of wireless charging products in the market and it's becoming really hard to tell what's legit and what's not. The Anker Powerwave range of products is one of the best wireless charging products today.
Advertisement - Continue reading below
Anker Powerwave Wireless Charger comes in two form factors; the Stand which charges your phone in a vertical (standing/slanting) position and the Pad which charges the phone while it's laying horizontally. I got myself the Anker PowerWave 10W Wireless charging stand which I have been using to charge my iPhone SE 2 as well as Samsung Galaxy S8.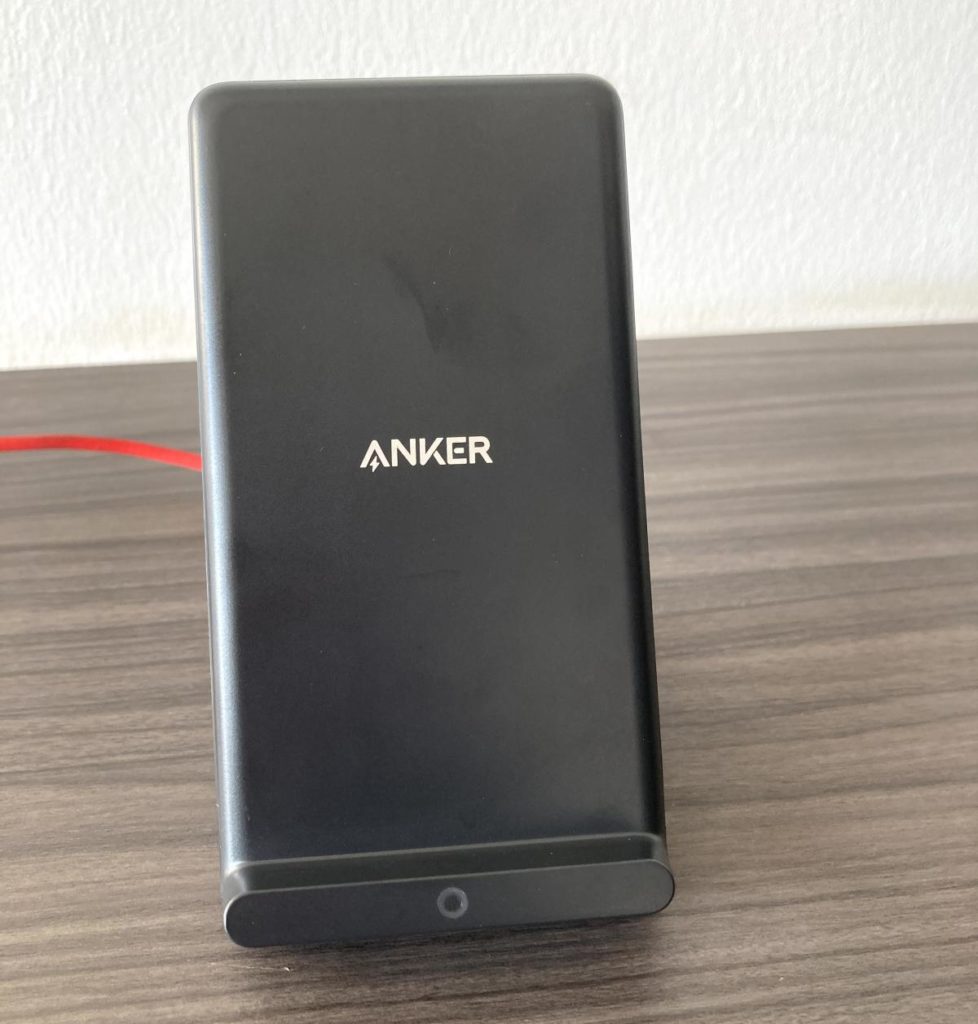 Summarily, what we liked;
Easy charging. No need to plug a cable into your phone.
Less wear and tear to the phone charging port.
What we didn't like;
Compatible fast-charging USB wall charger isn't included.
Can only charge one device at a time.
Can't easily use your phone while charging.
The Anker PowerWave Stand is a slick black plastic charging stand that is slanted at 80 degrees angle so that your phone can lean back on it while it's charging. It has a blue LED light on the front which lights up as soon as you place your phone on it. At the back, it has a Micro-USB port which is used to power the stand using any USB wall charger. The stand comes with its own USB-A to Micro-USB cable, but no USB wall charger is included.
Now, before we go any further, you should know the different Qi power specifications set by the WPC (Wireless Power Consortium). The Baseline Power Profile (BPP) specification supports up to 5 Watts of power output while the Extended Power Profile (EPP) specification supports up to 15 Watts. EPP is the fast-charging of wireless charging world and it's what supported with the Anker PowerWave stand that's rated 10W.
For the best results, you have to match both the charging cable and wall adapter power rating with the wireless charging stand. For instance, a 10W wireless charging stand plugged into a 5W USB wall charger will ultimately charge your phone at 5W. So together with the Anker PowerWave stand, I also bought an Anker Elite Dual-port 24W Wall charger which has an output of 24W.
Advertisement - Continue reading below
Before you go shopping for a wireless charging product, you should know your phone's wireless power input. Apple's devices slightly fall behind at about 7.5W while the likes of LG can receive up to 10W of power. Below is power rating of some of the popular smartphone brands;
Apple: 7.5 W
Samsung: 9 W
LG: 10 W
Google: 10 W
The Anker PowerWave Stand weighs only 100 grams. It takes in 5V-2A / 9V-2A input power and outputs 5W/7.5W/10W. The output power depends on your phone (as stated above). It generally charges Samsung Galaxy phones much faster than iPhones.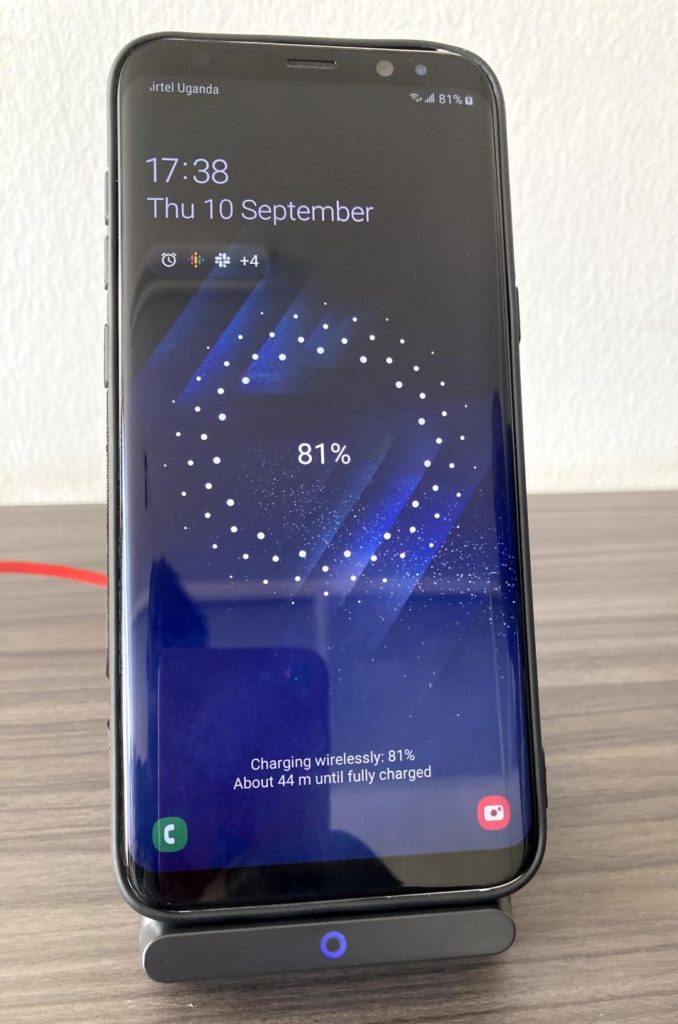 10W Fast Charge Mode: (Using QC 2.0/3.0 Adapter)
Samsung Galaxy S20 / S10 / S9+ / S9 / S8 / S8+ / S7 edge / S7 / S6 edge+
Samsung Note 10 / Note 9 / Note 8 / Note 7
7.5W Fast Charge Mode: (Using QC 2.0/3.0 Adapter)
iPhone SE / 11/ 11 Pro / 11 Pro Max / XS Max / XR / XS / X / 8 / 8 Plus
5W Standard Charge Mode: (Using 5V/2A Adapter)
All Qi-enabled phones and devices
Pixel 3 / Pixel 3XL (The phone's screen will display the message: Charging slowly)
Using the iPhone SE 2020, I was able to get 57% in 101 minutes which is about 0.56% per min. Getting a full charge on a wireless charger takes about 2.5 hours with the Anker Powerwave stand. This isn't much different from using the original wired 5W charging brick that comes with the phone. This is obviously slow if you choose to use a compatible Wired 18W USB-C to Lightning charging brick which apparently can charge your phone to half in about 30 minutes.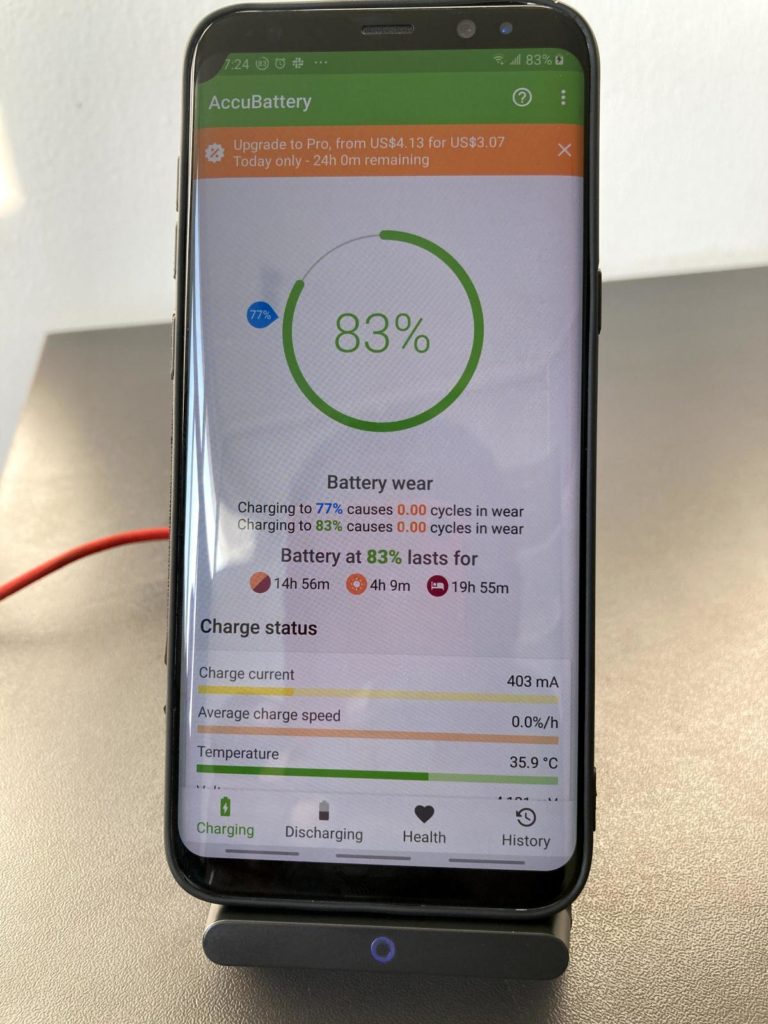 The Anker Powerwave stand is really a convenient way of charging your devices if you ask me. No messy cables. You don't have to start looking for compatible cables; Lightning, Micro-USB, or USB-C. It uses the Qi wireless charging standard which works across both Apple and Android devices. This ultimately reduces e-Waste. Simply place your phone on the stand and walk away.
Final Thoughts
Right now in 2020, only a handful of phones support wireless charging. You basically must have a 2020 flagship to enjoy wireless charging only a handful of people enjoy. And wireless charging is still incredibly slower than wired charging. I mean how can 15W, the fastest wireless charging standard compare to 120W, the fastest wired charging.?
Advertisement - Continue reading below
But for the convenience and less e-Waste, if you choose to opt for wireless charging, then I highly recommend this Anker PowerWave 10W Stand. It's currently $19 on Amazon.com (with no AC Adapter).
If you prefer the Pad instead, it's $12 on Amazon.com. Adding a compatible USB charger will set you another $11 on Amazon.com.
If you live in Kampala Uganda, then you can get it from Odukar Store at Ugx 235,000 with the USB Charger included.