Oraimo Nigeria recently released the Oraimo FreePods 2 Pro – the latest iteration in its FreePods wireless earbuds series. Interest in Oraimo's earbud series surged when it launched the Freepods 2 True Wireless Stereo (TWS) earbuds (2baba Edition) a couple of months back.
The device quickly rose to become one of the most sought-after earbuds in the country. The new Oraimo FreePods 2 Pro is, however, coming in with a couple of improvements. We copped a unit of the Oraimo FreePods 2 Pro for unboxing and review purposes and in this post, we'll show you what it looks like and what to expect if you decide to purchase a unit for yourself
Advertisement - Continue reading below
Oraimo FreePods 2 Pro Specs Summarized
BT Version: V5.0
BT Chip: Qualcomm
Wireless Range: >10m
Battery Capacity: 35mAh (each earbud), 400mAh (charging case)
Standby Time: Up to 70 hours
Play Time: Up to 4 hours
Talk Time: Up to 3 hours
Other Features: Automatic Ear Detection
Charging type: Wired, USB-C charging cable
Unboxing the Oraimo FreePods 2 Pro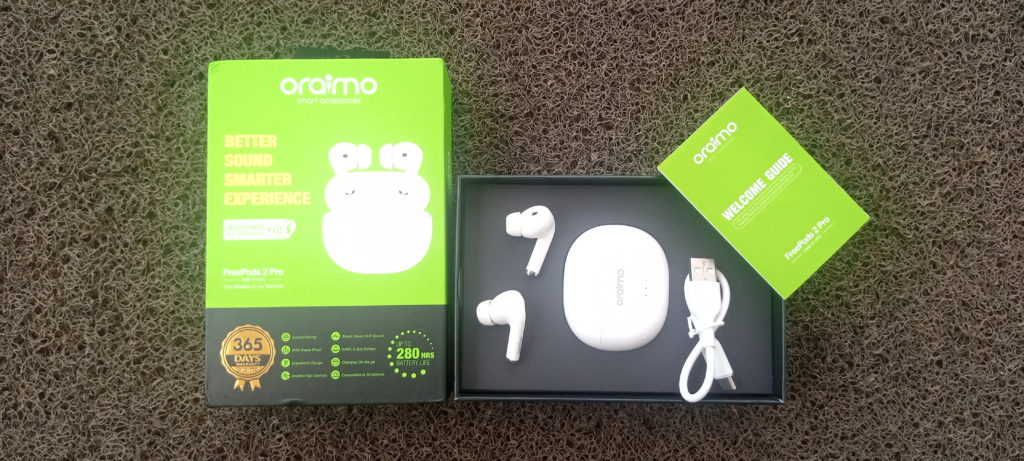 Below is a list of the items that ship with a unit of the Oraimo FreePods 2 Pro:
2 x Oraimo FreePods 2 Pro
1 x Charging case
1 x charging cable (USB-C)
3 x ear tips (small, medium, and large)
A user guide to guide you through
Design & Packaging
The design and packaging of the Oraimo FreePods 2 Pro is similar to its predecessor – the Freepods 2 2baba Edition. When you open the box, you are greeted with the charging case which houses the left and right Oraimo FreePods 2 Pro earbuds. Underneath this, you'll see the USB-C charging cable, two extra sets of ear tips, and a user manual.
The EarPods
These earpods look exactly like Apple's Airpods Pro – they feature a similar design (ear tip positioning and stem design). In fact, without the Oraimo branding on the stem of each earbud, you might mistake them for Apple Airpods. Another distinct difference that might help is, on the exterior of the Apple Airpod, there's the outward-facing mesh microphone that is responsible for noise-cancellation, a feature the Oraimo FreePods 2 Pro doesn't come with.
Charging Case
It comes with a charging case that has this premium feel to it. On the front of the case is a three-dot LED case status indicator. It also indicates battery power level. Furthermore, there is a cut-out on the front of the case to allow for easy opening of the case. On the rear of the charging case is a button that lets you clear the pairing list of the earbuds.
Price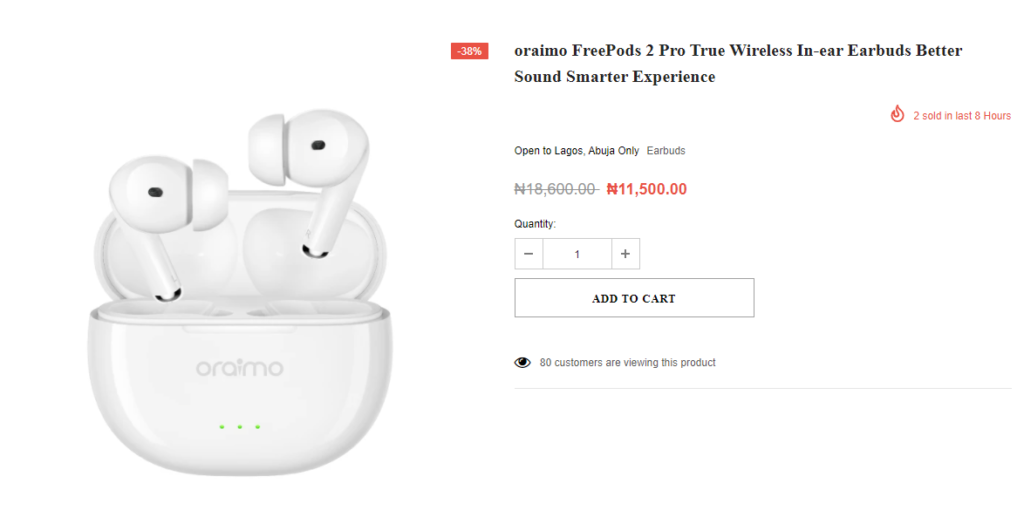 You can purchase a unit of the Oraimo FreePods 2 Pro earbud on Oraimo's website for Nigeria and it will be delivered to your doorstep – I got mine two days after I placed the order. A unit on the website sells for N11,500
Conclusion
In the coming days, we'll subject this device to some thorough audio testing, feature testing, as well as battery strength testing, and we'll report our findings in the full review. You will find out if it is worth the money, or if you should look elsewhere. Stay tuned.
Advertisement - Continue reading below