During the previous financial crunches, people were worried only about their finances. But now it is different. On one side, the pandemic is spreading hot with no vaccines or cure. On another side, the GDP is going down and savings running out with no hopes or solutions. People aren't interested in spending much.
This means that promotions such as the Black Friday Sales are bound to get a lot of attention from consumers who are keen to land a good deal on various goods and services.
Advertisement - Continue reading below
To make access to health services easier and cheaper, The Medical Concierge Group (TMCG) Uganda has announced free teleconsultations for Rocket Health users starting from 6th Nov to the end of the month as part of the Black Friday Deals.
What is Tele-Consultation
A doctor, based in one location, gives consultation to a patient, who may or may not be supported by some other healthcare professional in a different location. The data needed by the the doctor to diagnose the patient is provided by the patient or a healthcare professional. Or both.
At Rocket health, teleconsultation with 24/7 access to instant medical care goes for UGX 10,000. Users have access to doctor consultations in the middle of the night even when they are out of town.
---
READ ALSO: A Beginner's Guide to Using Rocket Health in Uganda.
---
How to Redeem the Free Tele-Consultations
Visit the Rocket Health official website.
Create a new account or log in. You will be required to enter your email address and choose a strong password to secure the account.
On logging in, you will be directed to your Dashboard. Choose Tele-Consultation from the menu and add the service to the cart.
Proceed to checkout and add the code "RHCONSULT" into to Coupon Discount dialog box to redeem free teleconsultation from Rocket Health.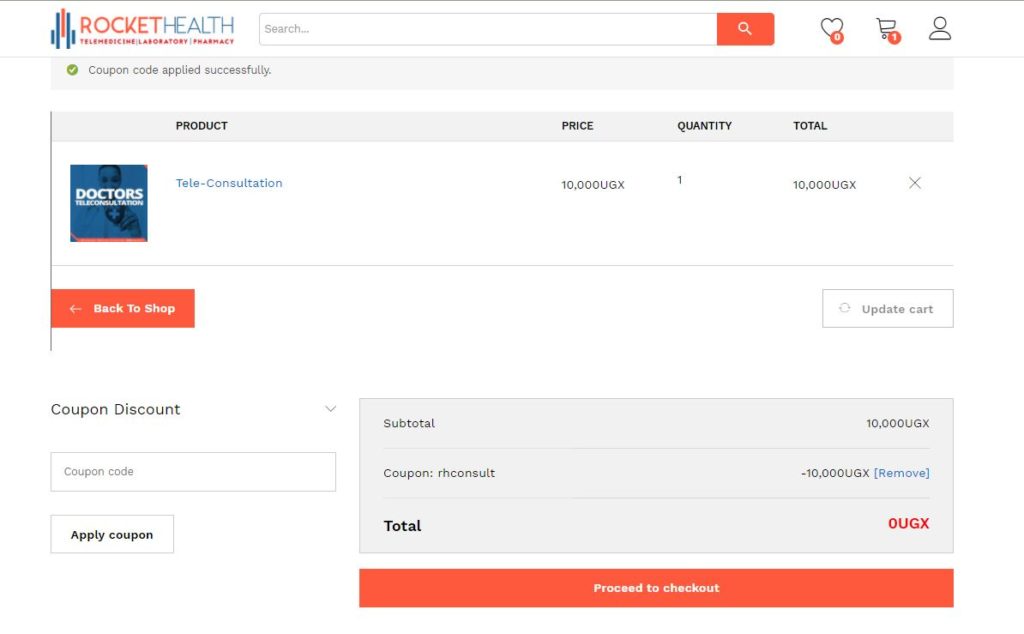 A doctor will then get in touch with you and you can then talk to him/her about your health issue. He/she will give you guidance on what to do next.
Advertisement - Continue reading below
Other Products and Services
With Rocket Health, you can request clinic services like lab tests, cancer screening, maternal and newborn health, buy medical drugs, and wellness packages from the comfort of your home.
With new threats of second lock-down at the dawn, tele-medic services will surely be the next best alternative for people to get vaccines and doctor's appointments.