You've seen "verified" Instagram profiles with a small blue tick just in front of the usernames. You want your account verified too but you don't know how to go about it. Well, the first step to getting verified is to send a request to Instagram. We'll show you how to do that in this post.
Before we proceed, it is important to point out that you don't need thousands or millions of followers before you can be verified. However, the chances are higher when you have more followers.
Advertisement - Continue reading below
According to this study in 2020, 73.4 percent of accounts with over one million followers are verified. On the other hand, just 0.87 percent (less than 1%) of accounts that have between one thousand to five thousand followers, are verified.
In this post, we'll take you by hand on how to request verification on Instagram. Follow through.
---
READ MORE: How to See People That Share Your Posts on Instagram.
---
How to Request Verification on Instagram
Follow these steps to request verification for your Instagram account.
Go to your Instagram profile and tap on the hamburger icon located at the top right corner.
Select Settings.
Tap on Account.

Select Request Verification.

Fill in the requested details in the form that opens and tap on Send.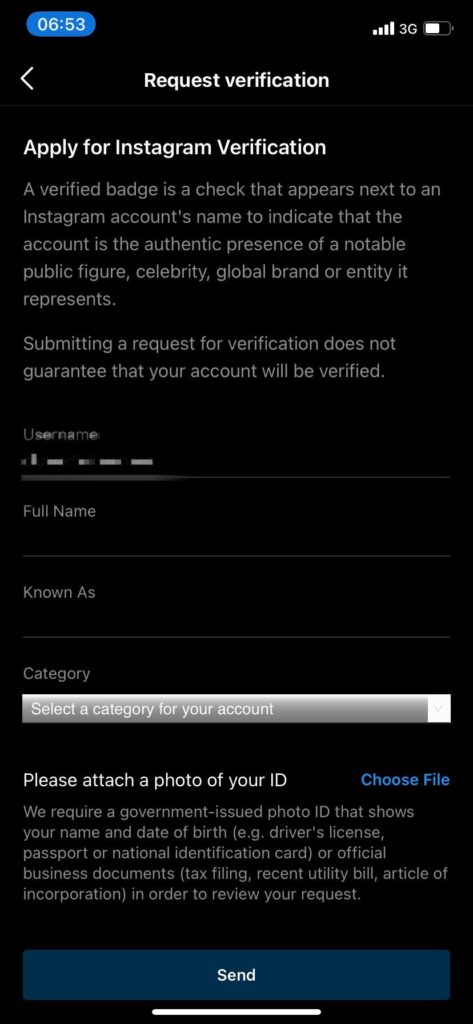 Instagram will review your application and let you know if the verification was approved or not.
Why Should You Care About Getting Verified?
Verification on Instagram is represented by a small blue tick just in front of a verified handle's username. This tick signals to other Instagram users that a particular handle is genuine and belongs to a public figure, organization, or group.
Here are a couple of reasons why you should totally care about getting verified on Instagram:
Advertisement - Continue reading below
If you're a popular figure (influencer, actor e.t.c), getting verified on Instagram helps prevent other people from impersonating you. It signals to other Instagram users that the verified handle is the authentic one to follow, reach out to, or engage with.
For businesses, the blue tick signals to (potential) customers that your business is legit and not fraudulent. Customer trust for your brand is likely to skyrocket after getting verified.
If you're any of the above, you should totally request verification on Instagram. If approved, you'd be glad you did.