About 10 years ago, someone having internet at home was similar to the same having a mobile phone or Digital Satellite Television or DSTV at their home 20-30 years ago. It was for a few privileged individuals. The primary means of accessing internet was via satellite using expensive VSATs or using dial-up modems installed at high-profile offices or institutions.
However, as they say, things have changed. Now thanks to mobile wireless technology such as 3G and smart devices that are increasingly becoming ubiquitous like 3G USB modems and smartphones, there's now not just one, but several ways of accessing the internet at home.
Advertisement - Continue reading below
So lets explore some of the options you've for checking your emails, finishing that report or checking on what your friends are upto on Facebook — at home.
 Huawei E3131s 21 Mbps USB modem
The Huawei E3131s  is a portable 3G USB modem capable of upto 21 Mbps speeds. This modem is your entry-level modem that you can have at home for your own light work or for the kids to surf the internet. Depending on which network provider you bought it from, the modem comes with pre-installed software that's easy to use and customize settings as you wish.
The Huawei E3131s replaces the long standing Huawei E173 as your modem of choice with more robustness.
This device goes for about UGX 99,000 on Orange Uganda stores.
Huawei E3276 4G LTE USB modem
This modem is for the power users. Those that need to use faster internet links while on the go of  upto 4G LTE with theoretical Maximum speeds of upto 100Mbps. If you are found of downloading and uploading heavy files from and to the internet such as images and videos, you need something that won't slow you down.
Currently, there are 3 operators in Uganda that support 4G LTE speeds in specified areas around Kampala and these include MTN, Orange and Smile.
Advertisement - Continue reading below
This device goes for a price of UGX 229,000 on Orange/Africell Uganda  stores.
ZTE MF60 wireless router
The 3G wireless access point allows multiple users to access the internet anywhere, anytime. This makes it suitable for a family setting which has more than one person that could use  the internet. Dad can use the internet for his work while the kids can use it to do their homework. All you've to do is setup a wireless hotspot with a password known to only the family members. 
What's also impressive about this device is its 4-5 hour rechargeable battery which will ensure that you'll use the internet even when UMEME does it usual loadshedding. It's also great for mobile teams. You simply have to buy a drink at a restaurant, power up your laptops and get going with work. 
Device goes for a price of UGX 179,000 on Orange/Africell Uganda stores. 
Smile 4G MiFi Router
The Smile 4G MiFi router recently caught our attention. As might already know, Smile communication Uganda is a 4G-only network, meaning that you will always be connected to a 4G link as long as you're hooked to their network with this device. The device supports multiple users just like the ZTE MF60 above and also comes with an inbuilt battery.
Smile Uganda is offering the 4G MiFi Router at a price of 240,000 Ugx ( about $95)  with 5GB data that is valid for 60 days.
Huawei B683 3G wireless gateway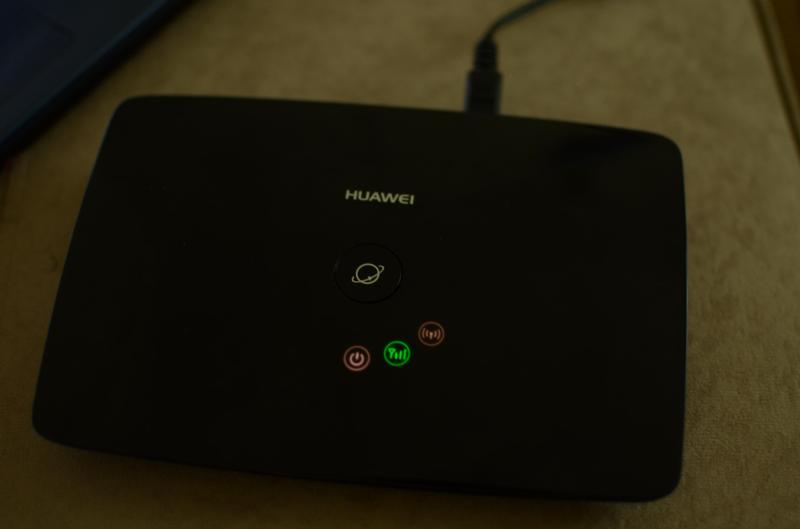 Advertisement - Continue reading below
We saved the best for last. The Huawei B683 is certainly a well rounded device that supports speeds of upto 28Mbps. When we plugged into Orange's 3G+ network, we got speeds of up to 4.45 Mpbs downstream and 0.8Mbps enough to stream a Youtube video without much buffering, a clear Skype call and download an email attachment in seconds.
The device has 1 Simcard slot, 4 LAN Ethernet ports, 1 USB port for printing and file sharing, a provision for an external 3G antenna. It supports upto 30 users making it a perfect device for a home setting. Read the full review here.
The device is sold by Orange/Africell Uganda at a price of Ugx 399,000 ($153.61) but doesn't come with any data.
Vodafone Uganda Mi-Fi
Vodafone Uganda 4G LTE Mi-Fi are another great way to access the internet at home in Uganda. The devices priced at Ugx 149,000 and 349,000 come with unlimited internet valid for one month.
Which device and on which network you'll use is highly dependent on you. Also note that the above prices are not definitive in themselves, they could have changed already.