Amazon is by far the biggest e-commerce platform we have around. The e-commerce giant currently has 110 active fulfillment centers in the United States and ships internationally to over 100 countries and regions outside the United States. However, because Amazon is a huge online platform with thousands of sellers selling items on its website, shipping outside the US (to some countries) isn't really straightforward.
For instance, for some weird reasons, some Amazon sellers have strict shipping policies that black lists countries like Nigeria. That is, you can not buy items from these sellers and ship Nigeria. And if you eventually get a seller that ships to Nigeria, shipping internationally (usually via FedEx and DHL) can be ridiculously expensive – costing even several times more than the product itself.
Advertisement - Continue reading below
Why You Should Ship with Heroshe
Heroshe is a logistics company (with offices in Nigeria and Texas, United States) that helps Nigerians ship items from the United States to their doors steps in Nigeria. With Heroshe, you can easily ship items (from Amazon) that are ineligible for shipping to your country. And although shipping to Nigeria via Heroshe takes longer, it is significantly cheaper than regular Amazon shipping (via DHL and FedEx).
Related Article: How to Buy from Amazon, AliExpress, Alibaba, and Ship to Nigeria
How to Use Heroshe
Before you purchase your items from Amazon, you need to first create your Heroshe account. Visit Heroshe's website to do that.
When you create your Heroshe account, you will be provided with Heroshe's US warehouse address.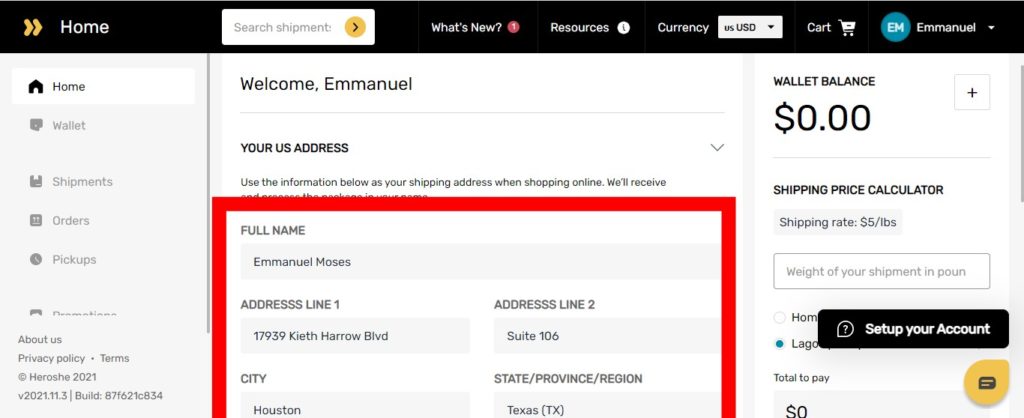 Use the shipping address provided by Heroshe when shopping on Amazon. Heroshe will receive and process the package in your name. You can also make payment online when you're ready to complete the shipping process. You can also check the status of your shipment on your Heroshe dashboard.
In conclusion, you should keep in mind that shipping items from Amazon to Nigeria via Heroshe takes about 2-3 weeks. However, shipping is relatively cheaper with Heroshe ($5/lbs) when compared to the likes of FedEx and DHL.