The internet has become an important part of our lives today and while we have since grown to have enough bandwidth for most of our needs, it is pretty easy to forget the kind of complexity that goes into building the infrastructure that is the modern internet.
Proxies and VPNs get a lot of attention, presumably due to the purpose they serve; encrypting your data and tunneling your connection to a different location so you appear as though you're surfing from a different location. This is rather important for accessing geo-restricted content.
Advertisement - Continue reading below
One other unsung hero of the internet is DNS or Domain Name System. This is essentially an address book for the internet, as it converts URLs to IP addresses, a form that the internet understands. Of course, this is a gross over-simplification and as such, we have a more detailed look at this here.
---
Read More: What's DNS-over-HTTPS (DoH) and DNS-over-TLS (DoT) and why it's controversial
---
Now that we've acquainted ourselves with DNS there are a number of DNS providers on the internet today, some more popular than others and some more specialized than others and in this post, we shall look at a number of these, and why you should probably turn them on.
---
Read More: How to change the DNS Server on your Phone
---
AdGuard
See, the internet is a wild place with adult content a simple web search away. This means that the minors in your home with access to a device can easily have access to this blue content even without your knowledge.
AdGuard offers a lot of services including VPNs, AdBlockers, and most importantly, support for Family-friendly web with its DNS. Should you want to ensure your device never gets access to any 'bad' websites, simply use this as your Private DNS.
Advertisement - Continue reading below
dns-family.adguard.com
Now, anyone on the device trying to access said content will be met with this pleasant little teddy bear. All in all, a must-have for any parent who leaves their kids with their device to ensure they're kept in check.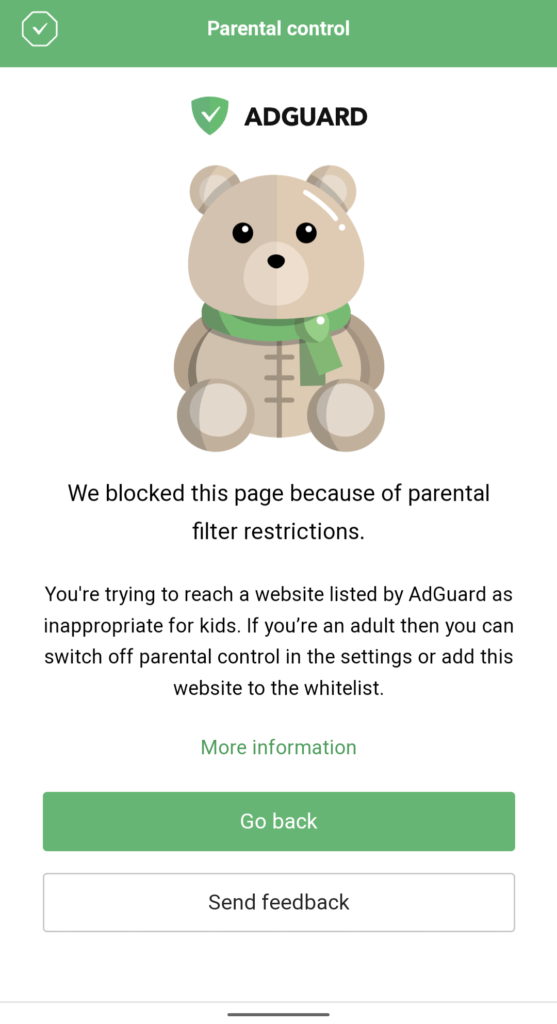 Being Adguard, you get to enjoy the benefits of its adblocking engine so say goodbye to those annoying ads and popups that lead you to some shady websites. That said, some ads still come through so don't expect a completely ad-free experience.
Should you want to enjoy the benefits offered by this service but aren't too keen on being stuck with a censored internet, simply use the following as your DNS on your Android device.
dns.adguard.com
CloudFlare
Perhaps one of the young blood that got everyone talking about DNS, CloudFlare's 1.1.1.1 is a DNS service that offers the fastest response time, unparalleled redundancy, and advanced security with built-in DDoS mitigation and DNSSEC.
---
Read More:
---
For me, I use CloudFlare's 1.1.1.1 app from the Play Store to not only get faster lookup speeds (which is very perceptible once you use it over time) to get access to YouTube Music which is not officially available in my region.
This is a lot faster and doesn't slow my internet as a VPN would. Cloudflare also supports many of the Family-friendly internet initiatives as explained in the above-linked stories.
We have created a video on how to setup private DNS on your Android phone. Watch it below;
Advertisement - Continue reading below
Other DNS Servers to try out
Well, the internet is very vast and there are tons of other DNS servers to try out. Below is a list of some of the top-rated DNS servers that you could try on your Android.
---
Read More: Speed up internet by changing DNS Servers on your Chromebook
---
| | | |
| --- | --- | --- |
| DNS Provider | Primary Address | Secondary Address |
| 1. Google Public DNS | 8.8.8.8 | 8.8.4.4 |
| 2. Cloudflare | 1.1.1.1 | 1.0.0.1 |
| 3. OpenDNS | 208.67.222.222 | 208.67.220.220 |
| 4. CyberGhost | 38.132.106.139 | 194.187.251.67 |
| 5. Quad9 | 9.9.9.9 | 149.112.112.112 |
| 6. OpenNIC DNS | 192.71.245.208 | 94.247.43.254 |
| 7. DNS.Watch | 84.200.69.80 | 84.200.70.40 |
| 8. Yandex DNS | 77.88.8.88 | 77.88.8.2 |
| 9. Neustar DNS | 156.154.70.5 | 156.154.71.5 |
| 10. CleanBrowsing | 185.228.168.9 | 185.228.169.9 |
| 11. Comodo Secure | 8.26.56.26 | 8.20.247.20 |
| 12. UncensoredDNS | 91.239.100.100 | 89.233.43.71 |
| 13. FreeDNS | 45.33.97.5 | 37.235.1.177 |
| 14. Verisign Public DNS | 64.6.64.6 | 64.6.65.6 |
| 15. SafeServe | 198.54.117.10 | 198.54.117.11 |
| 16. Safe DNS | 195.46.39.39 | 195.46.39.40 |
| 17. AdGuard | 176.103.130.130 | 176.103.130.131 |
Source
Featured Image courtesy