In business, competition is the key to success. From the shoes on your feet to the phone in your hands, every product you own got there because of cutthroat business decisions. Fintech Startups drove many Banks to online and digital banking solutions to broader their service delivery to customers beyond the walls of their branches.
In Uganda, a few banks have taken the initiative to allow customers to open new Bank accounts online without visiting a bank branch. Here is the list of all banks in Uganda where you can create an online bank account and how to create the account?
Advertisement - Continue reading below
1. Stanbic Bank Uganda
You can create an account online with Stanbic Bank and it's available for Ugandans, refugees, and foreigners with the right documents i.e. resident permit or valid visa. Before you start the application here is a recap of the requirements needed before you start an account with Stanbic Bank Uganda:
You will need clear photos of your national id, a clear selfie that shows both ears,
a pic of your signature written on a white piece of paper. Please note that all these photos should be taken by your smartphone (in .jpeg format) before starting the application.
During the application process, ensure that you attach a phone number registered in your name.
A valid national ID for Ugandans and valid documents for foreigners.
We extensively covered how you can open a Stanbic bank account online in our previous blog which you can read here. However, here is a summary of step by step procedures on how you can do it;
Step One: Verify you have all the requirements needed and visit the Stanbic Bank official website or click this link here to get started.
Step Two: Scroll down on the website and on the section of " Ready to Start" click on the button "Open Account Here".
Step Three: Follow the proceeding steps and fill in all fields from steps 1 to 4.
Step Four: Share the reference number after the application with the Stanbic either on their social media so they can arrange a video call to verify your details or visit a Stanbic branch near you to verify the account and make your first deposit to activate the account.
2. Standard Chartered Bank
Standard Chartered Bank has been a pioneer in digital banking in Uganda. They closed the majority of their branches across the country and pivoted to what was minted as digitally-led mobile banking and introduced a Digital Life Account that you can create online.
You can read more about the Digital Life account below. How to start one and how the account works?
---
READ MORE: How Standard Chartered Digital Life Account Works and How to Open One?
---
3. Equity Bank Uganda

Equity Bank Uganda has decided to tread the waters of digital banking with a USSD-led approach and allows customers to open an account using their featured phones through a USSD shortcode.
Advertisement - Continue reading below
All you have to do is make sure the phone number you are using matches the details of your National ID. Here are the instructions on how you can open an Equity bank ordinary account using the USSD short code *247#;
Step One: Dial *247#
Step Two: Enter NIN. Enter the identification card number and select send
Step Three: Proceed & Accept T/C (terms and conditions). You will receive messages confirming your account and mobile banking. Make sure you also deposit on the account within 30 days to prevent it from being closed.
4. KCB Bank Group Uganda
Here are 6 simple steps to open a KCB account online in Uganda;
Step One: Visit http://ug.kcbgroup.com and click on the online account opening button on the top menu bar or simply click this link here.
Step Two: Choose between Customer or Agent and agree to Terms and Conditions.
Step Three: Enter your number and email, then submit the OTP sent to you.
Step Four: Click on "Start New Application" to enter your details and required documents. Follow the proceeding steps and fill in all required details.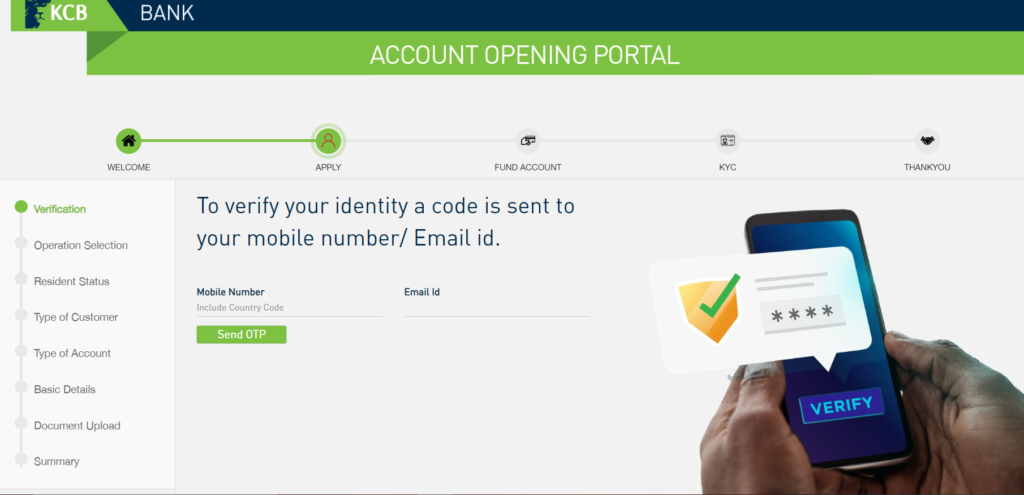 Step Five: Choose your preferred account and submit the required details.
Step Six: Activate and fund your account to start enjoying next-level banking with KCB
And that is it for our guide on banks in Uganda where you can start an online bank account and steps on how you can create one. Let us know in the comment section, your thoughts and if we skipped or missed any bank so we can update the article.