Russia's invasion of Ukraine has greatly contributed to the significant slowdown in global growth. Fuel and food prices have increased rapidly. The rising cost of living means that budgeting becomes stricter and, yes, that means sacrificing one, or two, of your favorite tech products (phones, electronics, etc.). Consequently, the need to look for options to support upgrades and new purchases is growing, and that is where Buy Now Pay Later comes in.
If you are in Uganda, we have compiled a guide that walks you through what BNPL is about and listed the platforms where you can use these Buy Now Pay Later services. Please read through:
Advertisement - Continue reading below
How Does Buy Now Pay Later Work in Uganda?
As the name implies, Buy Now, Pay Later, aka BNPL, allows customers to purchase goods or services and pay for them in installments. These payments are usually made monthly and can range from 3 to 12 months.
What differentiates these platforms is how they make their profits and the list of partner shops or merchants they have signed up with. The platform you use determines how much money you will pay as interest or the general price for an item. In Uganda, there are 3 primary ways the BNPL platforms make money:
In order to generate a profit, a few platforms increase item prices to cover overheads.
The majority of the Buy Now, Pay Later platforms in Uganda add interest rates to the item you are buying.
Some platforms do a hybrid of both, adding markups, initial deposit charges, and interest rates to customers to make profits.
A lot of items, including but not limited to smartphones, televisions, laptops, refrigerators, furniture, sound bars, and more, can be purchased using the BNPL model. But, you must first choose the appropriate platform before moving forward, and here is what you can use in Uganda.
Platforms And Services That Let You Buy Now Pay Later In Uganda
1. Lipa Later
LipaLater Uganda is one of the most popular platforms for the Buy Now, Pay Later business model in Uganda. Originally from Kenya, Lipa has managed to sign MoUs with over 30+ businesses or merchants in Uganda. You can buy items like iPhones, Tecno phones, home appliances, mattresses, and furniture.
With LipaLater, you pay a monthly interest rate of 4.2%, equaling 50.4% per annum, and an initial deposit worth 10% of the item value. Payment terms are a fixed amount each month for 12 months. It is worth noting that different items have different interest rates, but they do have a minimum rate of 4.2%.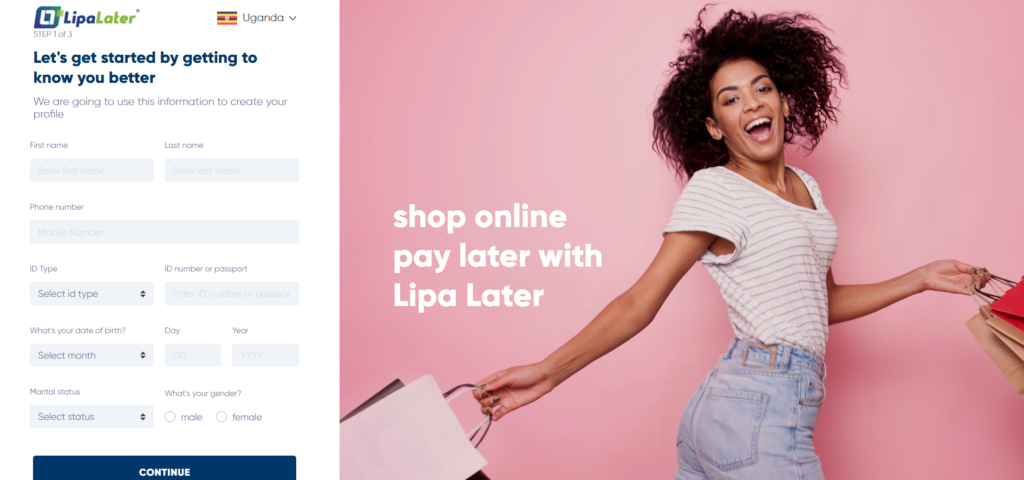 To be able to get any item from these shops/merchants, you will have to create an account online with LipaLater, upload your 3 months bank statements, a copy of your ID/passport, and a duly signed Metropol credit consent form downloaded from the site.
Advertisement - Continue reading below
Here is a list of all shops/merchants (partners) both online and brick-and-mortar stores you can visit and get started with using LipaLater.
Category
Merchant Name
Furniture
- Victoria Courts
- Target Furniture
- Graven interior Furniture
- The furniture workshop
- A Furniture
Mattresses
- Rosefoam
Computers & Accesories
- Vine Computers
- D1 Telecom
- Havannah ICT Solutions
- Wapenda
- NIC Kings Technologies
- Umartech Computer Solutions
- Alibaba's Computer World
- DSN
Phone & Accessories
- Mobile Shop UG
- Praise Comm
- Transtel
- Top Notch Gadgets
- Sage Buyers
- Matari Gadgets
- Genuine Phones UG
- Phones Hub
- Phone Gaint
Electronics & Home Appliances
- Abanista.com
- Fair Price Appliances
- Klacart.com
- Sefbuy
- Go Cylinders
- ChargeKo
- Sonic Trends Company
- The Merchant Online
- Anisuma
2. PayLater Uganda
PayLater UG is a rent-to-own e-commerce platform that offers a wide range of products you can buy, own, and pay for in easy, flexible monthly installments in Uganda. They operate as a marketplace where vetted suppliers can list their items on the site and customers can apply to be able to get these items on credit and pay in installments.
PayLater UG operates on a 30% scale, meaning your monthly remittances shouldn't exceed 30% of your salary. For example, if you earn a million UGX per month, you should only qualify for a payment program that requires monthly remittances of 300,000UGX.
Payments are broken down into six equal installments and a repayment period of six months. It is worth noting they only accept digital payments through FlexiPay, Visa, Mastercard, and mobile money as a form of payment method. No cash is accepted.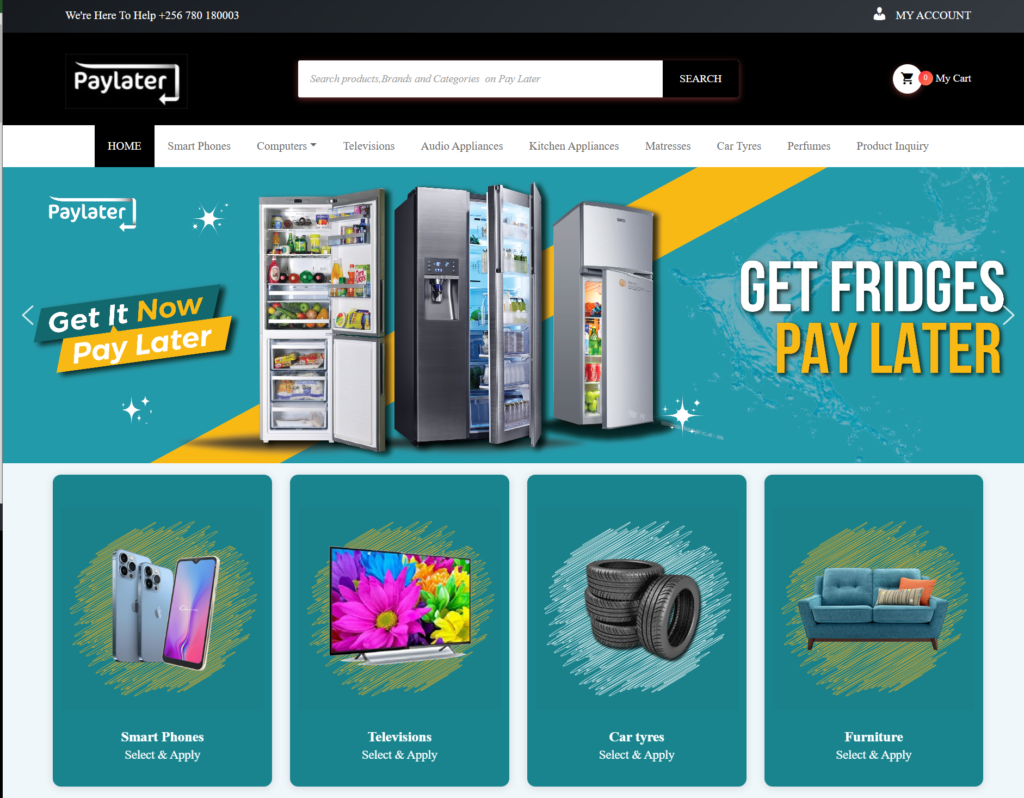 Here are the steps you have to follow if you want to get a product from PayLater UG:
Step One: Set up an account at www.paylaterug.com and apply for a product of your choice. The platform collects consumer information such as employment, earnings, next of kin, and residential address, among other things.
Step Two: PayLater UG then runs a KYC process for your application and asks for additional documents like a copy of your national ID, bank statements, work ID, and income sources. If a customer passes the credit rating process, then they can go to the next steps.
Step Three: The consumer then pays the initial deposit, and PayLater UG then enters into a contract with the client and engages the supplier of the product you are interested in.
Advertisement - Continue reading below
3. MTN Pay Mpola Mpola Scheme
The MTN Uganda Pay Mpola Mpola scheme has two Buy-Now-Pay-Later device financing schemes. MTN Kabode and their partnership with Mkopa give customers a choice of over 10+ smartphones to choose from, from popular smartphone brands like Nokia to Samsung and Kabode Supa Smartphone.
Kabode Supa SmartPhone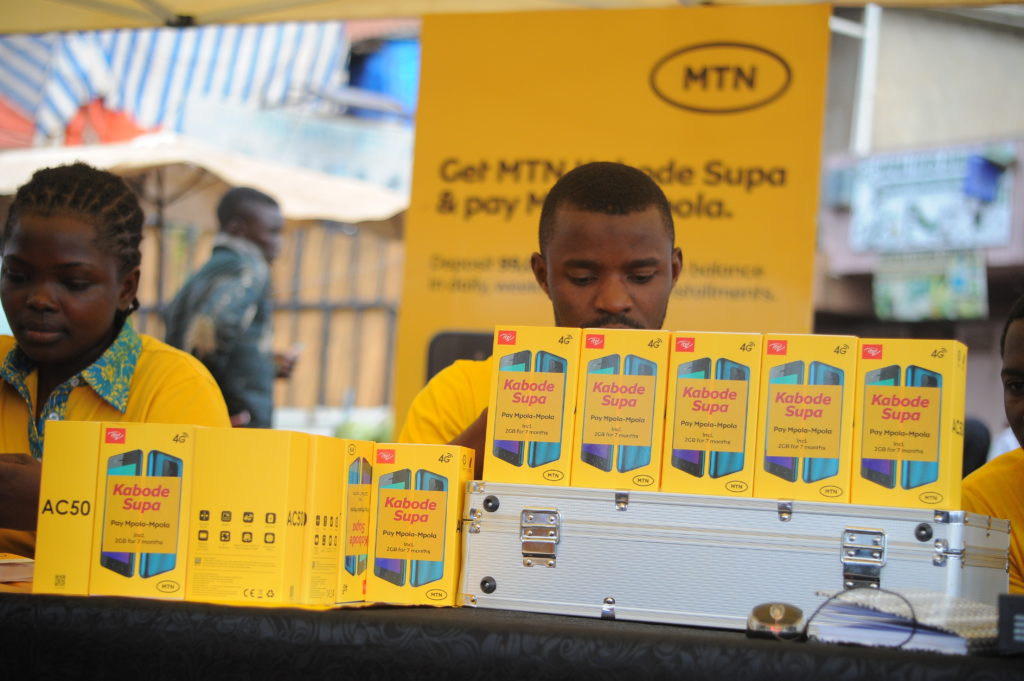 MTN Uganda has Kabode Supa smartphone under its pay mpola mpola device financing scheme. With an initial deposit of 99,000UGX, a customer can walk away with the Kabode Supa smartphone and make monthly, weekly, and daily installments.
Payments are broken down into three installments UGX833 daily, UGX6,250 weekly, and UGX25,000 monthly. You will be required to complete payment in 6 months.
---
READ MORE ON: How To Get MTN's Kabode Supa Smartphone?
---
MTN and MKopa Partnership
The partnership between MTN Uganda and Mkopa allows customers to get smartphones and conveniently pay for them on a daily, weekly, or monthly basis while using the phones.
The repayment period is 12 months and customers are expected to make an initial deposit of 245,00UGX before getting the phone. Customers can opt for a payment plan of UGX3,700 daily, UGX25,900 weekly, and UGX111,000 monthly for any of the devices they choose to purchase.
4. Airtel Kwata Essimu
Airtel Kwata Essimu is a credit initiative that allows customers to get the new smartphone they want and pay it back in installments. You can choose a Samsung 4G gadget from a list that includes models like the Samsung A01, A3 Core, A21, A12, A22, A03s, A32, and A11. The repayment period ranges from 3 months, 6 months, 9 months, and 10 months.
Advertisement - Continue reading below
You can read more about how to get started with Kwata Essimu here in our past blog and learn the requirements needed before you can get the smartphone.
5. Asset Financing StartUps
There are a bunch of asset financing startups and fintech that operate on the business model of buy now pay later and they are most popular in Uganda for giving Boda Boda loans.
Tugende, Watu, ASAAK, and MKopa are some of the examples of such platforms, and the scope of assets they give out ranges from Boda Boda bikes to smartphones, matatus, tractors, and solar-powered gadgets.
The majority of companies in the asset financing space are infamous for having high-interest rates, a little initial establishment charge, and less stringent standards. Payment arrangements are typically weekly or monthly with a maximum 24-month repayment period.
Uganda like many African is yet to make serious headway in the sector of buy now pay later services. We do hope that with time this space will continue to grow and we will see more platforms emerge offering this service as its utility can never be ignored. Let us know in the comment section if we missed any platforms and if you have ever used any of the platforms before.