Our modern appliances and electronics are incredibly complex and capable. That's what makes them so useful to us. But with any complex piece of software, every once in a while, something just doesn't work right.
On Windows, Android, and any other modern operating system for that matter, there is a built-in Safe Mode. What is Safe Mode you ask? Well, this is a boot option in which the operating system starts in diagnostic mode rather than in normal operating mode.
Advertisement - Continue reading below
---
Related:
---
Android TV and Google TV are based on Android and as such, you can also boot it into Safe Mode if for some reason, something isn't working right or you installed a problematic application that's causing your system to malfunction.
This allows you to remove the application that's causing you issues because in Safe Mode, the app cannot start itself or cause the issues it is bringing as third-party apps don't exactly run while system is in Safe Mode.
For this reason. Safe Mode is your go-to method of resetting your system should you do something you probably shouldn't have.
How to boot your Android TV into Safe Mode
To do this, you will need your TV's remote control. Ensure the TV set is connected to power and then follow the following simple steps.
Press the Power button on your Remote control or on your TV set to power it on. You should see your OEM logo in the bootsplash.
Now quickly press and hold the Volume Down key until the Android TV boot animation starts.
Let the TV boot fully and you should be in Safe Mode.
You will know your TV is in Safe Mode when you see the 'Safe Mode' watermark on the bottom left of your TV screen.
Advertisement - Continue reading below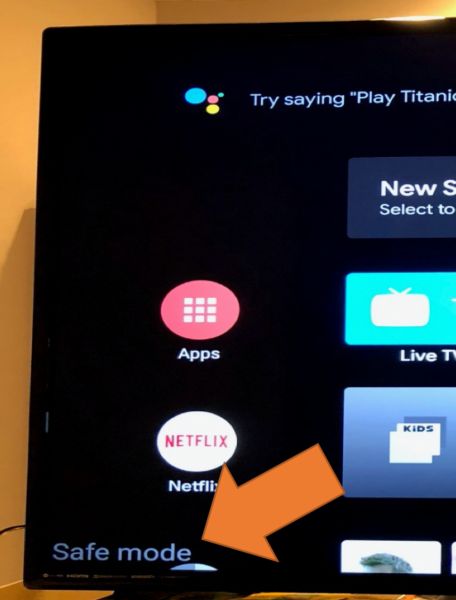 Note that many stock functions should work fine as this mode only affects third-party applications. This means you can still use any of the apps that came preinstalled with your TV.
How to boot out of Safe Mode on your Android TV
Well, like on an Android Smartphone, the easiest way to boot out of Safe Mode is to simply turn off the TV and turn it back on. A simple Reboot from the Settings menu should also do the trick.
Simply let your TV boot as normal and you should be back to your system as if nothing happened. And that's basically it. That's how you boot your TV into Safe Mode.