Smartphone releases have changed a great deal over the past couple of years. First, these devices are pretty capable and the year-on-year increments is pretty minimal, thereby eliciting little excitement to these iterative changes.
Also, companies like Google have developed a habit of simply announcing products beforehand, thereby killing the rumor mills and grapevine surrounding their upcoming devices. This week, Google is set to unveil its next flagship, the Pixel 7 series of devices.
Advertisement - Continue reading below
The event is slated for October 6, 2022, and in this post, we shall be quickly looking at what we're set to see getting unveiled at the event, starting with the new Google Pixel devices and the accessories.
Google Pixel 7 and Pixel 7 Pro
The new flagship devices from Google, the Pixel 7, and the Pixel 7 Pro are set to be made official on the set date. Thanks to the first look we saw months ago at the Google IO 2022 event, we've already had a pretty good idea of what the devices will look like.
Ahead of the official launch, we seem to have already gotten a look at the official spec sheet, of course, subject to confirmation from Google themselves.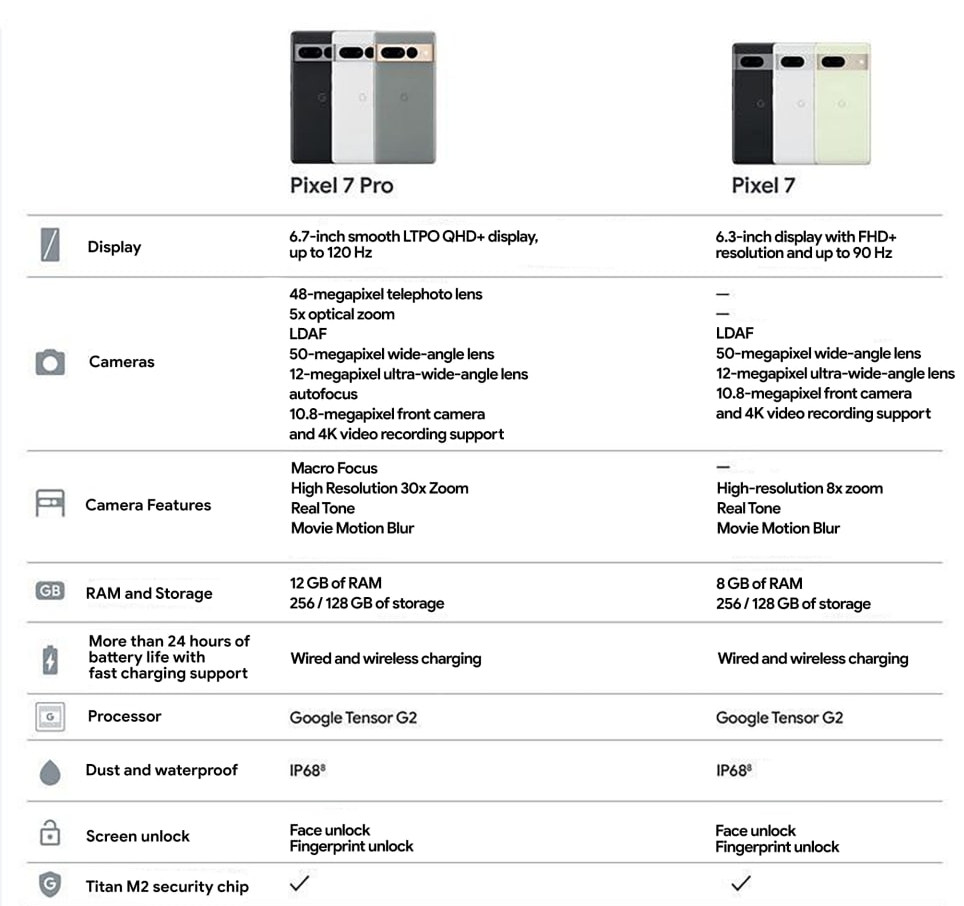 The takeaway from the spec sheet is the new Google Tensor G2 Chipset powering the duo. Last year's debut of the Tensor chip was a little underwhelming as it didn't quite beat the Apple A-series chips in benchmark scores but that's not what the company was going for.
It'll be interesting to see how this chip performs. The Pixel 7 comes with a 6.3-inch 90Hz display compared to the Pro model's 6.7-inch QHD+ 120Hz display.
Both models will have 128GB and 256GB storage options. The Pixel 7 comes with 8GB of RAM while the Pro version comes with 12GB of RAM.
Advertisement - Continue reading below
Disclaimer: All these reports are based on leaks. Reputable leaks, but leaks nonetheless so take all this with a pinch of salt, subject to confirmation at the Google Fall Event.
Google Pixel Watch
Also set to be unveiled officially is the Google Pixel Watch. The smartwatch segment has been dominated by Apple and their Apple Watches, and fitness trackers. Samsung has been trying in this field, and so have other brands like Garmin.
---
---
Google's debut product in this category is therefore a pretty big deal. This watch is slated to bring the power of Google and the Assistant to your wrist. Along with this, it should bring better access to and support for apps and services from Google, like Maps, and Wallet.
Health and fitness tracking should be handled by Fitbit, a renowned brand in this space that has since been taken under Google's wings. This will allows users to track their health and fitness goals, and get insights for healthier habits.
---
---
Samsung has been spearheading the new Wear OS experience, albeit with their own spin to this wearable operating system, and now, Google is set to do it themselves.
The new Wear OS promises a reimagined experience that should feel fluid and made to work well with the iconic circular design.
Nest Products
The Smart home space is also shaping up and with more and more smart products making their way into our homes, Google is bound to take note. As such, we also expect to see Google announce additions to the Nest smart home portfolio.
Conclusion
In the official press release, Google adds that all of the devices slated for the announcement will be shoppable the same day at GoogleStore.com. There will also be a few physical stores around the New York City area.
Advertisement - Continue reading below
As mentioned, the Fall Event is going down on October 6, 2022, at 10 am EST so be sure to catch that on the made by google YouTube channel.