One of the many reasons the Samsung Galaxy smartphones are able to stand out whenever a new model is released is the One UI that it comes with. The One UI always finds a way to feature a unique and refined UI/UX experience. The latest version of the One UI from Samsung is the One UI 5.0 – based on Android 13. This means we'll only see the new One UI 5.0 only when Samsung is ready to bring Android 13 to its flagship smartphones in 2023.
According to Samsung, the One UI 5 comes with powerful new features that will make your everyday effortless, allowing you to get things done quickly across all your Galaxy devices. Be more expressive and enjoy the enhanced customization experience.
Advertisement - Continue reading below
Here's what's coming to Samsung smartphones via the One UI 5.0:
Lock Screen Customization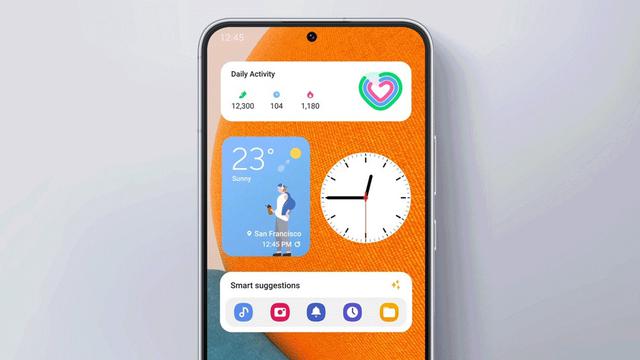 This new improvement will make it easy for Samsung smartphone users to customize their lock screen. Almost similar to what you get on the latest iOS 16. All you'll need to do is just tap and hold the Lock screen to get access to all your customization options; customizing your wallpaper, clock style, notification settings, and with a live preview. Furthermore, you can now easily trim a video clip to create a lively wallpaper for your device.
You should, however, note that there are no new lock screen customizations. Everything you get access to is available on the One UI 4.1.
---
Related: Samsung One UI 5.0: Roll-Out Roadmap, New Features, and More
---
Multitasking Gestures
One UI 5.0 comes packed with a couple of gestures that'll allow its users to multitask seamlessly. These gestures were a part of One UI 4.1.1 on the Galaxy Z Fold 4, and will now be introduced to all new Galaxy smartphones this year. You will now be able to switch from full screen to split screen view by swiping upward from the bottom of the screen with two fingers. Switch from full screen to pop-up view by swiping to the center with one finger from either corner at the top of the screen. The good thing is, users will be able to turn gestures on or off in Settings.
Furthermore, you will be able to quickly open apps on a split screen. All you'll need to do is drag apps from the taskbar or Recents screen to open them however is most convenient for you. Drag to the top, bottom, left, or right edge of the screen to open in a split screen. Drag to the center of the screen to open a pop-up.
Advertisement - Continue reading below
Improved Widget
We first saw the ability to stack widgets in the One UI 4.1. However, the entire process was reported to be cumbersome and unnecessarily complicated. Samsung has, however, made some improvements in the new One UI 5.0. You can now combine several widgets of the same size into a single widget. This'll help you keep your home screen tidy and organized.
Doing this is allow now easier. All you need to do is drag a widget into another one to create a stack, then swipe left and right to switch between widgets. And with a simple drag and drop, you can continuously add more widgets to your stack at any time.
Users will also get the Smart Suggestions Widget. According to Samsung, this new widget knows what you need before you do. It suggests apps to use, people to call, calendar events to add, and more, based on your usage patterns.
Modes and Routines
You can now choose a mode on your Galaxy smartphone based on what you are doing. For instance, when you are exercising, working, or relaxing, you can choose what you want your phone to do in those situations. You can set your smartphone to turn Do Not Disturb on while you're working.
Routines that are currently running will now be shown at the top of the Routine screen. This will help you understand what's happening on your phone.
Camera
Zoom: Samsung Galaxy smartphones are renowned for their zoom capability. Now, with the new One Ui 5.0, you can zoom more easily with one hand. The zoom bar has been condensed such that you can zoom in and out with a swipe across the screen.
Pro mode: A new help icon has been introduced to Samsung to appear in Pro and Pro video modes to help users get tips and guidance when it comes to using various lenses, options, and controls as regards the camera on your Galaxy smartphone.
Add Watermark to pictures: You will now be able to automatically add a watermark to each picture you take on your Galaxy smartphone. Now, pictures can contain the date and time it was taken, the phone's model name, and other custom information.
Advertisement - Continue reading below
These are some of the updates coming to Samsung Galaxy smartphones courtesy of the One UI 5.0. Which of these features do you find interesting? Also which do you think will be the most useful? We'd like to know your thoughts – tell us in the comments section below.