Chromebooks make great laptops thanks to their affordability, portability, and easy-to-use interface. However, one of the most common questions I get from family and friends is whether Chromebooks can be used offline. The short answer is yes, Chromebooks do have offline capabilities, but they are limited compared to traditional laptops. I'll expound on this later in the post.
So I have a Galaxy Chromebook Go which I have been using as my daily driver for over a year now. In that period, I have of course experienced moments where my internet cuts off or I travel with my Chromebook to places without an internet connection. Living in Uganda, the Internet is still a luxury, super expensive, and unreliable. Yet, here I am using a machine designed primarily as an internet gateway.
Advertisement - Continue reading below
Just like Windows PCs, Chromebooks too ship with software that can be used offline. The difference is, Windows was developed before the internet exploded and so most Applications work offline by default and only come online when need be. The reverse is true with Chromebooks. Most built-in Applications assume you're already connected to the internet and only need to be enabled for offline use.
Google Apps and services
Chromebooks ship with Google's productivity software; that is Google Docs, Sheets, and Slides: These popular productivity apps allow you to create, edit, and save documents, spreadsheets, and presentations through the Chrome web browser. They work well with the internet. However, you can enable offline mode, so that you are able to use the App even without an internet connection. This is possible through the settings. For instance to enable Offline mode on Google Docs, click on the Menu, then Settings and toggle offline mode.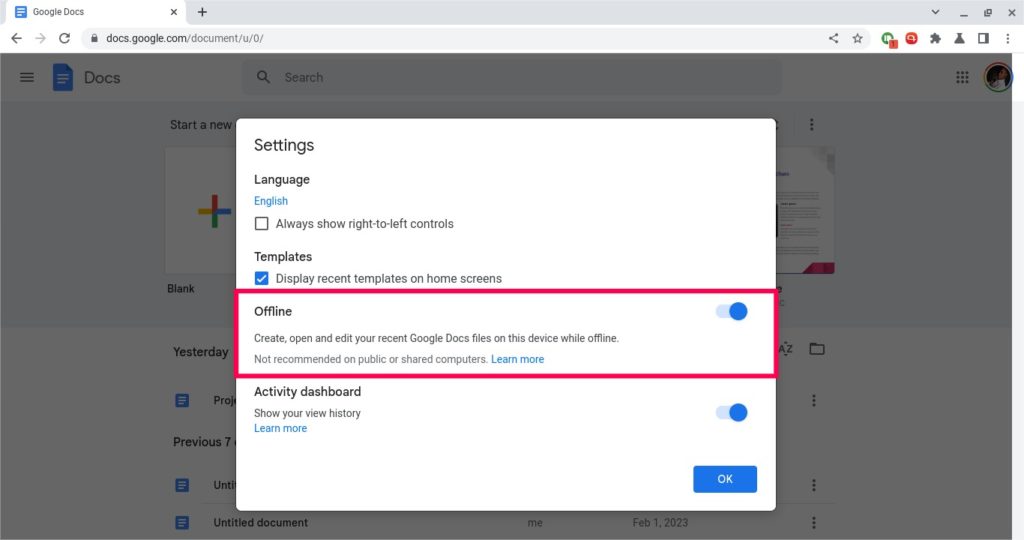 You can also use Gmail, the default email client on Chromebooks offline. To enable offline mode, to the Gmail offline settings, and then Check on Enable offline mail. Now choose the number of days you wish to store your emails offline and what Google should do with your email data after you log out from your Laptop.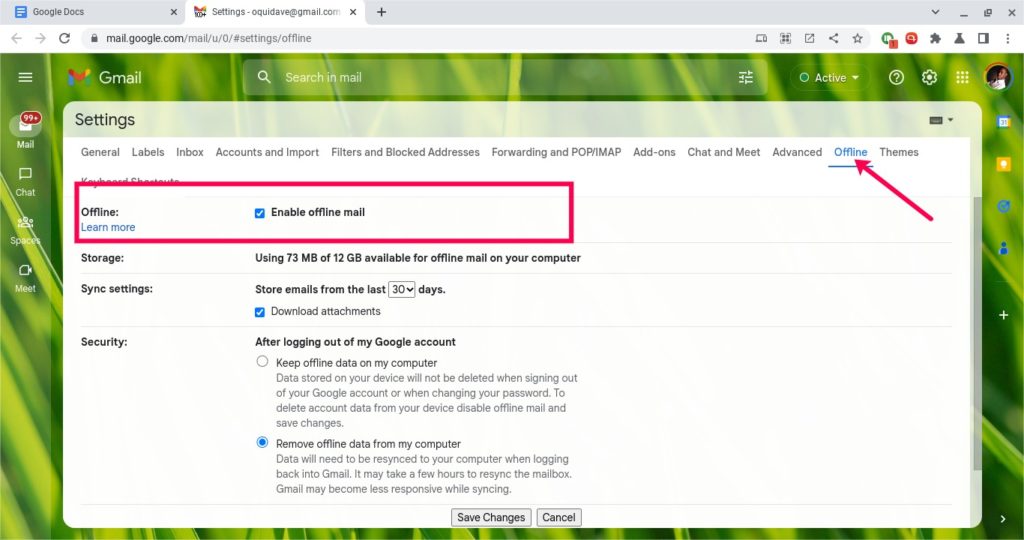 Some other Google services such as Google Play Books and Youtube Music can be used offline. You can download books and music from the Google Play Store for offline use. Even the Chrome browser which we all know is used to browse websites allows you to access websites that have been saved for offline use.
Now keep in mind that some offline apps and services won't work in Incognito or guest mode.
Other Apps
Besides Google apps and services, the rest of the Apps work offline on a case-by-case basis. Most of the Apps are either from the Google Web store or Google Play store which need an internet connection in one form or another. But some don't. For instance, media players such as VLC don't need the internet as they are designed to play media from your computer's local hard drive. Photo editing Apps such as Pixlr, Lightroom, and Canva can work without an internet connection if the images you're working with are from your local computer. However, some features might require you to connect to the internet. For instance when the app needs to download templates, image assets, or fonts to use in your designs.
Advertisement - Continue reading below
Files and local data
Chromebooks ship with the Files App which works like the file explorer on Windows or Finder on Mac. This Files app is designed to help you navigate around your files and folders primarily stored on your Chromebook's hard drive. So it works offline. However, it also has built-in support for Google Drive. In this case, you'll need an internet connection to pull files from the cloud after which they're available on your computer's hard drive for offline use. When you make changes to your files, they will be synced to the cloud the next time you connect to the internet.
Limited storage capacity
However, with all these offline capabilities, you need to be mindful of running out of storage. Most budget Chromebooks ship with 32-64GB of onboard eMMC storage. This can quickly fill up if you start saving lots of data offline. You can only store so many music files, documents, or images for instance. Chromebooks however, have a microSD card slot and USB-C and USB-A ports. So you can expand local storage via microSD card or external USB drive. So I recommend you save big files on external storage and leave onboard storage for Apps that need to cache data offline.
So in conclusion, yes, Chromebooks can be used offline, but not as much as traditional laptops. They can be used offline for basic tasks such as composing emails, working on documents, or reading books, or playing music locally stored on your laptop. However, just be mindful of the limitations.