If you are looking for a new smartphone in 2023, you might want to consider the Pixel 6, which was launched in 2021. Why? Because contrary to what is social media portrays, most people don't actually change their phones every year, but rather every 3 to 4 years or even more.
And the Pixel 6 has a lot to offer, even after two years since its release. It has a powerful in-house Tensor chip, a stunning 6.4inch HDR OLED display, a long-lasting 4614mAh battery and 5 years of security updates. The icing on the cake is that it's now cheaper than ever, making it great value for money. We know that Pixel 8 is all the rage right now but we will show you why the Pixel 6 is still a relevant and reliable choice in 2023.
Advertisement - Continue reading below
Design & Build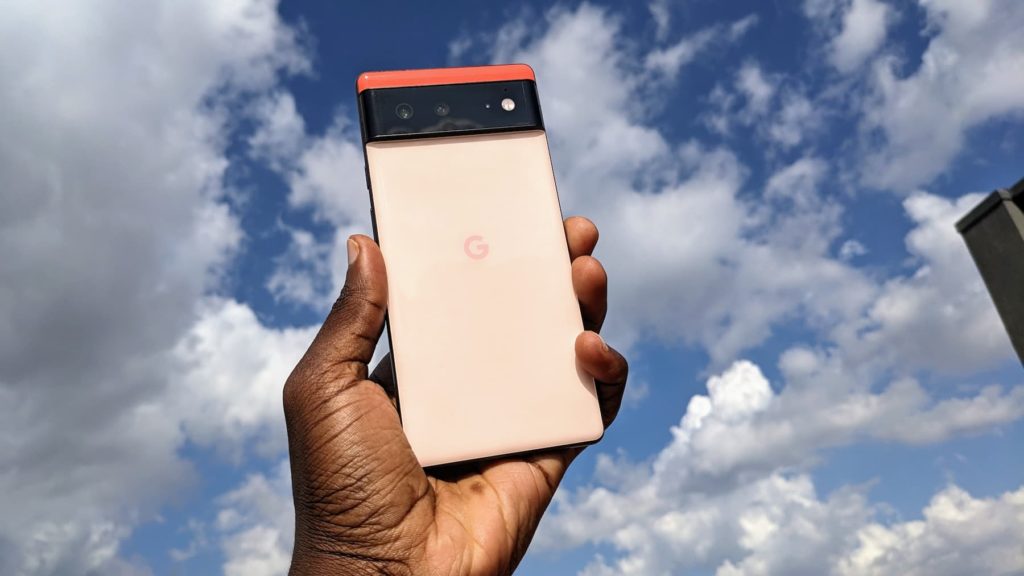 Google's Pixel 6 flaunts its bold new two-tone design, which is a breath of fresh air compared to the simple, playful designs of older Pixel phones. The current design language will redefine the look their devices for the foreseeable future.
While I usually go for the all-black option, the Pixel 6 has some amazing color options that. I chose the Kinda Coral, which is a lovely shade of pinkish-orange. The other colors are Stormy Black (call it black) and Sorta Seafoam (green).
The Pixel 6 feels solid and well-built, but it is also quite thick and slippery to hold. The glass back is glossy and smooth, which makes it hard to hold without a case. I wish it had a matte finish or some texture to improve the grip.
One of the most striking features of the Pixel 6 is the camera visor, which runs across the back of the phone. It houses the impressive cameras and sensors that make the Pixel 6 a great photography device. I like how it looks and how it makes the phone unique. It also serves as a convenient place to rest your fingers when you hold the phone. I have to say that the Pixel 6 is not a snug fit unless you have very large hands but the visor actually helps. The camera visor also adds to the premium feel of the Pixel 6, which is something that was missing in the previous models.
One of the features of the pixel 6 that might catch your attention is the sound of its physical buttons. The power and volume buttons located on the top right side have a noticeable clicky noise when you press them, which can be helpful if you want to confirm that you're getting traction. However, some people might find them too loud, especially if they live in a quiet environment. This is a matter of personal preference, of course, but I think the buttons could be quieter and still be effective.
Display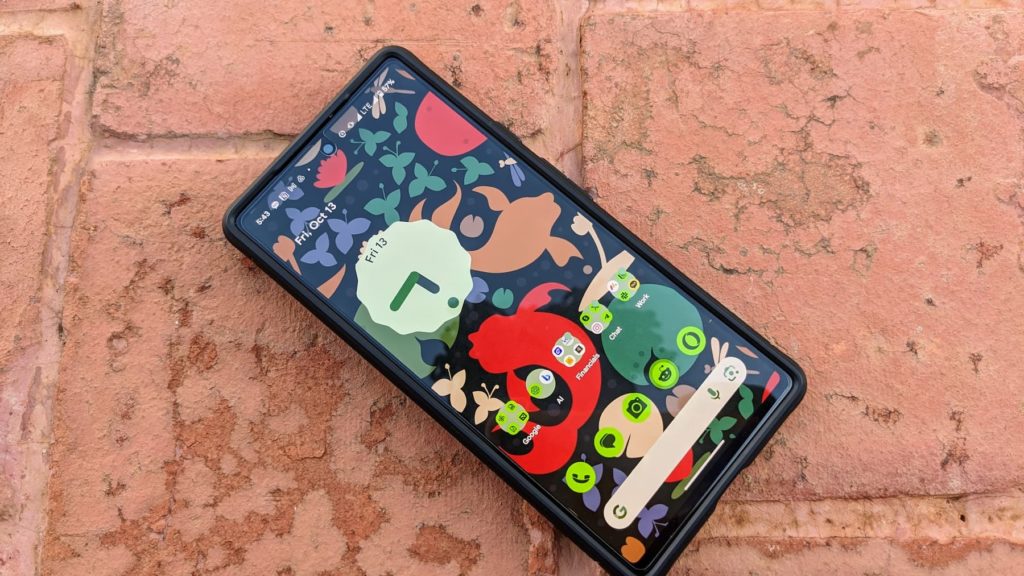 The Pixel 6 boasts a 6.4-inch HDR OLED display that can adjust its refresh rate from 60 to 90Hz, depending on the content. The screen resolution is 1080p, which is sharp enough for most users. One of the new features of the Pixel 6 is the in-display fingerprint sensor, which replaces the rear-mounted one from previous models. However, this sensor is not very reliable, as it often fails to recognize the fingerprint on the first try. Google claims that this is due to the security and accuracy of their sensor, but it doesn't make it any less annoying. A trick I learned from Reddit was to register the same fingerprint twice, which may improve the recognition rate.
Advertisement - Continue reading below
The Pixel 6 offers three color modes for the display: Natural, Boosted, and Adaptive. The Natural mode is the most accurate, while the Boosted mode enhances the colors slightly. The Adaptive mode is the most customizable, as it allows you to adjust the color temperature and intensity according to your preference. I personally chose the Adaptive mode, because I like to tweak the settings a bit, but any mode would work fine. I honestly don't have a strong preference for color accuracy.
According to the specs, the display has a peak brightness of 770 nits, which is decent for outdoor visibility. However, I noticed that sometimes the auto-brightness feature does not work properly, and I have to manually adjust the brightness level. And another minor issue I have experienced is that occasionally, the screen freezes for a split second. I have to go back to the home screen to fix it. This does not happen very often, but I wanted to put it out there.
Software & Performance (Tensor chip)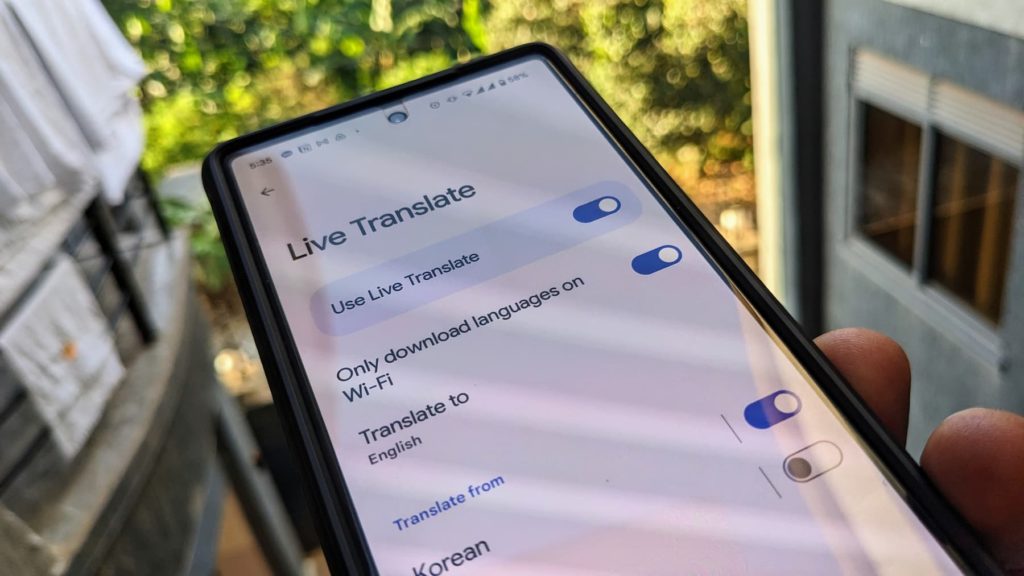 The Pixel 6 is Google's first smartphone to feature its own custom-made chip. Tensor is designed to enable the Pixel 6 to perform advanced AI tasks, such as language translation, speech transcription, image processing, and live captioning, something Google knows a thing or two about.
Tensor is different from other smartphone chips, which are mainly focused on delivering high performance for general tasks. The Pixel 6 may not top the benchmarks, but its real-world performance is right at par. Other than the few hiccups I mentioned earlier (rare freezing on my device), the Pixel is more than up to the task when gaming, browsing, chatting and photography.
The Pixel 6 may not be the fastest phone on paper, but it is one of the smartest phones in practice. Thanks to Tensor, the Pixel 6 can handle complex tasks that would normally require an internet connection or a cloud server. For example, you can use the Google Translate app to translate text or speech from any language to any other language, even when you are offline. You can also use the Recorder app to transcribe audio recordings into text, and edit them as you would any document. You can also use the Live Caption feature to generate subtitles for any video or audio content on your phone, even if they don't have captions already.
The Pixel 6 also has a stunning camera system that uses the Tensor chip to enhance your photos and videos. The Pixel camera can automatically detect faces and adjust the focus and exposure accordingly, although it occasionally suffers from over-processing. It can also remove unwanted objects or people from your photos with the Magic Eraser tool. It can also create realistic motion blur effects for your videos with the Cinematic Pan mode. And it can produce amazing portraits with the Portrait Light feature, which lets you adjust the lighting and shadows of your subject.
If you're not big on early adoption, you might consider the Pixel 7 and Pixel 8 series with newer Tensor chips. These devices have even more impressive features and performance, but they will also come with a higher price tag.
Camera
With the launch of the Pixel 6, Google revamped their cameras and finally made some long overdue improvements to the camera hardware and software compared to previous generations.
Advertisement - Continue reading below
The Pixel 6 has two rear cameras: a 50-megapixel main sensor (binning to 12Mp) with OIS, EIS, LDAF, and an ƒ/1.85 aperture, and a 12-megapixel ultra-wide with a 114-degree field of view. The main camera captures stunning photos with excellent detail, spectacular depth of field, and color accuracy. The ultra-wide camera is not as impressive as the main one, but it still offers a decent performance and a wider perspective.
The Pixel 6 is known for being a point and shoot camera that does not disappoint for the most part. Google has updated the Google camera app (now named Pixel camera) in Android 14 to more clearly separate photo features from video. The app is easy to use and has some useful features that enhance the photography experience.
One of the strengths of Google's camera is the software chops. The Pixel 6 uses artificial intelligence and machine learning to process and optimize the photos. You can use the magic eraser to crop out photo bombs, unwanted objects, or people from your shots. The camera also does post-processing for color correction, although this sometimes results in over-sharpening the images. You can also use the camera to directly scan QR codes without having to go to Google Lens, which I found quite nifty.
The Pixel 6 also has some interesting modes and features that you can experiment with. For example, you can use the portrait mode to blur the background and create a bokeh effect. You can also use the profile feature and go to 2x zoom to get as close as possible to your subject, which can work as a workaround for not having a dedicated macro camera. You can also use the night sight mode to take amazing photos in low-light conditions and face unblur will kick in for those blurry photos. turn on speech enhancement for videos.
The Pixel 6 camera is arguably one of the best cameras I have ever owned. It delivers high-quality photos that are comparable or even better than some of the flagship phones from other brands.
Battery & Charging
The Pixel 6 has a generous 4614mAh battery that can last a full day of moderate to heavy use. It also supports fast charging, both wired and wireless, as well as reverse charging for other devices.
However, you will need to buy your own charger, as the Pixel 6 does not include one in the box, Thank you, Apple. You can use any old USB-C charger, but you will get the best results with a 30W PD charger for wired charging or a 21W Qi charger for wireless charging.
From what I've seen, the Pixel 6 can charge from 0 to 80% in about an hour, which is decent but not impressive compared to some other flagships, but I don't actually mind. I am rather skittish with super-fast chargers like the 120W Xiaomi bricks. The charging speed slows down to a trickle after 80% to preserve the battery health and avoid overheating.
Advertisement - Continue reading below
Speaking of overheating, some Pixel 6 users have often report that their phones get warm or hot during charging or heavy usage. Now, it seems that Google has quietly addressed this issue with the Android 14 update, which improves the thermal management and performance optimization of the Pixel 6. I have personally noticed that my Pixel 6 runs cool as a cucumber after updating to Android 14 although I can't say I had a problem with it before. But a surefire way to drain the battery is to shoot videos or take multiple pictures in direct sunlight.
Android 14
Being a Google phone, the Pixel 6 already received the Android 14 update. This update fixed a lot of issues that users were facing, such as the overheating issue. They also boosted the battery life of the Pixel 6, making it last longer on a single charge. You can now also customize your lockscreen with different clock styles, wallpapers, and widgets. Google also announced plans to roll out more features in the next feature drop, which is expected to arrive soon.
One of the most anticipated features is the ability to use your Pixel 6 as a webcam for your PC, which could come in handy for video calls and online meetings.
Is the Google Pixel 6 worth buying?
The Pixel 6 was a game-changer for Google's smartphone lineup when it dropped. It introduced a fresh look, improved cameras, and the custom-made Tensor chip. The subsequent models have only added minor tweaks that I can frankly do without if I have to pay full price.
The Pixel 6 still offers 3 years of OS updates and 5 years of security patches, which is more than enough to keep me satisfied. The honest truth is that at the right price, and the Pixel 6 is getting some decent discounts as we speak, I can forego upgrading to the Pixel 7 or Pixel 8 for a couple more years.