How would you like if you could project your smartphone screen into a bigger monitor such as your flat screen TV? I know the cool kid in you would definitely love to impress your friends with that.
You would love to project a video you shot or an image you took using your phone or even an app you developed into the family TV for everyone to see — without using cables at all. If your friends come over, you would like to impress them by playing temple run from your smartphone and TV.
Advertisement - Continue reading below
This feature is called "Miracast". But you'll find different vendors using different names such as "wireless displa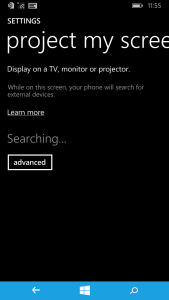 y" or "Mirror casting" or phrases such as "project your phone screen to the TV". It's like "wireless HDMI".
Most recent smartphones have this feature by default. On my Android-based Infinix Hot for instance, I can get it by going to settings-> display -> wireless display. On my Microsoft Lumia 640XL, I can find the same feature by going to settings -> project my screen. This only works if your smartphone and TV are connected to the same wireless network or hotspot. It doesn't happen magically.
However, here's the catch. Your TV must support Miracast standard. Yes, I know that's where you'll start frowning.  Most flat screen TVs in Ugandan market don't yet support Miracast let a lone come with inbuilt WiFi. You must check your TV's manual to confirm if it supports Miracast.
So while your smartphone can push stuff wirelessly on the big screen, your TV might still not be smart enough for your smartphone. But in case it is, this feature is totally cool.
Image: arstechnica.net/
Advertisement - Continue reading below